CM made no mention of Dogra turban, says Rana
Jammu, June 17
The National Conference today described accusations made by the BJP about "disrespect of Dogra turban" by Chief Minister as an attempt to "digress from the real issue" and insisted that Omar Abdullah never attempted to hurt the sentiments of any community.
Pak again violates ceasefire, targets Mendhar, Samba
Jammu, June 17
Pakistan army troops and Pakistan Rangers today opened sniper fire followed by a brief burst of automatic fire on Indian posts along the Line of Control (LoC) and the international border.
After Omar, Cong hits out at BJP
Jammu, June 17
A day after Chief Minister Omar Abdullah exposed the "double standard" of the BJP, it was the turn of outspoken Congress leader Sham Lal Sharma today to take the saffron party to task for "betraying" people of the Jammu region. Sham Lal, known for his pro-Jammu approach, today dared the BJP to clear its stand on the abrogation of Article 370.
PDP declares first list of 25 candidates for Assembly polls
Srinagar, June 17
The Peoples Democratic Party (PDP) has got into the election mode and announced the first list of party candidates for the 25 Assembly segments of the state.
NC top brass to meet today to discuss election strategy
Srinagar, June 17
The central working committee of the J&K's ruling National Conference will meet tomorrow to discuss the strategy for the upcoming state Assembly elections as several sitting legislators have demanded more populist measures and administrative changes as a precondition to contest the polls.
Azad thanks Chenab voters
Ramban, June 17
Former Union Health Minister and now leader of the Opposition in Rajya Sabha Ghulam Nabi Azad today thanked the voters of the Chenab valley here for their support.
Veteran Congress leader Aslam laid to rest at Lassana village
Poonch, June 17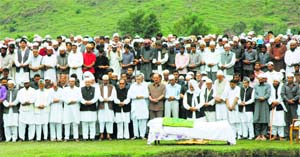 Former minister and veteran Congress leader Choudhary Mohammad Aslam, who died after a prolonged illness last night, was laid to rest at his native Lassana village here today.
Chief Minister Omar Abdullah at the funeral of Congress leader Choudhary Mohammad Aslam at Lassana in Surankote on Tuesday. A Tribune photograph

Guv, CM express grief over Cong leader's death
Srinagar, June 17
Governor NN Vohra has expressed grief over the death of Chowdhary Mohammad Aslam, a Congress leader, whom he had known for many years.
Dhruva Command celebrates 43rd Raising Day in Udhampur
Jammu, June 17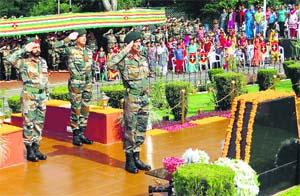 The Northern Command, popularly known as the 'Dhruva Command', celebrated its 43rd Raising Day at Udhampur today. At a solemn ceremony at the Dhruva War Memorial, Northern Command chief Lt Gen DS Hooda paid homage to martyrs by laying a wreath on behalf of all ranks.
Northern Command chief Lt Gen DS Hooda pays homage at the Dhruva War Memorial in Udhampur on Tuesday. A Tribune Photograph

8 Vaishno Devi bound pilgrims injured in accident
Samba, June 17
Eight Vaishno Devi-bound pilgrims were injured when the vehicle they were traveling in met with an accident near Vijaypur area of Samba district early this morning. The injured were on their way to the holy town of Katra when the driver lost control and the vehicle fell into the Devak river, police said.
Bears on prowl in Handwara villages, kill 36 sheep
Handwara, June 17
Wild animals, mostly bears, have killed about three dozen sheep and goats in the past few days in various villages of Handwara in frontier Kupwara district.
Two-day Bhaderwah Festival begins today
Doda, June 17
The annual Bhaderwah Festival, showcasing culture, tradition and tourist destinations of Bhaderwah town, will begin tomorrow. Former Union Minister and Leader of the Opposition in Rajya Sabha Gulam Nabi Azad is likely to inaugurate the two-day event.
PDP to form a comprehensive policy for youth, says Mufti
Srinagar, June 17
Patron of the Peoples Democratic Party (PDP) Mufti Mohammad Sayeed today said his party would formulate a comprehensive and exclusive policy to address issues relating to the youth of the state.
PDD suspends whistleblower employees for reporting theft
Srinagar, June 17
The Power Development Department (PDD) has initiated an inquiry and suspended two whistleblower employees, who had reported power theft by a flour mill owned by an influential political leader.
Study: Kashmiri bakers at higher risk of developing respiratory problems
Srinagar, June 17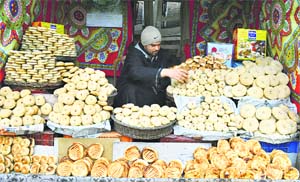 Bakers in Kashmir are at the high risk of developing chronic obstructive pulmonary disease (COPD) as well as asthma. This was revealed by a study conducted by the Department of General Medicine at Sher-i-Kashmir Institute of Medical Sciences (SKIMS), Soura.
A Kashmiri sells bread and other baked products at his shop near Srinagar on Tuesday. Tribune photo: Amin War

VB detects pilferage of flour in CAPD Dept
Srinagar, June 17
The Vigilance Organisation has registered a case against several officials of the Consumer Affairs and Public Distribution (CAPD) Department on the basis of an inquiry conducted into the allegations of pilferage of flour meant for ration depots.
Jammu lad performs lead role in Bollywood movie
Jammu, June 17
Jammu boy Bhanu Uday Goswami (33) has brought laurels to the state by performing the lead role in the recently released Bollywood Hindi horror movie "Machhli Jal Ki Rani Hai".
ReT teachers hail inclusion of honorarium period
Jammu, June 17
Leaders of the Rehbar-e-Taleem (ReT) Teachers Forum have welcomed the step taken by Chief Minister Omar Abdullah and Deputy Chief Minister Tara Chand regarding inclusion of five years' of honorarium period for service benefits and transfer policy.
Govt employees push for fulfilment of demands
Jammu, June 17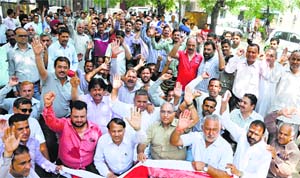 The State Government Employees Joint Action Committee (SGEJAC) today criticised the alleged indifferent attitude of the state government. A protest was staged by government/public sector unit employees, including daily wagers, for the fulfilment of their demands.
State government employees protest in Jammu on Tuesday. Tribune photo: Inderjeet Singh

College celebrates Blood Donor Day
Jammu, June 17
The Sacred Heart College of Education celebrated World Blood Donor Day to raise awareness about the need for donating safe blood and blood products.
State bodybuilder selected for Mr Asia Championship
Jammu, June 17
State bodybuilder Pushpinder Bharti has been selected to represent India in the upcoming Mr Asia (Bodybuilding) Championship-2014 to be held at Colombo in Sri Lanka from June 19 to 21.
College celebrates Blood Donor Day
Jammu, June 17
The Sacred Heart College of Education celebrated World Blood Donor Day to raise awareness about the need for donating safe blood and blood products.
J&K Cultural Academy holds story session for women
Srinagar, June 17
In order to encourage the writing skills among women and provide them a suitable platform, the J&K Cultural Academy today organised a session on short stories on women in Urdu, Hindi, Kashmir, Pahari, Punjabi and Dogri languages.
Research methodology workshop begins
Srinagar, June 17
A three-day workshop on research methodology in biomedical research began at Government Medical College, Srinagar, today.