M A I N N E W S
Refinery targeted; Iraq seeks US air strike
Baghdad, June 18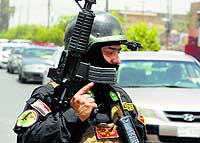 As Sunni insurgents launched a strong offensive by targeting the country's biggest oil refinery, Iraq on Wednesday requested the US for air strikes on militants, who have made rapid territorial gains.
Sunni fighters were in control of three quarters of the territory of the Baiji refinery north of Baghdad, an official said there, after heavy fighting at gates defended by elite troops who have been under siege for a week.
A lightning advance has seen Sunni fighters rout the Shi'ite-led government's army and seize the main cities across the north of the country since last week. The fighters are led by the Islamic State of Iraq and the Levant (ISIL). Iraq Foreign Minister Hoshyar Zebari told reporters that Iraq had asked for air strikes "to break the morale" of ISIL. He added that Iraq's ally, Shi'ite Muslim power Iran, had so far not intervened to help the Baghdad government but "everything is possible".
In Washington, General Martin Dempsey, the chairman of the US military's Joint Chiefs of Staff, acknowledged to the Congress on Wednesday that Iraq had sought US air support, but gave no details of the request. "We have a request from the Iraqi Government for air strike," Dempsey told a hearing. Asked whether the US should honour that request, Dempsey said: "It is in our national security interest to counter ISIL wherever we find them."
Washington has deployed some 275 military personnel to protect its embassy in Baghdad. — Agencies
US Senator against sending troops to Iraq
Ahead of a crucial meeting with US President Barack Obama over the escalating crisis in Iraq, US Senate Majority Leader Harry Reid on Wednesday said he does not back sending American troops to the country.
An Iraqi soldier keeps watch in west Baghdad on Wendesday. AFP







Turmoil aftershocks to hit India hard
Sanjeev Sharma
Tribune News Service
New Delhi, June 18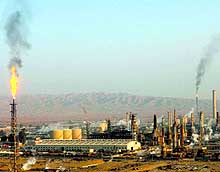 The aftershocks of the Iraq crisis and the resultant spike in oil prices will mar India's macro indicators like the twin deficits, import bill and inflation posing a challenge for the government finances.

Mirroring this, the twin barometers of the economy are coming under pressure. The rupee today fell 36 paise to end at an over seven-week low of 60.39 against the US dollar as escalating unrest in Iraq pushed up crude prices to around $114 a barrel. The Sensex, too, closed down about 275 points after reports of militants attacking Iraq's

Federation of Indian Export Organisations (FIEO) President M Rafeeque Ahmed said if a war-like situation in Iraq continues then it may push the oil price by $15-20 per barrel in the next couple of months. The crude prices have already touched $113 per barrel which may add to an additional $ 4-5 billion on oil imports besides pushing inflation, he said.

Analysts at Bank of America Merrill Lynch said in a note that oil prices continue to hold the key to India's macro stability. The note pointed out the huge impact of surge in oil prices on the economy. A $10 per barrel jump in crude oil prices swings $8 billion (0.4 per cent of GDP) on the current account deficit while it impacts the fiscal deficit by 0.2 per cent of GDP.

The broking house which has forecast the financial year 2015 fiscal oil subsidy at about 0.7 per cent of GDP said a 3. 5 per cent swing in oil prices impacts wholesale price inflation (WPI) by about 60 basis points directly and 90 basis points over time and consumer price inflation (CPI) by about 50 basis points directly.

India's bilateral trade with Iraq stood at $ 19.4 billion with imports contributing to US$ 18.5 billion mainly in the form of crude oil while exports were $ 0.9 billion in 2013-14. India's exports consists mainly of cereals, machinery, iron & steel, pharma, meat products and ceramics.

The oil factor
Oil prices continue to hold the key to India's macro stability, say analysts. Iraq is the second largest oil supplier to India
Observers say crude oil can surge well beyond $120 a barrel if the conflict situation in Iraq continues to prevail