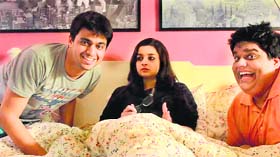 Youth tube!
Most of you may agonise over the concerns of the youth, considering that their only fixation is their never-ending relationship with their phones and the reality shows on MTV, which are seasoned with not-so-seasoned words.

love life: A still from AIB Troll with Alia Bhatt about Ishqwala Love

Show him the money, honey
Britney Spears had to go through it. Madonna did it too! Jennifer Lopez also had to part with her millions, and the trend is now sweeping India in a big way. Ex-husbands seeking 'maintenance' is another arena opening up with gender equality slowly becoming a reality.
Punjabi Tadka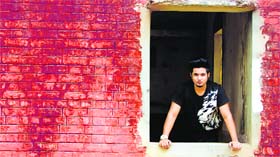 Young notes
His parents would often reprimand him for spending his studying hours in the recording studio, but he wasn't giving it up. Despite all this, A Kay made his television debut as a singer at the age of 18, making him the youngest in the Punjabi film industry to do so. And then came the track Munda Iphone Warga, which has over three million hits.
pet passion
Emotional anchor
From Kate Middleton's boisterous cocker spaniel puppy, Ludo, to Kate Moss's Staffordshire mix, Archie, stylish dogs are the cutest accessories to be seen with and perhaps, the most dependable too. Probably, the first of their kinds in the city, Sonu Shergill, who runs a boutique at her residence in Sector 10, owns a pair of Irish Setters, Zoee and Hazel, who welcome the guests at her humble abode, which is frequented by many people due to her rather engaging profession.


PunĎjabí Sandeep Joshi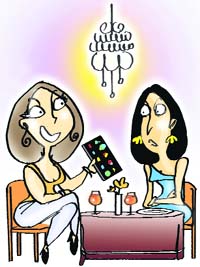 Tech logic:

In this hot weather, Iíve found this e-walk app. No need to go to the park now!
GET PHYSICAL
Work out, have fun!
To make the fitness schedule more interesting, there are several enjoyable ways. However, getting started on a routine fitness schedule is the hardest part. Following are a few ways to add zing to your exercise routine.
Romance with melody
The genset business, albeit doing well, wasn't quite cutting it. Only when he thought he was done dealing with queries of capacity and investment, he wanted to dip his finger in yet another pie. This time it was for passion.
HEART talk
Natural care
I am 24-year-old man staying with my sister and brother-in-law. Both treat me nicely but when it comes to going out with my friends, they are totally against it. They want to accompany me everywhere, what should I do?
star track


Come undone


Flavours of Hyderabad


Grooming time


Big Bís big gesture


Gift of love


Going gets easy
chatter box


Break ke baad


Ektaís choosy


Selfie with Sallu!