Post CM's ire against BJP, opponents all out to push saffron party to wall
Jammu, June 19
After Chief Minister Omar Abdullah stirred up a hornet's nest by exposing "personal secret deals" of BJP MLAs with the state government, the opponents are all out to take on the saffron party in the coming Assembly elections for betraying the people of Jammu region.
BJP unveils strategy for 'Mission 44 Plus' in J&K
Jammu, June 19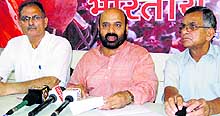 Buoyed by its performance in the recent Lok Sabha elections, the BJP today unveiled its strategy to accomplish 'Mission 44 Plus' to form the next government in Jammu and Kashmir.


BJP leader Bali Bhagat addresses mediapersons at the party headquarters in Jammu on Thursday. A Tribune Photograph

Assembly polls: NC wants safe seat for Omar
Srinagar, June 19
The ruling National Conference, which faced a rout in recently concluded parliamentary elections, is searching for a safe seat for Chief Minister Omar Abdullah to contest the Assembly polls later this year.
Governance crisis taking toll on development in state: Karra
Srinagar, June 19
Senior Peoples Democratic Party (PDP) leader and Member of Parliament from the Srinagar constituency Tariq Hameed Karra today alleged that the National Conference-led government had failed to even provide basic facilities to the people of the state and said the misgovernance has taken a toll on the development of Jammu and Kashmir.
Seniority benefits for ReTs
General line teachers criticise CM's decision
Sringar, June 19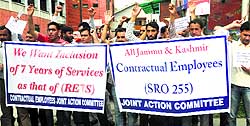 General line teachers recruited through the Services Selection Board (SSB) today criticised Chief Minister Omar Abdullah for his decision to include five years of service of Rehbar-e-Taleem (ReT) teachers in records for seniority benefit. They said the decision would affect their career.

Members of the All-Jammu and Kashmir Contractual Employees Joint Action Committee protest against the state government in Srinagar on Thursday. Tribune photo: Amin War

General line teachers threaten statewide stir
Jammu, June 19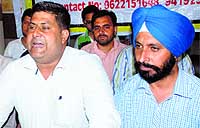 The General Line Teachers Forum (GLTF) today expressed strong resentment against the alleged "unlawful and illegal" decision of the state government for inclusion of five years of honorarium period of Rehbar-e-Taleem (ReT) teachers for service benefits and transfer policy for them.


Members of the General Line Teachers Forum address mediapersons in Jammu on Thursday. A Tribune photograph

Zero infiltration in Kashmir this year
Srinagar, June 19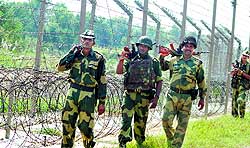 In a year when security agencies fear more influx of militants from across the border, there has been no infiltration in the Kashmir valley so far. Defence sources said militants had made a few attempts to sneak into the Valley during the past two months, but those were foiled by troops guarding the Line of Control (LoC) in north Kashmir.

BSF personnel patrol along the border. A Tribune file photograph

Army reviewing ground situation to counter terror threat, says Gen Singh

Nagrota, June 19
Against the backdrop of the Al-Qaida threat via a video and possible diversion of Taliban fighters to J&K this year, the GOC of the Nagrota-based 16 Corps, Lt Gen KH Singh, today said the Northern Command was fully geared up to ward off any challenge on the frontiers of the state.

Lt Gen KH Singh, General Officer Commanding of 16 Corps
J&K Police Raising Day
Awareness programme on drug addiction held
Jammu, June 19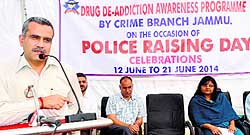 The Crime Branch, Jammu, organised an awareness programme on "Drug addiction, traffic rules and its regulations" for drivers and cleaners at the zonal Crime Branch headquarters here today.


Shakti Pathak, SSP, Crime Branch, addresses the gathering at an awareness programme on drug addiction in Jammu on Thursday. A Tribune photograph

Govt approves panel to probe killings during 2010 unrest
Srinagar, June 19
The Jammu and Kashmir Government today approved a one-man Commission of Inquiry (COI) to probe the killing of nearly 120 civilians during the 2010 summer unrest in the Valley. The Commission has been asked to submit its report within three months.
Kupwara hospital faces shortage of beds
Kupwara, June 19
Patients are facing problems due to shortage of beds at the sub-district hospital here. Two patients are forced to share a single bed at the 100-bedded hospital, which witnesses a huge rush of patients from across Kupwara and its adjoining areas.
Srinagar highway disrupted due to water logging of Nandni tunnel
Jammu, June 19
A traffic jam was witnessed on both sides of the Nandni tunnel on the Jammu-Srinagar national highway due to waterlogging on Wednesday.
Sher-i-Kashmir awardee felicitated
Srinagar, June 19
The Jammu and Kashmir Police today felicitated one of its constables for being part of the 20 sportspersons who were awarded the prestigious Sher-i-Kashmir sports award.
Anantnag shuts on Qazi Nisar's death anniversary
Anantnag, June 19
A shutdown was today observed in Anantnag town to commemorate the 20th death anniversary of religious and pro-freedom leader Dr Qazi Nisar Ahmad.
Governor, CM discuss security, Amarnath yatra
Srinagar, June 19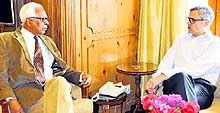 Chief minister Omar Abdullah met Governor NN Vohra at Raj Bhawan here today. During their hour-long meeting, the Chief Minister briefed the Governor about various important matters relating to development, security and governance in the state.

Governor NN Vohra interacts with Chief Minister Omar Abdullah at Raj Bhawan in Srinagar on Thursday. A Tribune Photograph

Security management in J&K discussed
Srinagar, June 19
Director General of Police, J&K, K Rajendra Kumar called on Governor NN Vohra at Raj Bhawan in Srinagar today.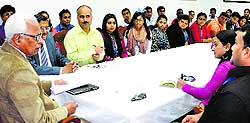 Overseas youth meet Guv
Srinagar, June 19
A group comprising 39 overseas diaspora youth called on Governor NN Vohra at Raj Bhawan here today.


Governor NN Vohra interacts with a group of overseas youth at Raj Bhawan in Srinagar on Thursday. A Tribune Photograph

Play on drug abuse staged at Kot Bhalwal jail
Jammu, June 19
An awareness programme on drug abuse was organised at the Central Jail, Kot Bhalwal.
Srinagar to host 10-day film festival
Srinagar, June 19
Srinagar will host a 10-day International Film Festival in August which will involve film screenings and film direction/acting workshops.
17-yr-old gang-raped, 2 arrested
Srinagar, June 19
A 17-year-old girl was allegedly gang-raped by three youths in Baramulla district of Kashmir, following which two of the accused were arrested, the police said today. According to the complaint lodged by the teenager and her family, the incident took place on June 14 when she had gone to her relative's house in Boniyar area to attend a marriage function.
Jawan's body fished out of Chenab
Batote, June 19
The body of a missing CRPF jawan was fished out of the Salal dam on the Chenab in Reasi last night.
75 booster pumps seized
Srinagar, June 19
As scarcity of water continues in parts of the city, the Public Health Engineering (PHE) Department in its drive against the violators has seized more than 75 water booster pumps since June 8.