Gaba's son arrested in synthetic drug racket
Jalandhar, June 19
In a major breakthrough, the Patiala police have nabbed Goraya businessman Chunni Lal Gaba's son Gurjit Singh alias Monu in the high-profile synthetic drugs case. Monu had been evading arrest for the past five months and was declared a proclaimed offender.
Bajwa rejects Sukhbir's clean chit to Majithia
Chandigarh, June 19
State Congress president Partap Singh Bajwa today rejected Deputy Chief Minister Sukhbir Singh Badal's clean chit to his brother-in-law and Revenue Minister Bikram Singh Majithia over his alleged links with drug smugglers and reiterated that the investigation in this case should be handed over to the CBI.
Heroin seized from jail inmate
Faridkot, June 19
Heroin worth over Rs 30 lakh was recovered from a jail inmate in Faridkot today. As the accused, Surjit Singh (45), who is allegedly involved in three drug smuggling cases. The accused, who wears a turban, had allegedly hidden the contraband in his hair.
2 quintals of drug powder seized
Ferozepur, June 19
After the police's anti-drug drive put brakes on the free flow of contraband and other psychotropic substances, drug peddlers have now switched to non-traditional drugs. Following inputs, the police today raided a quack's medical store in Mamdot, 20 km from here, and seized over 2 quintals of white powder.

33% water samples taken from govt schools fail test
Sangrur, June 19
Availability of potable water in schools, especially in rural areas, is a major problem. Students of many schools have no other option but to drink water having bacteriological contamination and high fluoride content.
District BJP stakes claim to Patiala seat
Patiala, June 19
The district unit of the Bharatiya Janata Party (BJP)t oday staked claim to the Patiala (Urban) Assembly seat. The election has been necessitated after the resignation of Congress leader Capt Amarinder Singh, who has been elected an MP from Amritsar.
Hooda govt meddling in Sikh affairs: SAD
New Delhi, June 19
An SAD delegation led by Chief Minister Parkash Singh Badal today urged the Union Government to stop the Haryana Government from meddling in affairs related to Sikh shrines.
SAD (A) to contest bypoll
Sangrur, June 19
The Shiromani Akali Dal (Amritsar) will contest the forthcoming Assembly byelections in the state. This was stated by SAD(A) secretary general Jaswant Singh Mann after a meeting of the Sangrur and Barnala district units of the party today. He said the party would contest all three forthcoming Assembly byelections.
Malerkotla boy Vidhu's family to move court
Sangrur, June 19
The family members of Malerkotla boy Vidhu Jain (12), who was allegedly burnt to death on September 30, 2013, today said they would move the Punjab and Haryana High Court to seek a CBI inquiry against police officers for "deliberately" delaying the investigation in order to protect the "killers".
mgnrega scam
Maluka orders audit of 450 panchayats
Chandigarh, June 19
Following reports of the misuse of MGNREGA funds in the state, the Punjab Government today ordered an audit of the utilisation of grants given to 450 village panchayats during 2013-14.
2 yrs on, no FIR yet in old age pension scam
Gurdaspur, June 19
Over the last two years, 12,987 old age pensions have been detected fake by the Gurdaspur Social Security Department. This development is giving the jitters to officials who admit that the scam may well turn out to be the proverbial tip of the iceberg.
Soon, policy to check farm wastage: Harsimrat
Bathinda, June 19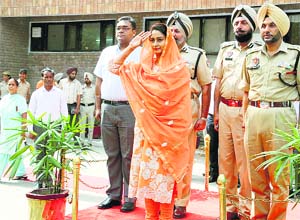 The colossal loss of foodgrain, fruits and vegetables in the country every season will be a thing of the past if the resolve of the newly installed NDA Government is any indication. Union Food Processing Minister Harsimrat Kaur Badal, who was here today to pay obeisance at Takht Damdama Sahib and thank the electorate for reposing their faith in her for the second time, spelled out that her first priority as minister would be to bring processing/ processed food within the reach of the masses.

Union Minister Harsimrat Kaur Badal in Bathinda on Thursday. Tribune photo: Pawan sharma

Angry workers confront AAP leader Sisodia
Bathinda, June 19
Manish Sisodia, Aam Aadmi Party (AAP) central working committee member, today visited the Teachers' Home here where he addressed a large gathering. He was accompanied by Faridkot MP Prof Sadhu Singh, MLA from Delhi Jarnail Singh and Jassi Jasraj. Sisodia was asked several uncomfortable questions. An angry Gurpreet Singh, who had come from Talwandi Sabo, said he strongly disapproved of the party's method to elicit people's views on various issues.

Girl who lost her arm awaits relief
Muktsar, June 19
Anju Rani (20), a student of Class X at Government Senior Secondary School, Bhagsar, who had lost her right arm and a finger of the left foot after coming in contact with high-voltage electricity wires in February 2013 in the school, is yet to get compensation and job announced in November.


Anju Rani was promised Rs 2 lakh compensation and a government job by Chief Minister Parkash Singh Badal

Jalandhar girl seventh in JEE, wants to do computer engg
Jalandhar, June 19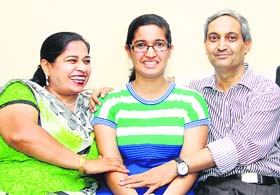 A local girl, Aditi, has bagged the seventh position in the country in the JEE Advanced examination. She has stood first among girls. With a penchant for mathematics since childhood, she says she had decided to opt for engineering when she was in Class IX. Born to a doctorate couple teaching at Dr BR Ambedkar National Institute of Technology here, Aditi says the ability to focus and steer clear of distractions enabled her to make it big in the examination.


Aditi with her parents in Jalandhar on Thursday. photo: Sarabjit Singh

SGPC gives aid to displaced farmers
Amritsar, June 19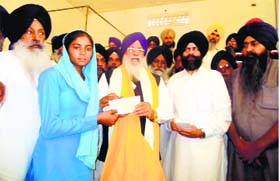 The SGPC seems to have sarted a drive against the Haryana Government's move to set up a separate gurdwara panel. The SGPC president, Avtar Singh Makkar, has held several public meetings in Haryana over the past few days.

SGPC chief Avtar Singh Makkar hands over a cheque to a family member of a Sikh farmer displaced from Haryana. A Tribune photograph

Health Minister transfers two in surprise visit
Jalandhar, June 19
Health Minister Surjit Kumar Jyani made a surprise visit to the local Civil Hospital this afternoon amid a rush of patients. He noticed several lapses on the part of the hospital staff.
'Suicide' in Gurdaspur jail
Prisoner subjected to unnatural sex, HC told
Chandigarh, June 19
In a shocking disclosure, a widow has alleged before the Punjab and Haryana High Court that her husband was subjected to unnatural sex before he was found hanging in Gurdaspur jail.
School board awaits Rs 5-crore rent from Education Dept
Mohali, June 19
The Punjab School Education Board (PSEB) authorities have been running from pillar to post to get rent from the Punjab Education Department that has been using the board's Phase 8 premises to run its offices for three years.
Powercom faces staff shortage, consumers suffer
Patiala, June 19
The Council of Junior Engineers, PSEB, today said the shortage of skilled manpower in Punjab State Power Corporation Limited and Punjab State Transmission Corporation Limited was a serious obstacle in the growth of both these power utilities.
Officials told to redress complaints in stipulated time
Fatehgarh Sahib, June 19
Deputy Commissioner Arun Sekhri today directed district officials to redress grievances of the people and get their work done within the period stipulated under the Right to Service Act. Any officer found delaying any work unnecessarily would face action under the Civil Services Act. He said this while presiding over a monthly review meeting of district officials here.
Abohar bridge construction goes at a snail's pace
Abohar, June 19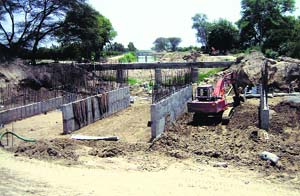 Even as Chief Minister Parkash Singh Badal had announced during a Sangat Darshan outside Sayeedwala village, 11 km from Abohar, on September 15 that the national highway bridge, which was washed away, would be replaced within three months, the construction is going on at a snail's pace.

The under-construction bridge on the Abohar-Sriganganagar National Highway. Tribune Photo

Sikh varsity to set up AstroTurf
Fatehgarh Sahib, June 19
An AstroTurf will be laid on the compound of Sri Guru Granth Sahib World University, Fatehgarh Sahib, at a cost of Rs 5 crore. This would make available international-level facilities to local sportspersons, particularly from the hockey academy (both junior and senior wings). A decision in this regard was taken in a meeting of the university syndicate today.
De-addiction camps at health centres
Patiala, June 19
The administration and the Health Department will hold drug de-addiction camps at all 10 primary health centres and three civil hospitals in the district every fortnight to provide free counselling and medicines to drug addicts.
Relative held for hacking 2 to death
Fatehgarh Churian, June 19
The Batala police claimed to have cracked the recent Fatehgarh Churian double-murder case. A woman and her son were hacked to death on June 15. Batala SSP Bikram Pal Singh Bhatti said the police had arrested Kuljit Singh, a nephew of Iqbal Singh, whose wife Malkiat Kaur and son Lovepreet Singh were done to death.