Olympic-size swimming pool misses another session
Jammu, June 20

The callous attitude of the authorities led to the missing of another session for the swimmers to practice at the only Olympic-size swimming pool of the state at Maulana Azad Sports Stadium here. The stadium has been under renovation since 2010, but despite completion of the renovation of the pool, the pool cannot be opened as the changing rooms and the surroundings of the complex are not ready to start the pool.

The Olympic-size swimming pool under renovation at Maulana Azad Sports Stadium in Jammu. Tribune photo: Inderjeet Singh

Chamber of Commerce and Industries poll today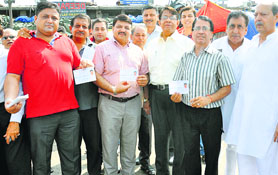 Jammu, June 20
The stage is set for the election to all six posts of office-bearers of the Chamber of Commerce and Industries, Jammu, for which the voting will start at 10 am tomorrow. All the candidates were putting last-minute efforts to get traders and businessmen of Jammu on their side.

Contestants campaign for the Chamber of Commerce and Industries election in Jammu. A Tribune photograph

Golf charms youth in Kashmir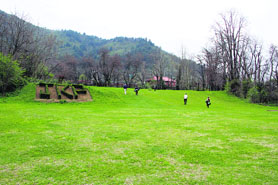 Srinagar, June 20
With the inauguration of Golf Training Park on the banks of the city's Dal Lake, the game has left the city youth charmed, making many seek training. Aiming to impart golf training to the youth, the initiative was started by Jammu and Kashmir Director General of Police Ashok Prasad last month.


A view of Police Golf Course on the banks of the Dal Lake in Srinagar. Tribune Photo: Amin War

Jammu University teachers want more
Jammu, June 20
A day after the state Cabinet approved enhancement of retirement age of the teaching faculty in various universities and medical colleges, the Jammu University Teachers Association (JUTA) today requested the state government to reconsider its decision and increase the age of superannuation of state university teachers to 65 years.
DGP: Amarnath yatra, Assembly poll a challenge
Jammu, June 20
With an eye on the upcoming Amarnath yatra and the Assembly polls in the state, Director General of Police (DGP) K Rajendra Kumar today asked his officers and jawans to maintain "continuous vigil to curb infiltration" in the border districts.
Restrictions imposed in Srinagar
Srinagar, June 20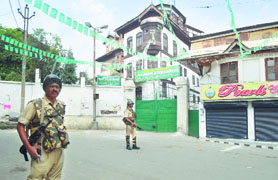 The authorities imposed restrictions on civilian movement in and around the Old City to foil a proposed rally by a moderate separatist group even as a spontaneous shutdown affected business on Friday. The restrictions were imposed across the densely populated old city. Its neighbourhood areas under the jurisdiction of Rainawari, Khanyar, Nowhatta, Safa Kadal and MR Gunj police stations were sealed for civilian movement.

Keeping watch: Security personnel stand guard near the Grand Mosque in Srinagar on Friday. The authorities imposed restrictions in parts of the Old City to thwart a march by Mirwaiz-led Awami Action Committee. Tribune photo: Amin War

Govt to take steps to make science interesting for students: Minister
Srinagar, June 20
Minister of State for Science and Technology and School Education Feroz Ahmad Khan today laid stress on the need to make science more interesting for students in schools and colleges. He said various innovative measures would be taken to attract students to learn science at all levels.
Army man injured in mine blast near LoC
Jammu, June 20
An Army man sustained injuries in an accidental mine blast near a forward post in Sabjiyan sector along the Line of Control (LoC) in Poonch district on Friday. The injured Army man was identified as Lance Naik Harpal Singh of 3 Garhwal Rifles, deployed with 40 Rashtriya Rifles at present.
LeT commander held, another militant found dead in Kulgam
Kulgam, June 20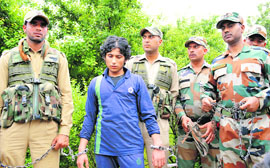 A Lashkar-e-Toiba commander from Pakistan was nabbed while another militant from the outfit was found dead in separate incidents in the Yaripora area of south Kashmir's Kulgam district. The police said that following a tip-off about the presence of a militant in Shampora village of Yaripora, the Army and the CRPF jointly cordoned off the village early Friday morning.

The Lashkar militant Naveed Jat held on Friday. Tribune photo

Tral shuts over militants killing
Pulwama, June 20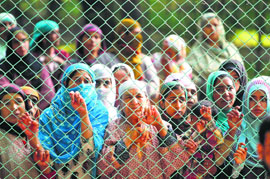 A shutdown was observed in parts of south Kashmir's Pulwama district over the killing of three local militants on Thursday. An eerie calm prevailed in Tral and Awantipora areas of the district as large number of people along with separatist leaders visited the native villages of the slain militants for the funeral prayers.


Villagers watch the funeral procession of Hizb militant Adil Ahmed Shah in Pulwama district on Friday. A Tribune Photograph

Increase in retirement age of state varsity teachers
Decision likely to prevent brain drain from state to central varsities
Srinagar, June 20
The state government's decision to increase the retirement age of the teachers of the state universities and medical colleges to 62 years is likely to prevent the brain drain from the state universities to the central universities.
SKUAST to organise workshop on basmati export
Jammu, June 20
In order to give a further boost to the production of export-quality basmati in Jammu province, the Sher-e-Kashmir University of Agricultural Sciences and Technology (SKUAST), Jammu, and Basmati Export Development Foundation (BEDF of the Agricultural and Processed Food Products Export Development Authority (APEDA), Government of India, have decided to organise regular workshops on basmati with special emphasis on its quality improvement and export.
JU VC releases GMCE brochure
Jammu, June 20

The Vice Chancellor, University of Jammu, Prof Mohan Paul Singh Ishar, today released the brochure of Gandhi Memorial College of Education (GMCE), Jammu, which is being run by The Hindu Education Society, Kashmir.

Prof Mohan Paul Singh Ishar, Vice Chancellor, University of Jammu, releases the brochure of the Gandhi Memorial College of Education on Friday. A Tribune photograph

9-day summer fest begins today
Srinagar, June 20
The nine-day 'Big Summer Festival' to woo tourists will begin here tomorrow. An organiser of the festival said sports, adventure and cultural activities, including rafting, mountain running, paragliding, trekking, shikarathon, water sports, half-marathon, triathlon, sport climbing and cyclothon, would be held during the nine-day fest.
Raising Day: Police organise painting contest for kids

Jammu, July 20
The Zonal Police Telecommunication Headquarters, Jammu, today organised a painting competition for children up to the age of 10 years. The contest was organised as a part of the Police Raising Day-2014 celebrations. Great enthusiasm was witnessed among the children and their parents.

Children participate in a painting competition organised by the Zonal Police Telecommunication Headquarters in Jammu. Tribune photo: Inderjeet Singh

JKPF delegation takes up demands with Governor
Srinagar, June 20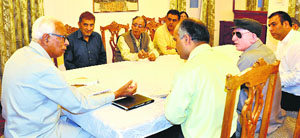 A delegation of the Jammu and Kashmir People's Forum (JKPF) led by its chairman Syed Nassar Ullah Shah called on Governor NN Vohra at Raj Bhawan on Friday.

Giving a hearing: Governor NN Vohra holds a meeting with a delegation of the Jammu and Kashmir People's Forum at Raj Bhawan in Srinagar on Friday. A Tribune photograph

Bailey bridge on way to Amarnath shrine opens
Srinagar, June 20
A 50-foot Bailey bridge at the Baltal base camp in Ganderbal district of Jammu and Kashmir was inaugurated by Additional Chief Executive Officer, Shri Amarnath Shrine Board, Preet Pal Singh, on Friday. The bridge, constructed by the Army, would facilitate pilgrims intending to pay obeisance at the holy cave shrine.
Srinagar MC brings down illegal structure
Srinagar, June 20
The Srinagar Municipal Corporation (SMC) launched a late evening demolition drive here yesterday. An SMC official said a team comprising 20 enforcement officials identified a major violation reported by a local at Gupkar.
Admission to 5-yr MSc at SMVDU begins
Jammu, June 20
The admission process for the newly launched five-year integrated dual degree in MSc (Economics) has begun at Shri Mata Vaishno Devi University (SMVDU), Katra. The innovative programme was approved by the executive council in a meeting chaired by Governor NN Vohra, who is also the Chancellor of the university. The last date for submission of applications is June 30 and the intake capacity for the programme is 30. "The MSc (Economics) programme along with BSc (Hons) degree would provide a great and unique opportunity to the meritorious students passing 10+2 examination of the CBSE or the state boards. The admission will be purely based on 10+2 score," said Vice Chancellor Sudhir K Jain. — TNS
Traders delegation meets Governor
Srinagar, June 20
A delegation of Kashmiri Traders and Manufacturers Federation (KTMF) called on Governor NN Vohra at Raj Bhawan on Friday. The delegation apprised the Governor of key problems which the trading and manufacturing communities in the Valley were facing. These included difficulty in getting soft loans, interest and penalty on electricity dues and non-rehabilitation of traders whose shops had come under road-widening projects. They put forth issues relating to illegal encroachment on roadside and footpaths, heavy sanitation fee of the Srinagar Municipal Corporation and lack of public utilities and inadequate parking in Srinagar. The Governor assured the delegation that he would take up their demands with the state government. — TNS
Minor's rape: One more accused held
Baramulla, June 20
The police today arrested one more accused in the rape of a minor during a wedding at Yaripora village of Baramulla district on June 18. The third accused has been identified as Rashid Lateef of Boniyar. "We have arrested all three accused. They will be produced in court tomorrow," a police officer said. The victim, a class VIII student, in her complaint on June 18 had alleged she was abducted and gangraped by three youth. A doctor at District Hospital, Baramulla, said the girl's hymn was torn but there were no injury marks on her body.
Senior police officer dies of cardiac arrest
Srinagar, June 20
Director Prosecution of the Jammu and Kashmir Police Tashi Regzin died due to cardiac arrest here this morning. He was 55. Regzin joined the department in 1988 and served in different capacities before being promoted as Director Prosecution in October 2013 and posted at the Police Headquarters. In his condolence message to the bereaved family and to the J&K Police Department, Omar expressed sympathy and prayed for eternal peace to the departed soul. DGP K Rajendra Kumar, in his condolence message, expressed heartfelt sympathy with the bereaved family. — TNS
MLC Rasool calls on Governor
Srinagar, June 20
Sheikh Ghulam Rasool, Member of Legislative Council (MLC), called on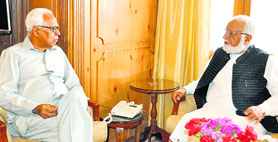 Governor NN Vohra at Raj Bhawan here today. The Governor and Sheikh discussed several important matters related to the advancement of people's welfare and development of the state, particularly focusing on issues related to the functioning of the higher education sector and the need for enhancing the productivity of the agriculture sector. TNS

Governor NN Vohra with MLC Sheikh Ghulam Rasool at Raj Bhawan in Srinagar on Friday. A Tribune photograph

Madan urges workers to ensure Cong victory in polls
Jammu June 20
Former Lok Sabha member and Congress leader Madan Lal Sharma conducted an extensive tour of twin border districts of Poonch and Rajouri and addressed a series of meetings at Poonch, Mendhar and Sunderbani. Madan Lal thanked the people of Rajouri and Poonch for showing faith in him. He told party workers to work hard in the coming Assembly elections to ensure a Congress-led government in J&K. — TNS