M A I N N E W S
Birender revolts, says won't contest on Cong ticket unless Hooda steps down
Parvesh Sharma
Tribune News Service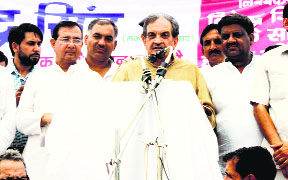 Chaudhary Birender Singh during his "Insaaf sabha" in Jind on Sunday. A Tribune photograph

Jind, June 22
Congress rebel and Rajya Sabha MP Chaudhary Birender Singh today said he would not contest the upcoming Assembly elections on the symbol of the party if it does not replace state Chief Minister Bhupinder Singh Hooda. The party leadership had yesterday ruled out any move to replace Hooda.
"I want to clarify that I will not contest the Assembly elections on the Congress symbol if the party does not replace Hooda with a more effective leader. The Congress can win the election with a majority, but not under Hooda's leadership since voters are annoyed with his policy of regional discrimination," said Birender Singh during his "Insaaf sabha" in Jind.
On whether he may leave the party, he said he had not decided his future course of action, but his supporters were putting pressure on him to take a final decision. He, however, confirmed that he had met BJP president Rajnath Singh a day ago in New Delhi.
"I met Rajnath at his office. He is also the Home Minister of the country. The visit did not have anything to do with my political career. I only met the Home Minister for some urgent piece of work," he claimed. Birender's supporters criticised the state Congress government for ignoring Jind and other areas of the state, and focusing only on the development of his area — Rohtak and some other districts.
"Hooda has sacrificed all nine seats of Haryana just to save the Rohtak parliamentary seat. I would have sacrificed my seat to save the nine other seats. Hooda just cannot look beyond his area," alleged Chaudhary. He questioned Hooda's sudden hurry in starting development works in Jind when elections were just a few months away.