Make some noise
Ole Ola or Waka Waka… football fanatics get together to celebrate world's most loved game and the anthem every four years…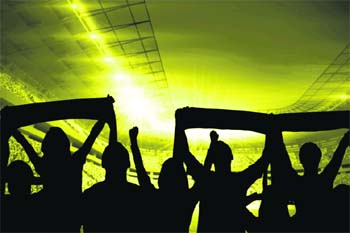 Pitbull and Jenifer Lopez have hit a goal with this year's FIFA song. It is peppy and inspiring. The elements that an anthem is supposed to have. But then out of the blue, some people drop their comments on Youtube about the missing punch in the anthem. The obvious comparison is Shakira's anthem for FIFA in 2010 Waka Waka. And you thought it was just a track. If back home, the anthems we have are based on cricket, it doesn't in any way reduces the importance of the FIFA anthem. The game which is surprisingly changing the fate of every underdog team is a religion worldwide and so are the tunes attached to it. What do you have to say?
Raw desire
Fresh, cool and crunchy is all you want to dig in on a scorching day. The season comes with its share of troubles but also plenty of fruit to cool it down. Make most of the long days to make these quick, easy salads that require little or no cooking.
the 'in' side
Make it your own
I regularly share decorating tips with home owners but what about the large percentage of people who live on rent? Whether you're a would-be buyer delaying purchase because of the credit crunch, or you're a student who's just moved into your first rental property, you will be desperate to make your new place feel like a home. But to walk into white walls and boring, old fashioned furniture can be so inhospitable.
Egyptian flare...
When one thinks of Egyptian women's wear, the mind conjures up names of two, larger than life personalities who influenced world history. One is Nefertiti and the other Cleopatra. The dresses worn by Cleopatra, played by actress Elizabeth Taylor in the 1963 Hollywood blockbuste Cleopatra, too come to mind. Now trendy and style conscious divas of the region have an option to choose from a creative Egyptian theme collection, which couturier Rupam Grewal, who owns the haute couture brand Jaamawar Minx (JM), has launched. The stunning summer designer wear was recently unveiled at the Jaamawar Minx studio in Elante Mall.
stress buster
Balancing act...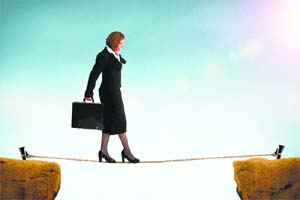 We often talk about maintaining balance in our lives. Do we actually? But sometimes in our effort to maintain that balance we stress ourselves even more. It is important to have a mix of work and play in life in order to maintain general level of wellness. However balance is more easily longed for than maintained. The term "balance" has generally become a buzzword therefore I feel it is very important for all of us to find exactly what mix we need in order to enjoy our lives.
Fabric fiesta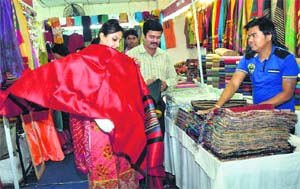 The Weave & Print Society with the brand name of Lipakshee, registered with Development Commissioner, Handicrafts Ministry of Textile Government of India has displayed a wide range of dress material particularly from Andhra Pradesh is on at Lajpat Rai Bhawan -15B, Chandigarh.

Shopping time: Range of fabrics available at the exhibition

Yours naturally!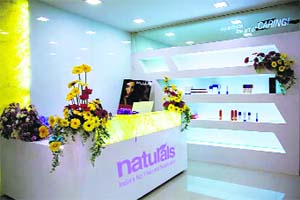 Naturals India's No.1 Unisex Salon & Spa known for its signature hair spa and beauty treatments India launched its first salon in Jalandhar. Known for its signature hair spa and beauty treatments across all the salons in India, Naturals unisex salon is all set to woo the customers of Jalandhar. Being a versatile and affordable salon brand Naturals aims to be a one stop shop for hair, body and skin needs. Spread over 1000 sq. ft, every aspect of the salon, from the interiors to it's specially designed exclusive section for women has been customised keeping in mind the objective of giving the customers an extraordinary experience.
STAR TRACK
The versatility of Varun Dhawan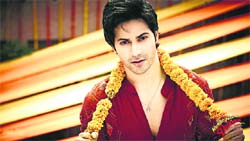 Post Student of the Year, Varun Dhawan has chosen diverse roles to prove his capability as an actor. While in Humpty Sharma Ki Dulhania he plays a typical Punjabi lover boy, his character in ABCD2 (Any Body Can Dance 2) is of a passionate dancer. He talks about his movies and his Humpty Sharma Ki Dulhania co-star Alia Bhatt...
Brangelina's million dollar pad
Hollywood couple Brad Pitt and Angelina Jolie have added a massive skate park to their newly constructed Los Feliz home in Los Angeles, California.
JLo's fashion advice…
Jennifer Lopez generally does not like to talk about her relationships but the newly single singer took credit for actor-director Ben Affleck's good fashion moments when they were dating. Affleck and Lopez's highly publicised three-year-old romance saw them being dubbed as Bennifer by the media and when asked how the couple looked so good together, Lopez accepted her role.
The latest on the lovebirds
Ranbir Kapoor and Katrina Kaif are back in town from South Africa. They were spotted at a party at Karan Johar's house last week and have also finalised a place of their own in Bandra and are excited to move in together.
Of Khoobsurat and Ugly
It's quite a funny co-incidence that Anurag Kashyap's critically-acclaimed film Ugly and the remake of 1980 classic comedy Khoobsurat are releasing on the same day -September 19. Apart from the opposite titles, their genres are also quite contrasting. We think that audience is going to have fun time while deciding.
Chatter Box
Of facts and fiction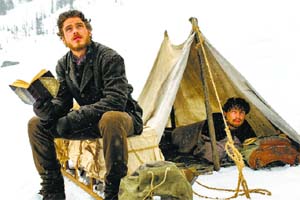 Discovery Channel presents its first scripted series Klondike, which focuses on the Klondike gold rush in the 1890s and is based on Charlotte Gray's book, Gold Diggers: Striking It Rich in the Klondike. Featuring Richard Madden (King of the North Robb Stark of Game of Thrones, A Promise), Abbie Cornish (RoboCop, Limitless), Tim Roth (Pulp Fiction, Reservoir Dogs) and Sam Shepard (August: Osage County, Out Of The Furnace), Klondike tells the powerful story of the last great Gold Rush in our history.
A still from Klondike
The year ahead
If your birthday is June 23...
Astro Turf
ARIES: You won't be able to count on anyone. Listen to what others have to say. It's time to clear the air and rid yourself of all the burdens you've been carrying on your shoulders. Let bygones be bygones.