M A I N N E W S
UGC hardens stance as VC digs in heels
row over 4-yr courses: Commission sends fresh directive to DU colleges


BJP says book VC for fraud
Aditi Tandon
Tribune News Service


RESIGNATION FLIP-FLOP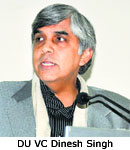 Around 1.30 pm: Reports of DU VC resigning emerge; DU media coordinator Malay Neerav confirms the development
5pm: Legal adviser Suraj Singh to DU says VC has been advised not to resign
5.30 pm: DU Pro-VC Sudheeh Pachauri says DU's academic council has asked VC to stay on
New Delhi, June 24
As Delhi University Vice Chancellor Dinesh Singh dug in his heels defying UGC's directive on the rollback of the controversial Four Year Undergraduate Programme for the fourth day today, the commission issued a fresh directive to all DU colleges to admit students on the old 10+2+3 general pattern with immediate effect.
The UGC sent the directive to DU and emailed copies of it to principals of all 64 colleges affiliated to the Central varsity. Even as the DU VC resisted the rollback, which the UGC first ordered on June 20, 57 of the 64 DU affiliates wrote back to the commission saying they would comply with its orders. Once all 64 colleges send compliance reports to the UGC, the position of DU VC would become untenable as his authority would stand challenged.
There were reports that VC Dinesh Singh had quit. But he clarified through Pro Vice Chancellor of DU Sudheesh Pachauri that he had not resigned and the DU's Academic Council (the apex body) had asked him to stay. Singh's resignation reports came in after DU's media coordinator Malay Neerav confirmed the reports. The confusion persisted until HRD Ministry said late evening that it had not received any resignation letter.
The ruling BJP called for an FIR against Singh terming his act of rolling out the FYUP a fraud on students. BJP's Sidhartha Nath Singh said, "The fraud has been detected. It is a crime on students. There could be an FIR… those guilty of the crime must be punished. Autonomy does not mean that the VC can run an illegal course which did not have the approval of the President who is the DU Visitor." The HRD Ministry had found that while DU offered 44 courses under the FYUP programme last year, it had mentioned only two courses for approval in the ordinance dated December 26, 2012. These courses impacted only 80 seats as against 80,000 which the present FYUP is affecting. The ordinance was never approved by the President, the appointing authority for DU VC.
The BJP apparently gave away government's mind when it said criminal action against Singh would be initiated at "an appropriate time". The BJP also questioned the role of former HRD Ministers Kapil SIbal and Pallam Raju in the FYUP row asking whether they were too incompetent to detect the fraud or were willing participants in it.
Sidhartha Nath Singh met HRD Minister Smriti Irani to discuss the BJP line on the ongoing row. Smriti has said she would not interfere in the matter as the minister.