M A I N N E W S
North set to miss July 1 date with monsoon
Vibha Sharma
Tribune News Service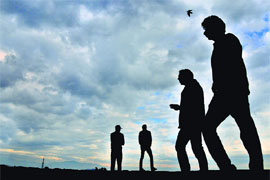 New Delhi, June 24
The much-awaited monsoon is all set to miss its July 1 date with northwest India as it has a entered a "weak phase". The revival of the monsoon current is likely in the first week of July, said D. Sivananda Pai, head of IMD's Long Range Forecasting Division.
The extended range forecast of Pune-based Indian Institute of Tropical Meteorology (IITM) said the weak phase will last for about 25 days. "The rainfall activity over the country will be weaker in the next 25 days (till mid-July)," it said. Once it is revived, the current will get re-established till the places it has travelled.


India's lifeline enters weak phase


Punjab, Haryana, Delhi, Chandigarh, Uttar Pradesh, Rajasthan, Uttarakhand and Jammu and Kashmir normally receive the first showers around June 30-July 1.


There will be a delay this time as the monsoon has entered a weak phase. The rainfall activity over the country will be weaker in the next 25 days (till mid-July).
"The revival is expected by first week of July. Only when it stabilises, its further progress can be predicted," said Pai. "If the current is strong and it gets adequate support from additional parameters, things can happen fast. All this, however, can only be predicted once the current re-establishes," he said.
The Northern Limit of Monsoon (NLM) continues to pass through Veraval, Surat, Nasik, Wasim, Damoh and Sultanpur. How strongly and further it travels will depend upon supporting factors such as formation of low pressure area over the Bay of Bengal and presence of a strong Heat Low in the northwest region — both have this time failed to provide support to the monsoon current, already stressed by the El Nino factor.
Pai says the cool spells during the months of April and May worked adversely and so did inadequate help from the Bay of Bengal and the Arabian Sea.
EL Nino cannot alone be blamed for the weak monsoon that India is experiencing this year, he says.
As per the IITM, the rainfall activity in the month of June will be mainly confined to the west coast and the North-East.