Foot note
High-heeled sandals have come down from the pedestal to pave the way for Kolhapuris, shoes, slippers, mojris, loafers…on the ramp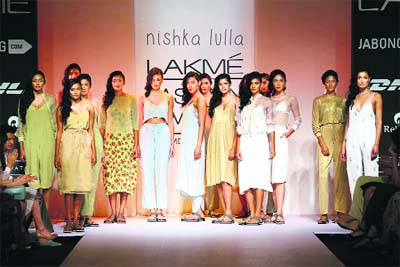 Perched on six inches of heels, fashion insisted on to be taken seriously. On the ramp, on red carpet, on occasions, where one was required to put the best foot forward, heels remained a constant, while other defining elements of fashion took turns…Till of course fashion designers realised that they too were dispensable.
Models in slippers at Nishka Lulla's show

She's loving it!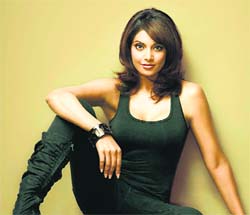 Bipasha Basu may have had ups and downs in her acting career, but she has been enjoying every bit of the journey so far
Bipasha Basu may have been surrounded by controversies due to her absence from the promotional events of Humshakals, but she still remains to be a favourite among the audience as we hear them speak to her through Airtel Talk to Bipasha. She broke the stereotype of the fair-skinned lasses making it to the most wanted list of Bollywood, thereby redefining the conventionally perceived idea of bold and beautiful. Here is a little more dope on the star, who continues to shine bright, despite the emergence of many new stars.
STAR TRACK
Amitabh does a cameo in Ghoomketu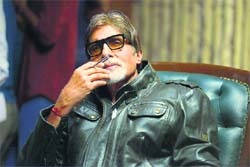 Veteran actor Amitabh Bachchan, who is busy promoting his TV series Yudh, recently shot for a cameo in Anurag Kashyap-starrer Ghoomketu. The film is directed by Pushpendra Mishra and is produced by Vikramaditya Motwane's Phantom Productions. He mentioned about the same on his blog. "The images from the blog are an entire day's work professionally. They belong to a cameo that I am doing for a film titled Ghoomketu, being produced by Vikramaditya Motwane and his company, which also includes Anurag Kashyap.
Ek Villain's music tops charts
After Aashiqui-2, the soundtrack of Mohit Suri's Ek Villain is a national rage. Having bagged superlative reviews across the board, the album topped music charts instantly and is currently the top choice of music lovers. While the Ankit Tiwari-rendered Galliyan became an instant hit universally, the unplugged version by Shraddha Kapoor has the women floored. The album has the trademark Mithoon stamp, with three standout ballads—Banjaara by Mohd Irfan, Zaroorat by Mustafa Zahid and Humdard by Arijit Singh. Pakistani band Soch makes its Bollywood debut.
What's brewing?
The Café Coffee Day, Sector-36, Chandigarh, introduces its customers to the art of brewing coffee in a month-long coffee festival, which took off on Tuesday.
CELEB POINT
Filmy keeda!
Divya Dutta I think I was born filmy…or maybe I lived on Bollywood movies. I was five when I went to Delhi to live with my three aunts — my dad's sisters. They were assigned the responsibility of making me graceful and well-mannered, as my parents were posted as doctors in remote Punjab and I had picked up some nice gaalis from the local village boys!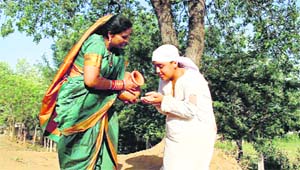 Pure devotion
Today, youngsters look for instant results. And, connecting with Shirdi Sai Baba is a sure step in that direction… is what Sukhvinder Sharma believes in. The veteran theatre-actor and writer turns director with Hindi feature film Sai Mahima, a venture he terms as devotional not commercial.
High design(s)
Swati Prabhakar, a costume designer who has found favour with Pollywood at a very young age. She has just wrapped up an assignment wherein she was the chief designer for the movie Mukhtiar Chadha. "Working as a designer and a stylist for the likes of Diljit Dosanjh, Yashpal and Kiran Juneja was a great learning experience," she says. With the movie slated to be released in October, this graduate from INIFD, Ludhiana, is looking towards Bollywood now for further projects. Presently she is busy working for a special trousseau collection.
Watch it smart
Gone are the days when Smart televisions were touted as the gen-next concept. Today, the idea lies in offering exclusivity while merging modern technologies and creating new moments. Arise India brings for the first time in the industry a pioneering LED TV "For AndroidTM" that makes Smart TVs obsolete. The Arise LED TV "For AndroidTM" takes intelligent television viewing a step further and offers you much more than your Android mobile phone by bringing the latest technology 'eco-system' to the biggest possible screen ever.
French connection
The Paris-Bibliothèques Association has created a project, L'histoire De France Racontée Par La Publicitée (The history of France through advertisement). The exhibition, composed of posters, ads from newspapers and labels of drinks as well as cheese, invites you to discover the history of France through humoristic portraits of French heroes.
Par Excellence Jesse Grewal
Set the grip
Getting a good grip on the club is the most important component in learning the game. The hands are your only connection to the club and a faulty grip leads to loss or lack of control on the club face, which leads to both direction and distance issues. Changing a grip is probably the most difficult part of swing correction and lots of teaching professionals try to bypass this, and change some other component of the swing to compensate for the problems arising out of a faulty grip. Changing a grip is as hard as changing the way you hold a pen. One has to unlearn the old habit and create a new one, which takes time and can be quite frustrating.
CHATTER BOX
Dance pe chance
Presenting India with its third child dancing sensation, Zee TV recently announced the winner of the third season of its popular dance reality show for kids, Lifebuoy DID L'il Masters. In what turned out to be an intense, nail-biting finish, Teriya Magar was voted the winner by millions of viewers from across the nation. The Grand Finale was held at the Balewadi Sports Complex in Pune.
The year ahead
If your birthday is June 25...
Astro Turf
ARIES: You can achieve quite a lot once you get going. Never trust a stranger. Socially, you will have some problems with a loved one. However, it will not be too