Alternative road link between Chandigarh, Zirakpur proposed
Zirakpur, June 29
In an effort to ease traffic congestion on the busy Zirakpur-Chandigarh stretch of the Chandigarh-Ambala National Highway, the Punjab government has proposed another link between the two urban conglomerates.
Chhatbir zoo a virtual rescue centre for big cats
ChhatBir Zoo, June 29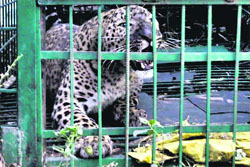 With nine big cats being lodged at the Mahendra Chaudhary Zoological Park, Chhatbir, the zoo has been virtually turned in to a rescue and rehabilitation centre for big cats that are being rescued from different places in Punjab and Haryana in the last few years.



Wild aggression: A rescued leopard at Chaudhary Zoological Park, Chhatbir. A Tribune photograph

Maruti cars hot favourite among vehicle thieves
Chandigarh, June 29
Theft of Maruti cars and Bolero jeeps has caught the fancy of thieves in Chandigarh as these continue to be stolen in huge numbers. With these vehicles having a good resale value, the UT police's record of theft of these vehicles has reached an all time high.


Better Chandigarh
Apni mandi losing its meaning, intended purpose
Chandigarh, June 29
In what turns out to be a major concern for the city, vegetable markets are fast losing their original character and sheen. Amid the neglected state of the Grain and Vegetable Market in Sector 26 here, the average resident of the city is now yearning to find the original concept and culture that existed at the apni mandi until a few years ago.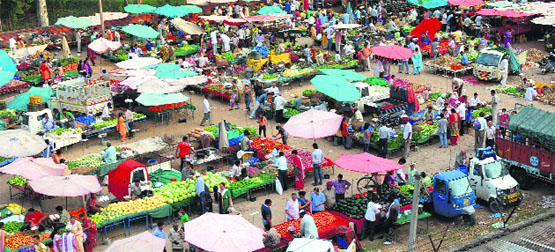 A view of the apni mandi at Sector 15 in Chandigarh. Tribune Photo: S Chandan
Day 2: RLA gets rich by Rs 18.20 lakh
Chandigarh, June 29
Special vehicle registration numbers with unique combinations such as '9999' and '8888' and those having auspicious value such as ' 0786' were in high demand on the second day of the open auction by the Registering and Licensing Authority (RLA) here today.
Gul Panag's VISTAR aimed at strengthening party base
Chandigarh, June 29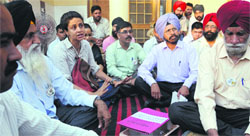 As part of the national mission 'VISTAR" , a programme of the Aam Aadmi Party, to strengthen its base on each booth level, Gul Panag, the local party leader, today inaugurated the programme at Dadu Majra colony here today.

Aam Aadmi Party leader Gul Panag interacts with people at Dadu Majra in Chandigarh on Sunday. Tribune Photo: Vicky Gharu
PGI doc gets int'l fellowship
Chandigarh, june 29
Dr Shefali Khanna Sharma is working as a faculty in the Rheumatology Division, Department of Internal Medicine, PGIMER, Chandigarh.
Monsoon likely to hit city after July 5
Chandigarh, June 29
Good news is in store for residents reeling under the scorching heat.
Residents discusses long-pending issues
Chandigarh, June 29
The CHB Residents' Federation today took up the issue of the long-pending demands of colonies and rehabilitation colonies with the BJP leaders.
Banda Singh Bahadur's life comes alive on stage
Chandigarh, June 29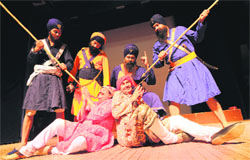 A play on one of the greatest and bravest warriors of Punjab — Banda Singh Bahadur — was staged at Punjab Kala Bhawan by the Punjabi Kala Kendra and Theatre Arts, Chandigarh.



Artistes stage a play. 'Baba Banda Singh Bahadur,' at Punjab Kala Bhawan, Sector 16, Chandigarh, on Sunday. Tribune Photo: Pradeep Tewari
Over 13k appear for UGC-NET held at 43 centres in city
Chandigarh, June 29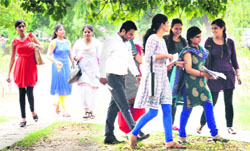 A total of 13,034 candidates from the region today appeared in the UGC-National Eligibility Test (UGC-NET) to attain eligibility for lectureship and research fellowship for PhD.




Students come out of an examination centre after appearing in the UGC-NET in Chandigarh on Sunday. Tribune Photo: Pradeep Tewari
4,000 take railway examination in city
Chandigarh, June 29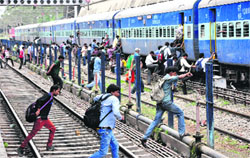 Huge rush and chaos was seen today as over 4,000 candidates reached here to appear in an exam conducted by the Railway Recruitment Board.



Candidates, who have come to appear in a railway exam, risk their life as they rush to catch a train leaving the Chandigarh Railway Station on Sunday. Tribune photo: Parvesh Chauhan
Blood donation camp marks Doctors' Day
Chandigarh, June 29
On the occasion of Doctors' Day on July 1, the Indian Medical Association (IMA), Chandigarh Branch, organised a blood donation camp on the premises of the Indian Medical Association House, Sector 35, here today.
300 attend health camp
Chandigarh, June 29 As many as 300 people attended a free health camp organised by Max India Foundation (MIF), the Corporate Social Responsibility Wing of the Max India Group, at Behrampur Bet village in Ropar district, yesterday.
200 patients given medical aid in Mohali
Mohali, June 29 The District Legal Services Authority (DLSA), Mohali, in association with the House Owners Welfare Society, Phase V, organised a legal awareness-cum-free medical camp at the Lok Sewa Kendar, Dharana Bhawan, Civil Dispensary, Phase V, today.
Cultural extravaganza at Kalagram
Chandigarh, June 29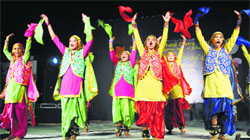 The City Beautiful experienced a folklore extravaganza during the second day of 'Punjabi Folk Music, Tribal Dance and Food Festival' organised by the North Zone Cultural Centre, Patiala, at the Kalagram here today.

Girls perform during Punjabi Folk Music, Tribal Dance and Food Festival organised by the North Zone Cultural Centre, Patiala, at the Kalagram in Mani Majra, Chandigarh, on Sunday. Tribune photo: Vicky Gharu
60 pc applicants are compartment cases
Panchkula, June 29
The state of education in Panchkula district can be gauged from the fact that 60 per cent of the application forms received in the most sought-after college, Government PG College, Sector 1, pertain to compartment cases.
PU declares results of CET for PG courses
Chandigarh, June 29
Panjab University (PU) today declared the result of Post Graduate(PG) Combined Entrance Test (CET) of 38 courses offered by the university and other colleges in the city.
Four yrs on, UT to sell damaged rice
Chandigarh, June 29
Finally, the UT Education Department has woken from its slumber to get rid of 4,500 kg of kinki/damaged rice that it procured for mid-day meals after spending lakhs of rupees over the last four years.