11 bodies recovered, five arrested
Eleven bodies have been recovered so far as massive rescue operations continued at the building collapse site at Mugalivakkam near Porur in Chennai even as the police said they had arrested five persons in connection with the tragedy. — PTI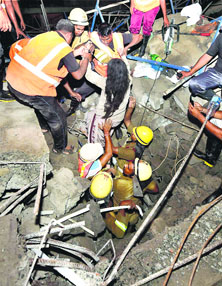 Workers rescue a woman stranded amid the ruins of the collapsed 11-storey building in Chennai on Sunday. PTI

Beijing Diary
On his maiden visit to China, Ansari goes sightseeing
Vice-President Hamid Ansari's five-day visit to China has comprised a significant portion of sightseeing in addition to his official meetings with the top Chinese leadership and the President of Myanmar. Talking to the accompanying media, the Vice-President had self acknowledged that he had never before been to China and was looking forward to some tourism.
ISRO to put 5 foreign satellites in orbit today
Bangalore, June 29
Self-reliability continues to elude the Indian Space Research Organisation (ISRO) even as its workhorse polar satellite launch vehicle (PSLV) has turned out to be a great success in its class of launchers.
DRDO develops armoured vehicles for troops
Chandigarh, June 29
The Defence Research and Development Organisation (DRDO) has developed a set of mini-armoured vehicles to protect troops from small arms fire and bomb blasts during anti-terrorist operations. These vehicles, which include a tracked version, a four-wheeler and a three-wheeler version, are designed for use in confined spaces, built-up areas, narrow streets and even corridors inside buildings.
Eyes on defence deals, Western powers rush to court Modi
New Delhi, June 29
Western governments are rushing to visit India's new Prime Minister Narendra Modi, drawn by the prospect of multi-billion-dollar deals as the government prepares to open the nascent defence industry to foreign investment.
India writes to Swiss on secret accounts
New Delhi, June 29
India has made a fresh request to Switzerland seeking bank details and names of Indians having unaccounted money in Swiss banks, as the government expands its efforts to combat the menace of black money. The latest request has been made by the Finance Ministry after a Swiss government official recently said that Switzerland was ready to cooperate proactively with India to share details on a 'spontaneous' basis about persons and entities suspected to have untaxed assets in Swiss banks.
Corruption in health sector
Ex-health secys seek new law to redefine medical education
New Delhi, June 29
In a telling comment on irregularities in India's health sector, two former health secretaries —- Keshav Desiraju and Sujatha Rao —— have openly sought a new legislation to redefine medical education and reinforce medical ethics. Both have said the existing laws were not helping.
Help us build healthy India, Modi tells US-based Indian doctors
New Delhi, June 29
Prime Minister Narendra Modi has urged US based Indian doctors to join the endeavour of building a healthy India. Modi, in a message read out by Health Minister Harsh Vardhan at the 32nd annual convention of the American Association of Physicians of Indian Origin (AAPI) in San Antonio, Texas, today urged practitioners to make whatever contribution possible to the goal of health assurance to all Indians.
271 crorepatis, but UP MLAs still want salary hike 'to tackle inflation'
Lucknow, June 29
Legislators, cutting across party lines during the ongoing budget session of the Uttar Pradesh Assembly, are worried, among other things, about their perks and salaries — now at Rs 50,000 a month.
Budget session
BJP readies young MPs to counter Cong in House
New Delhi, June 29
With Opposition parties gearing to corner the BJP over issues — national and international — in the coming Budget session, the ruling BJP appears to have formatted a strategy. Though economic and foreign policy matters are dealt by senior ministers concerned, the BJP leadership, sources say, wants its young MPs to be conversant with the issues so that when the Opposition tries to corner it inside the House, they can provide it the first line of defence "with sense and not merely as a senseless shouting brigade".
India, Pak to resume trade talks next month
New Delhi, June 29
India is expected to remind Pakistan of its commitment to grant the Non-Discriminatory Market Access (NDMA) to New Delhi when the Commerce ministers of the two countries meet in Bhutan next month on the margins of the SAARC Trade Ministers' meeting.
Gogoi wants Brahmaputra board rejigged
Guwahati, June 29
Assam Chief Minister Tarun Gogoi has knocked on Prime Minister Narendra Modi's door for the setting up of the much-awaited Brahmaputra River Valley Authority (BRVA) by revamping and restructuring the existing Brahmaputra Board.
Lankan Navy arrests 17 TN fishermen
Rameswaram, June 29
The Sri Lankan Navy today arrested 17 fishermen and seized three boats when they were fishing near Katchatheevu, the police said. The fishermen were taken to Talaimannar from Katchativu.
Cong demands SIT probe into MP exam scam
New Delhi, June 29
With the names of some RSS leaders surfacing in the ongoing discussions on the Madhya Pradesh's multi-crore examination scam, Congress leaders today demanded a Supreme Court-monitored probe into the case.
VVIP chopper deal: ED begins probe
New Delhi, June 29
The Enforcement Directorate (ED) has begun financial investigations into allegations of bribery in the Rs 3,600-crore VVIP chopper deal with AgustaWestland. Sources said the agency had registered a case under the provisions of the Foreign Exchange Management Act to probe alleged violations of forex laws and the authorities were set to issue notices to various Indian firms and individuals allegedly involved in the case. They said the ED would also get in touch with the Defence Ministry to obtain relevant documents and other vital details available with them. The agency has separately got in touch with some banks which were found to have been used to channel funds of private firms. — PTI