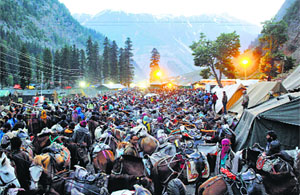 time for business:

Bakarwals wait with their ponies at the Baltal base camp. Pilgrims hire their services for the journey to the Amarnath cave shrine. Photo: Yawar Kabli
14,635 yatris offer prayers
Srinagar, June 30
The number of pilgrims offering prayers at the Amarnath cave has been increasing since the yatra began from the Baltal route on June 28. On the third day of the yatra today, 14,635 yatris offered prayers at the holy cave. On June 28 and 29, 8,899 and 11,182 yatris, respectively, had offered prayers at the shrine.
Army foils intrusion in Balakote sector
Jammu, June 30
Ahead of Prime Minister Narendra Modi's visit on July 4, the Army foiled another intrusion in the Tarkundi forward area of Balakote sector along the Line of Control (LoC) in Poonch district on Sunday night.
Police lathi charge women
Rajouri, June 30
The Rajouri police resorted to a mild lathi charge on women at a house near Rajouri when they resisted police action on Sunday.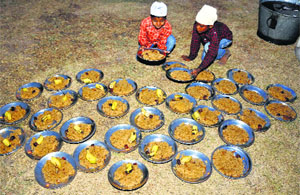 People throng mosques and shrines as holy month begins
Srinagar, June 30
As the fasting month of Ramadan began today, people were seen thronging mosques for prayers during the day.


Children arrange plates filled with eatables for a community meal on the first day of Ramadan at Ziarat Baba Ibrahim Sahib in Jammu on Monday. Tribune Photo: Inderjeet Singh

HRD Ministry says no to new primary schools
Jammu, June 30
The Planning Approval Board (PAB) of the Department of School Education and Literacy (SE&L), Ministry of Human Resource Development (MHRD), did not approve the opening of any new primary school for 2014-15 under the Sarv Shiksha Abhiyan (SSA) and directed the state to clear the backlog.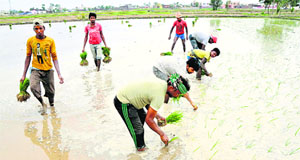 Sowing season begins:

Workers plant paddy saplings at RS Pura village in Jammu on Monday. Tribune photo: Inderjeet Singh
Rs 4.69-crore plan approved for annual sports competitions
Srinagar, June 30
The state-level executive committee of the Rajiv Gandhi Khel Abhiyan, headed by Chief Secretary Mohammad Iqbal Khandey, met here today and approved a Rs 4.69-crore action plan for holding annual sports competitions during 2014-15, an official said.
School in Baramulla comes to aid of special children
Baramulla, June 30
Visually impaired and hearing and speech impaired students of the special school in Baramulla are optimistic that the school will help them realise their dreams and shape their careers.
Mufti welcomes telephone facility for cross-LoC traders
Srinagar, June 30
Peoples Democratic Party (PDP) patron Mufti Mohammad Sayeed on Sunday welcomed the Centre's decision to provide telephone and other basic facilities to traders engaged in cross-LoC trade. He said the Centre needed to take effective steps to win the hearts and minds of the people.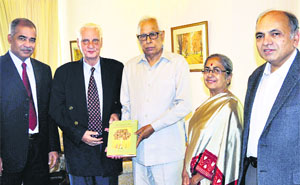 Guv presented book on languages of state
Srinagar, June 30
Chairperson of the People's Linguistic Survey of India (PLSI) Prof GN Devy and member of the National Editorial Collective, PLSI, Omkar N Koul called on Governor NN Vohra at Raj Bhawan here today.

Governor NN Vohra being presented a copy of the book "The Languages of Jammu and Kashmir" at Raj Bhawan in Srinagar on Monday. A Tribune photograph

Expose misdeeds of Omar govt: BJP leader
Jammu, June 30
State BJP general secretary Kavinder Gupta exhorted party workers on Sunday to expose the 'misdeeds' of the National Conference-Congress coalition government.
Health care by military hospital lauded
Jammu, June 30
Convener of the Family Welfare Organisation (FWO), White Knight Corps, Dr Mangala Devi Konsam today visited the 166 Military Hospital in Satwari here.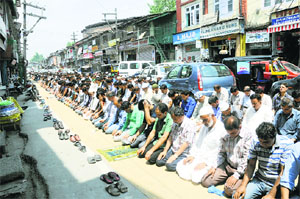 Holy month begins:

Muslims offer prayers on the main road at Budshah Chowk on the first day of the fasting month of Ramadan in Srinagar on Monday. Tribune photo: Amin War
Traffic police to crack down on underage drivers in Valley
Srinagar, June 30
In the wake of unprecedented rise in accident cases in and around the city especially involving underage drivers, the Traffic Police Department has decided to tighten noose on erring drivers.
Central varsity VC inaugurates e-browsing centre at Ganderbal
Srinagar, June 30
Central University of Kashmir (CUK) officiating Vice Chancellor Mehraj-ud-Din today inaugurated a mini-browsing centre and a micro-study centre inside the site office of the university in Ganderbal.
Six bodies recovered from water bodies in Kashmir
Srinagar, June 30
The bodies of six persons, including a seven-year-old girl, were fished out from different water bodies in the Kashmir valley.
Shift Kashmiri prisoners to Valley jails: Nayeem Khan
Srinagar, June 30
Separatist leader and National Front chairman Nayeem Khan has expressed concern over the plight of Kashmiri political prisoners in jails outside Jammu and Kashmir.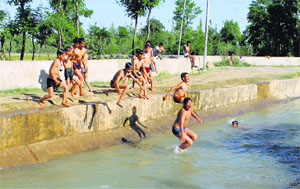 cool dip:

As the mercury rises, children take a plunge in a stream on the outskirts of Srinagar on Sunday. Tribune photo: Amin War
SKIMS starts surgery for obese patients
Srinagar, June 30
Sher-i-Kashmir Institute of Medical Sciences (SKIMS), a major tertiary care hospital in the Valley, has started surgery for obese patients. The first surgery was performed by Dr Muffazal Lakadwal, a surgeon from Mumbai.
BJP hits out at govt for 'ignoring' Srinagar city
Srinagar, June 30
The Bharatiya Janata Party (BJP) today flayed the coalition government for failing to provide civic amenities in the Srinagar city and its outskirts.
Jammu Tawi head post office set for new home
Jammu, June 30
The Department of Posts seems to be on the cusp of "transformation". After closing down the operation of three main post offices in the old city, the department has 'clandestinely' started relocation of century-old 'Jammu Tawi Head Post Office' from the Kachi Chawni area.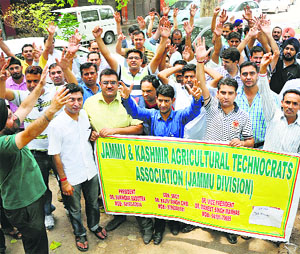 Farm technocrats allege bias against Jammu region
Jammu, June 30
Agricultural technocrats here have alleged discrimination in regularisation process started by the state government. They have alleged that while the list for the candidates in the Kashmir valley has been published on June 23, no such list has been published for the Jammu region.


Members of the Jammu & Kashmir Agricultural Technocrats Association stage a protest in Jammu on Monday. Tribune photo: Inderjeet Singh

Pandits allege encroachment on ancient shrine in Shopian
Jammu, June 30
Displaced Kashmiri Hindus from Shopian district of Kashmir have alleged that land mafia has grabbed the land belonging to the ancient Raghunath temple and stopped the minority community to fence the shrine recently.
Members of the Tirth Raj Kapal Mochan Shrine and Temples protest in Jammu on Monday. Tribune photo: Inderjeet Singh

HRD Ministry releases scholarships for J-K students
Jammu, June 30
An amount of Rs 35.35 crore has been released for scholarships to 3,294 students for the session 2012-13 and Rs 49,59,283 towards renewal scholarships to 402 students by the Inter-Ministerial Committee (IMC), Higher Education (Union Human Resource Development Ministry), under the special scholarship scheme for J&K.
Anganwadi workers threaten protest if demands not met
Jammu, June 30
The Anganwadi Workers Welfare Association (AWWA) has threatened to launch an agitation if the government failed to redress their demands at the earliest.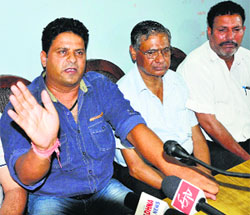 Action sought against contract poultry farming by outsiders
Jammu, June 30
The J&K Poultry Association has claimed that illegal contract farming in agriculture sector (poultry farming) is being done by some persons who are not permanent residents of the state.



Ravinder Singh, president, J&K poultry Association, addresses mediapersons in Jammu on Monday. Tribune photo: Anand Sharma

Hassle-free financing of export credit sought
Srinagar, June 30
The Associated Chamber of Commerce & Industries -Kashmir (CCIK) has sought hassle-free financing of export credit to exporters and formation of the J&K Export Promotion Development Board.
APS bags first prize in debate contest
Srinagar, June 30
Army Public School (APS), Srinagar, secured the first position in an English debate competition which was organised at Burn Hall Higher Secondary School, Srinagar.
Summer camp ends
Jammu, June 30
A 15-day summer camp organised by Country Kids Playschool, Subash Nagar, concluded here today. The camp was organised by the school management to collect charity for physically challenged children.
Three minors drown
Srinagar, June 30
Three minors have drowned while bathing to beat the heat in separate incidents in the Kashmir valley, the police said on Monday.
Thieves loot cash, jewellery
Samba, June 30
Thieves decamped with cash and jewellery worth lakhs from the house of a businessmen at Kehli Mandi in Samba district late last night.
Two killed in mishap
Batote, June 30
Two youths were killed when their motor cycle hit the rear wheel of a tipper at Saror on the Ramban-Gool road on Saturday.
Pickpocket held, Rs 65,000 recovered
Srinagar, June 30
The police said on Sunday that they had arrested a pickpocket from the Batamaloo area of the city and recovered about Rs 65,000 from his possession.