Hurriyat warns BJP ahead of PM's visit
Srinagar, July 2
Couple of days ahead of Prime Minister Narendra Modi's first visit to the Valley, Syed Ali Shah Geelani-led Hurriyat Conference has warned BJP leaders to desist from issuing "mischievous" statements that, it claimed, threaten to "vitiate the peace" in the region.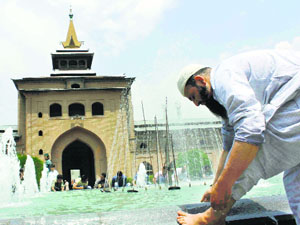 Faith beckons

: A Muslim washes his feet at the fountain of Jamia Masjid before praying on the third day of Ramadan in Srinagar on Wednesday. Photo: Yawar Kabli

No wish list for PM, but J&K must get its due: Omar
Srinagar, July 2
Chief Minister Omar Abdullah today said he had no "wish list" for Prime Minister Narendra Modi, who is visiting the state on Friday. Omar, however, said the state should get its "right". "I have no wish list. I am not going to him (Prime Minister) with a wish list," Omar told reporters on the sidelines of a function here.
Cong to hold rallies in Assembly segments represented by NC
Jammu, July 2
A day after Chief Minister Omar Abdullah addressed National Conference (NC) workers' conventions at the Banihal and Ramban constituencies, the Congress has decided to launch a counteroffensive by organising rallies in the constituencies represented by the NC.
Babri beoul — Valley's favourite beverage during Ramadan
Srinagar, July 2
With the festive month of Ramadan on in the Valley, locals have not forgotten the age-old tradition of distributing "Babri beoul treish" to break the fast at dusk. The drink made of basil seeds is prepared in every house during the holy month and as per historians the tradition has continued from the time of Sufi saints who entered Kashmir from different parts of central Asia.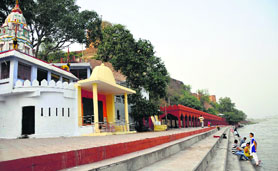 Jia Pota attracts Jammu youth on weekends
Jammu, July 2
Jia Pota, Akhnoor, the place where founder of Jammu and Kashmir state Maharaja Gulab Singh's coronation took place about 192 years ago (1822 AD) paving way for a powerful Dogra empire, is becoming a major picnic spot for the city residents.

Hot spot: Historic Jia Pota in the Akhnoor area of Jammu. Tribune photo: Inderjeet Singh

Day after bribery charge, custodian says illegal trader stands registered
Jammu, July 2
A day after allowing a truck of an "unregistered" Indian trader to the Pak-occupied- Jammu and Kashmir via Chakan da Bagh crossing point on the Line of Control, custodian of the Chakan da Bagh Trade Centre Mohammed Bashir Lone has now allegedly included the unregistered trader's name (Vasu Sharma) on the list of registered traders.
Residents threaten agitation against water scarcity
Srinagar, July 2
Though the Public Health Engineering Department (PHE) continues its drive against violators using water booster pumps, the scarcity of drinking water continues in parts of Srinagar with people threatening agitation.
ASHA workers urge govt to accept demands
Jammu, July 2
Members of the Accredited Social Health Activist (ASHA) Workers Union, Jammu, from different blocks/districts highlighted their long-pending demands and urged the government to accept them soon. General secretary of the union Sunita Bhagat handed over a memorandum to the Chief Minister through the Divisional Commissioner.
Paramedical colleges form association
Jammu, July 2
Paramedical colleges of the Jammu province today constituted its association under the name of the Association of Paramedical Colleges, Jammu, to take up issues confronting them with the government

Members of the Association of Paramedical Colleges, Jammu, address mediapersons. Tribune photo: Inderjeet Singh

MBBS scam: HC directs IGP to supervise probe
Srinagar, July 2
The Jammu and Kashmir High Court has asked the Inspector General of Police (Crime) to supervise the ongoing investigation into the MBBS exam scam while it slammed the crime branch of the J&K Police for its failure to arrest the absconding accused persons in the case. The MBBS exam scam involves the sale of CET-2012 question papers by former BOPEE chairman and prime accused Mushtaq Peer in lieu of Rs 60 lakh through his brokers.
NC, PDP accuse each other of corruption
Srinagar, July 2
Chief Minister Omar Abdullah, who is also the working president of the National Conference (NC), and Peoples Democratic Party (PDP) president Mehbooba Mufti today traded accusations and blamed each other's parties of "nurturing" and being "fountainhead" of corruption. Omar, who was addressing workers' meetings in Budgam district, accused the PDP of having become a "safe castle" for the "elements having corruption charges and bad reputation."
Cong leader demands separate secretariat for Jammu
Jammu, July 2
Senior Congress leader Gulchain Singh Charak today demanded separate secretariat for Jammu, which would end the tradition of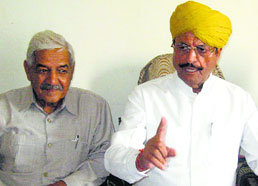 'Durbar Move' after every six months. "Besides wastage of several crores of public money in the form of recurring expenditure on the transportation of a huge quantity of official records twice a year, renovation works and movement of hundreds of families of the officials, the official work remains suspended for full one month in a year due to the process of secretariat movement," Charak told reporters here.

Senior Congress leader Gulchain Singh Charak addresses mediapersons in Jammu. A Tribune photograph

Protest, shutdown in Baramulla over 'misbehaviour' with girl students

Baramulla, July 2
Students of Government Higher Secondary School, Kreeri, and locals today held a protest at Kreeri in Baramulla district against alleged misbehaviour with girl students by some local boys. The protests prompted the police to arrest one of the accused and register a case.

Students protest alleged misbehaviour with girl students by some youths in Baramulla district on Wednesday. A Tribune Photo

Doda parents reluctant to send their wards out of state for studies
Jammu, July 2
Parents in erstwhile Doda district are reluctant to send their children out of state for education following the death of few students from the area at various places across the country. The threat of losing their loved ones has instilled fear among parents and they are ready to compromise the future of their wards.
Cabinet meeting
Revenue Dept told to workout rehabilitation package
Srinagar, July 2
The state Cabinet, which met under the chairmanship of Chief Minister Omar Abdullah here today, directed the Revenue Department to work out the modalities for implementation of the return and rehabilitation package for Kashmiri migrants and send it to the Union Government.
Govt attitude towards Jammu ReZs condemned
Jammu, July 2
A meeting of the Agriculture Employees Association was held under the chairmanship of Uttam Chand Sharma, president of the body, wherein all the executive members participated. During the meeting, members of the association condemned the attitude of the government towards Rehbar-e-Zeerats (ReZs) of Jammu.
Army foils intrusion in Poonch
Jammu, July 2
The Army foiled an intrusion bid in the Balnoi-Sagra sub sector along the Line of Control (LoC) in Poonch district late last night. "Last night around 1.40 am a group of three to four ultras tried to infiltrate into the Indian side from the Balnoi-Sagra sub sector. However, alert troops of the 1st Mahar Regiment noticed the armed intruders and challenged them," said an Intelligence source.
Kalakote mine labourers go on hunger strike
Rajouri , July 2
After staging a day-long dharna yesterday, casual labourers of Kalakote mines went on an indefinite chain hunger strike in favour of their demands. About 480 casual labourers from various coal mines in Kalakote tehsil in the district have been observing indefinite strike since Saturday. They are demanding hike in daily wages, regularisation of those who have been working in the mines for the last more than seven years and better working facilities.
Chinar Corps GoC visits forward posts in Kupwara
Srinagar, July 2
Lt Gen Subrata Saha, who took over as the General Officer Commanding (GOC) of the strategic Chinar Corps last week, visited forward areas along the Line of Control in frontier Kupwara district today. During
his earlier stint in Kahsmir, Saha had served as a Brigade Commander in Farkian in Kupwara district. A Defence spokesperson said Lieutenant General Saha also met some elders of Keran, Mandian, Kundian and Patra villages in the Keran sector. "The interaction helped the GOC to reconnect with the jubilant residents of villages in the Keran sector. The people were appreciative of initiatives being taken by the Army for their security and well being," the spokesperson said. "The Chinar Corps Commander also took the opportunity to visit vocational training centre and met the students and staff," he said. TNS

Lt Gen Subrata Saha, GOC, Chinar Corps, interacts with people in Kupwara district on Wednesday. Tribune Photo: Amin War

Female mallard rescued from Pampore wetlands
Srinagar, July 2
A female mallard, a rare migratory bird, was rescued from the Fashkoori Wetlands Reserve, Pampore, Kashmir, by a team of the anti-poaching unit, Wildlife Conservation Fund (WCF), after receiving an SOS call. The WCF team led by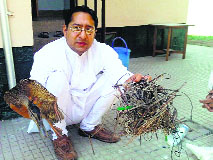 Executive Director Nadeem Qadri reached the spot and rescued the mallard. Before release, the mallard was brought to the Wildlife Rescue Centre, WCF, for treatment. After some time the mallard was released back to the place from where it was rescued and it joined its family. Qadri appreciated the efforts of chief coordinator Jalal-ud-Din Shah and coordinator, Wetland Conservation Project, Abdul Rasheed Raina for their dedication and awarded them with a cash prize. TNS

Wildlife Conservation Fund team leader Nadeem Qadri with the rescued mallard bird in Srinagar. A Tribune photograph

CRPF DG reviews security arrangements for yatra
Srinagar, July 2
Dilip Trivedi, Director General of the CRPF, reviewed security arrangements for the Amarnath yatra. The DG, CRPF, is on a two-day visit to the Valley. "He reviewed security arrangements for the yatra, as the CRPF is the main force which is providing security to pilgrims right from Jammu to the holy cave on both the axis," a CRPF spokesman said. "The DG, CRPF, also took stock of the security scenario of the Valley and had interactions with senior officers of the CRPF," he added. The DG also reviewed the security situation and appreciated the work being done by the CRPF in handling militancy and law and order in the Valley. "He also appreciated the synergy with which the CRPF is working with other security forces and the police and restrain being shown by the CRPF in dealing with law and order situation," the spokesman said. — TNS
DC reviews arrangements for Guru Hargobind's birthday
Srinagar, July 2
Deputy Commissioner Farooq Ahmad Shah reviewed the arrangements done for the celebration of the birthday of the sixth Guru, Guru Hargobind, in a meeting with the district officers here today. The DC directed all departments concerned to provide drinking water, uninterrupted power supply, health facilities and sanitation to the Sikh community during the festival on Saturday. He also directed the CA&PD to supply rice, sugar and LPG cylinders to the Sikh community. — TNS
1-kg charas seized from ambulance
Jammu, July 2
The Trikuta Nagar police seized 1-kg charas from an ambulance here last evening. According to an official spokesperson, a party from the Narwal police post, under the jurisdiction of the Trikuta Nagar police station, laid a naka at Narwal and intercepted an ambulance at 7.45 pm yestyerday. During thorough search, the police team seized 1-kg charas from the vehicle. The driver of the vehicle, identified as Sukhdev Singh of Ward 7, Dalip Singh Gali, Gardawali, Dasua tehsil, Hoshiarpur district, Punjab, was arrested. A case under the NDPS Act was registered. TNS
Registration must to attend Dalai Lama's sermon in Leh
Leh, July 2
The organisers of Kalachakra Initiation have made registration of the intended devotees above 15 years mandatory. The Kalachakra teachings by the Dalai Lama will be held in Leh from July 3 to 13. The devotees will be issued photo identity cards by the committee. For registration, the organising committee has set up five counters at Leh town. For the convenience of the devotees, the committee has arranged an audio translation of the teachings in several languages. — OC
Army to celebrate Jhangar Day
Rajouri, July 2
The Army will celebrate Jhangar Day tomorrow to commemorate the Indian victory over Pakistani troops at Jhangar (Nowshera) in Rajouri district in 1947-48 and to pay homage to Brig Mohd Usman. It was under Brigadier Usman's command that the Army liberated Jhangar. Lt Gen DS Hooda, GOC-in-C of the Northern Command, is likely to be present on the occasion. — OC