Mixed reaction by local industry
Tribune Reporters
Jalandhar, July 10
The Jalandhar industry has shown a mixed reaction to the Union Budget announced by the NDA government today. While some industrialists have hailed the announcements made by the Finance Minister today, others have said that it has failed to meet any of their expectations.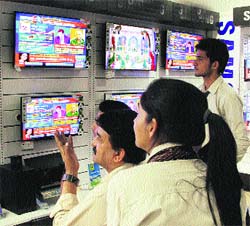 City residents glued to TV sets during the telecast of the Union Budget in Jalandhar on Thursday. Photo: Sarabjit Singh
A section of industrialists has welcomed certain steps being planned for infrastructural developments in cities and allocation for skill development in youth, saying it will give an indirect impetus to business. Others have said that excise duty exemptions that were being expected were nowhere to be heard of today.
Kamna Raj Aggarwalla, owner of GDPA Fasteners and a prominent business woman of the city, said, "I find the budget very positive, especially since there has been much thrust on infrastructure development, including roads etc. The tier-2 cities which have seen much stagnation in growth and development are also likely to get a good push which encourages more investment and attracts buyers. An allocation of Rs 10,000 crore for start-up micro, small and medium enterprises (MSMEs) is also appreciable. The most sensible part is that the budget does not promise too much raising high expectations. In all, I term it as a feel-good budget."
Surinder Anand, a chartered accountant, said, "The enhancement in the tax slabs has come as a major reprieve for almost all sections of society. The FM hinted at the simplification of taxation by making a point on removing administrative hurdles. I will have to study this aspect in the detailed budget report. One very good step has been the announcement of making the forfeiture of advance money for sale-purchase of property taxable, which was earlier exempted and had become a way out for many for converting black money into white."
There were others who had completely divergent views. Narinder Sagoo, president of the Focal Point Association, and a water pump manufacturer, said, "The biggest demand of manufacturers here was increasing of the slab of Rs 1.5 crore on 14 per cent central excise duty to Rs 5 crore. Since morning, I am glued to TV and trying to find out if this demand had been included. But it is nowhere to be seen. The cost of raw material has gone up and so is the cost of products for the last few years. Correspondingly, even the slab should have moved up."
Gursharan Singh, president, Jalandhar Chamber of Industries and Commerce, "There is no feature in the budget to make the small industry smile. There neither has been any excise relief for us nor any subsidy on freight. The sea port is 200 km from Jalandhar and shipping proves too costly for us. There also was a rate equalisation scheme earlier as per which all iron and steel industry got the raw material at the same price. This scheme, too, has not been restored, making us in Jalandhar highly incompetent in the trade.
'Level playing field for sports manufacturers'
The Union Budget has evoked a mixed response from the sports industry here. The government's announcement to reduce excise duty from 12 per cent to 2 on some of the sports accessories has enabled the manufacturers to play a level game with their counterparts who have their manufacturing units in the excise-free zones. "For long, we were waiting for the disparity between the excise duty of various sports goods to end and this budget has taken the final plunge by reducing the excise duty on sports gloves from 12 to 2 per cent, bringing it at par with other sports goods. This will indeed give a boost to some of the units in the region," said Rakesh Kharbanda, managing director, Nivea Sports.
Although some manufacturers have called it a industry friendly budget, a few have termed it as a budget that lacks vision towards the development and the promotion of the regional sports industry. According to Ramesh Kohli, director, Beat All Sports, "We are happy that the budget has ended the disparity on the excise duty, but it would have been better if the government had ended the excise duty on all sports goods. The industry presently is in doldrums, lacks skilled manpower, does not have any research and development facilities and also faces shortage of raw material. The government needs to offer more measures to bring the industry back into the game."
Failure to get AIIMS disappointing: Cong
Slamming the state government for its failure to get the Central Government's nod to set up an All India Institute of Medical Sciences (AIIMS) in Punjab in the Union budget-2014, PPCC spokesperson Sukhpal Khaira has said that the SAD-BJP government has misled the public by making fake announcements about a project that actually never existed in the Union Government's Budget. "I don't understand why the Punjab Chief Minister announced to set up an AIIMS, when the Centre was in no mood to set up one in Punjab. The whole exercise was an eyewash and it has left the people disappointed," said Khaira. He further said that since Punjab did not get a new AIIMS, now the state government should try to upgrade the existing Punjab Institute of Medical Sciences (PIMS) to that of the AIIMS standard and should provide world-class health facilities to the people of Punjab.Notably, in June, Union Health Minister Dr Harsh Vardhan and Punjab CM Parkash Singh Badal had announced to set up an AIIMS in the state that would help the state government to curb drug menace, besides providing ultra-modern facilities to the people. Later, Badal had also announced to give 200 acres land and necessary infrastructure to the Union Health Ministry for AIIMS. Besides, it was also announced to have identified four different sites in Kapurthala district to set up an AIIMS.