7,321 HIV+ patients registered at ART centre
Aparna Banerji
Tribune News Service
Jalandhar, July 7
The recent crackdown by the police has kicked up some different addiction trends in the district (and vicinity) which have strong repercussions with the HIV positive patients as well.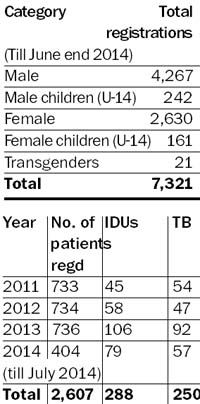 The police action has caused a paucity of drugs, causing the addicts to resort to intravenous drug use (IDUs) - which in turn is causing a rise in incidence of diseases like AIDS, Hepatitis C and TB.
The tragic part is that staff at the civil hospital say as many as 15 to 20 new patients reported at the ART centre since January this year, are young men aged between 17 to 30. "Some are married, some are not, some have come crying to us saying they were picked up by cops when sitting with some addicts and came back from jail — with AIDS infection — where they mingled with some intravenous drug users. At least three to four are such who we can clearly tell are not even chronic addicts," say the staff.
Among other newly-reported patients, there are at least 8 to 10 couples where one or the other (in some cases both) person is HIV positive. These patients are also very young, say the staff.
Most young men are coming in from Qazi Mandi, Basti areas, Bhargo Camp and some from the villages.
The local ART centre presently (till June end in 2014) has as many as 7,321 HIV positive patients registered for treatment in it. Started in April 2006, the centre got 405 HIV positive patients in its first year.
Ever since the peddlers' nightmare started with the current police crackdown — thanks to the Modi government's reported pressure on the state government — many areas have largely been cleansed, as even the staunchest of police critics report.
Of the total 7,321 HIV positive patients registered at the centre, 4,267 are male and 2,630 female. As many as 403 HIV positive children are registered there (of whom 242 are male and 161 female). The number of trans-genders receiving treatment are 21.
In 2011, 733 patients were registered at the centre, in 2012 — 734, in 2013 — 736 and this year, so far 404 HIV positive patients have been registered.
While the district sees a high incidence of tuberculosis, ART centre staff say the incidence of TB is about 10 per cent in the district of the entire population and among these 10 per cent TB patients, the chances of incidence of AIDS is as high as 50 percent.
So far, since 2011, as many as 250 TB patients and 288 intravenous drug users have been reported at the civil hospital.
The number of registered HIV positive TB patients in the year 2011 was 54, in 2012, it came down to 47, in 2013, the number rose to 92 and this year, 57 of the total 404 patients registered so far, have TB.
A considerable number of HIV positive patients at the centre are also truckers and many wives also get it from their husbands, sources said.
While elsewhere, doctors and psychiatrists say the incidence of IDUs has increased manifold, the number of Intravenous Drug Use reporting at the civil hospital — compared to the total number of patients — is pretty small.
Since 2011, of the 2,6017 patients registered, only 288 were intravenous drug users.
In 2011, the number of HIV positive IDUs at the ART centre was 45, in 2012, it was 58, in 2013, it was 106 and this year so far, 79 of the total 405 patients getting treated at the centre are intravenous drug users.
Interestingly, while elsewhere, the increasing incidence of hepatitis infections is also considered a serious threat among intravenous drug users, at the civil hospital, sources said the number they were getting is so minuscule that they are not able to keep track of it.
SMO D. Baldev Singh says, "Our greatest priority is to give effective treatment to all the patients reported. Sexual transmission is still the most common cause for AIDS but the number of intravenous drug users is substantial. Patients from Jalandhar, Kapurthala, Nawnashahr and Hoshiarpur come to us. In the past five months, patients from Pathankot have stopped, due to an independent ART centre established there."