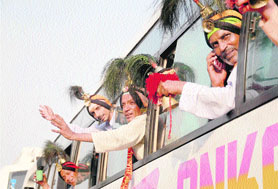 Holy wave: Janghams (holy men) wave from a bus before leaving for Amarnath Yatra in Jalandhar on Friday. A Tribune photograph

Burglars on prowl in the district
Jalandhar, June 27
Burglars seem to be on the prowl in Jalandhar district, as 12 thefts were reported in the district last night. Out of these, nine thefts, including one attempt, were reported in the city, while four, including one attempt, were reported under the rural police.
When dream flight turns into a nightmare
Jalandhar, June 27
"It was a harrowing experience of a lifetime. My hands were tied and I was sitting as a fugitive on a foreign land. That was the time when I first realised the importance of liberty and free will to move anywhere in our village," said 23-year-old Kulwant Singh from Kalru village in Kapurthala.
Double murder case: Cops hold talks
Jalandhar, June 27
After the name of Jagdip Singh Jaggu, kingpin of a contract killer gang, sprang up in double murder case, engineered by most-wanted Bhana gang and his accomplices in the city on February 26, investigation already being conducted by the city commissionerate into the case has got a further push.
HIV children need attention
Jalandhar, June 27

The district is witnessing a steep rise in the number of HIV/AIDS cases among children. According to the data received from the ART Centre at the Civil Hospital, there are around 200 HIV/AIDS patients in the district. The activists working in the field informed that the migrant labourers working in various industries in the focal point area, and the city being one of the biggest hubs for drug peddling, is the main cause behind the rise in HIV-AIDS cases among children.

HIV-AIDS children in Jalandhar. Photo Sarabjit Singh

Defunct fans at Jalandhar bus stand make heat more prickly
for commuters
Jalandhar, June 27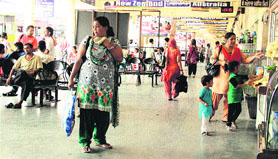 Passengers at Shaheed-E-Azam Sardar Bhagat Singh Inter-state Bus Terminal are a harried lot as they have to wait at different platforms without fans. More than 10 fans have not been fixed to the ceiling, whereas the pipes and wires are dangling with the ceiling at both the platforms. More than 15 wall fans are not functioning.

Passengers at the local bus stand in Jalandhar . Photo: Sarabjit Singh

Youth kidnapped, 4 accused nabbed
Jalandhar, June 27
A 20-year-old youth was kidnapped outside the District Courts by some car-borne persons this evening. The victim was identified as Prince, an employee in a finance consultant company.
City hospital student gets DNB degree
Jalandhar, June 27
Dr Supriya, a student of the local Tagore Hospital and Heart Care Centre Jalandhar, has passed the Post Graduate Degree in Medicine from National Board of Examinations (NBE), the result for which was declared today.
Body found
Jalandhar, June 27
The decomposed body of an unidentified woman was today recovered from the fields near New Shastri Nagar. The incident came to light when a passerby noticed the body lying in the fields. He raised an alarm and informed the police about the body. The Basti Bawa Khel police reached the spot and started investigation.
Mother-daughter death
Relatives meet top cop
Jalandhar, June 27
Family members of the mother-daughter duo, who was found dead in their house on June 12 night, today met the Police Commissioner Jalandhar Kunwar Vijay Pratap Singh and demanded a fresh inquiry into the case.
Varsity gets business accreditation
Jalandhar, June 27
Board of Commissioners of Accreditation Council for Business Schools and Programmes (ACBSP), USA, has awarded Lovely Professional University with accreditation of its business programmes. In India, less than five B-schools have been accredited by ACBSP. Director of Accreditation, Steve Parscale of ACBSP said, "Lovely Professional University has shown commitment to teaching excellence and to the process of quality improvement by participating in the accreditation process." LPU Chancellor Ashok Mittal said, "I am happy that our B-School has scaled to new global heights as it gets ACBSP prestigious endorsement to be of the global standards." TNS
Feedback
Jalandhar Tribune invites feedback from its readers on issues of public concern relating to Jalandhar, Phagwara, Kapurthala and the nearby areas. Readers can email their views to jalandhar. feedback@gmail.com They can also send their views to: Feedback, Jalandhar Tribune, Sector 29, Chandigarh - 160029. Letters sent by post must mention 'Feedback for Jalandhar Tribune' on the envelope and it should be signed and must contain the address and telephone number of the sender.