Glimpses of world at Virsa Vihar
City's first international photo exhibition showcases works of 30 artists
Aparna Banerji
Tribune News Service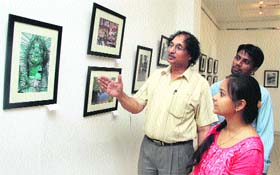 Visitors at an exhibition of International Photography Show 2014 at Virsa Vihar in Jalandhar on Saturday. photo: Sarabjit Singh
June 28, Jalandhar
An abandoned, dilapidated house in the US, Vietnamese dolls, the upskirt of the Eiffel Tower, Turkish Graffiti, an extreme close-up of a closed-eyed dog (read: hilariously titled 'You are not stoned'), streetscapes of Bulgaria and Venice, a woman sitting in a room filled with curiosities and crockery (and a cat) gazing out the window and the insightful and ironic - 'Play of time' depicting two nudes flanking a black-robed woman holding an inverted watch – these are the visuals that met and refreshed visitors at the local Virsa Vihar for the past three days.
The best of conceptual, landscape and portrait photography from across the globe made its way to Jalandhar's modest Virsa Vihar and delighted viewers in a first-of-its-kind venture put up in the city.
An exhibition called TIAS: Biennale - the display brought together works of talented photographers from 30 countries, conserved and arranged by Hoshiarpur-based artist Jaspal S.
While the city has had enough of tired works (interspersed with occasional wonders) which misinform locals about what art really should be like, the said exhibition brought much for the art community and fans to celebrate about.
These works actually looks into people's lives (bringing forth their irony, laughter, pain and journeys), render meaning to their landscapes (as seen in the conceptual 'photographs of artist Sandra Aschmidt from Germany who places geometric shapes in real landscapes to give them a new meaning – in the work 'Dodecahedron at Swiss Mountains') through attempting to tell stories.
Groetin Ilonka Solbrig 'pokes fun at a sleeping (or dead?) dog as she tells it Ýou are not stoned, Dario De Zolt from Italy captures the playfulness of a silent mother, child conversation Vikram Singh from India discreetly portrays the silent ebb of time in his shots of a little girl sitting some steps below her old grandfather and Anil Gupta does the same in his shot of a coloured child peeking into a play of B&W children at a local village.
There are some perspective shocks as well – the Eiffel Tower doesn't even look like itself from the bottom, and a glorious leaf striped by the play of light looks much like a graphic design work than the part of a growing, breathing plant.
Artists from Albania, Argentina, Armenia, Australia, Brazil, Bulgaria, Canada, Columbia, Croatia, France, Germany, India, Italy, Kosovo, Malaysia, Mexico, Netherlands, Romania, Russia, Serbia, Singapore, Spain, Sweden, Switzerland, Turkey, United Kingdom, Uruguay, USA and Vietnam spread their brilliance for the people of the city to savour.
Artists Samir Ahmeti, Alejandro Adrono Menduina, Anna Khachatryan, Jasna Dragun, Lo Illy, Dr Takis Alexiou, Ashok kaushal, Dr Gagndep Toor, Dario De Zolt, Cristian Sima Maikhail Pavin, Shereja Shapoval, Pelin Surmeli, R Yevette Hendle, Tran Thi Bich Hue were also honoured with special awards for their works.
Artist Jaspal S. Who is responsible for putting together the effort for the local art lovers said the initiative has been taken to bring a glimpse of avant garde art hapeening across the world for the people of Jalandhar. Although the response hasn't been as much as we hoped, it is encouraging enough for us to plan more future ventures, next time maybe paintings for the people of the city.
While art in the region is ages behind, ventures like these are sure to add the much-needed fillip to the glum art scene.