HC rules out re-probe into '09 Shopian case
Srinagar, July 15
The J&K High Court on Tuesday ruled out re-investigation into the alleged rape and double murder case that rocked Shopian in 2009. Disposing of a public interest litigation and other connected applications, the HC validated the CBI probe which described the death of two women as "accidental drowning".
Transformer damage rate increases in Jammu
Jammu, July 15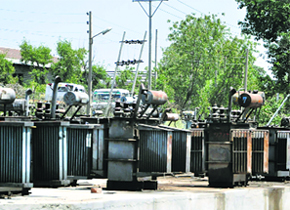 Though Jammu is facing a severe power crisis and increase in rate of damage to transformers, the Power Development Department (PDD) is facing a problem in repairing them due to shortage of spare parts and funds. With poor maintenance and repair facilities most of the transformers take days to get repaired forcing people to go without electricity in sweltering heat if the transformer breaks down in their area.
Burnt transformers lie at the Central Transformer Repair Workshop at Narwal in Jammu. Tribune photo: Anand Sharma

Students demand video-recording of all interviews at JU
Jammu, July 15
Accusing the Jammu University administration of encouraging nepotism and favouritism on the campus, the Students-Scholars Joint Action Committee (SSJAC) today demanded that all the interviews for teaching, gazetted and other categories, should be conducted under the surveillance of CCTVs and it should be properly videographed to ensure transparency and fairness in the system.
Navodaya Vidyalaya Samiti warns schools of action in case of food poisoning
Jammu, July 15
After having already issued advisories, the Navodaya Vidyalaya Samiti (NVS) has once again warned that strict action will be initiated against the vice-principal, house master, catering assistant and staff nurse of a Jawahar Navodaya Vidyalaya (JNV) if any eventuality like food poisoning happens in the school.
Dental surgeons' hunger strike enters 15th day
Jammu, July 15
The dharna and chain hunger strike of the Dental Surgeons Association, J&K, continued on the 15th consecutive day at Amphalla Chowk here today.
Anti-Israel protests continue in Valley
Srinagar, July 15
Anti-Israel protests continued to rock Srinagar and various other districts for the second consecutive day today. Parties cutting across political ideologies staged protest demonstrations in different areas of the city.
Students in Srinagar during a protest against Israeli military operations in Gaza; and (left) youths stomp on the Israeli flag in Srinagar on Tuesday. Tribune photos: Amin War
Anti-Israel protests show radical strain in youth
Srinagar, July 15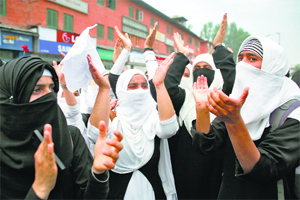 The surge in anti-Israel protests across Kashmir has brought to the fore a radical pan-Islamic undercurrent and a new radical strain in the youth. Protesters had unfurled black al-Qaida flags at several locations in support of the militant movement. Hundreds of students marched to Lal Chowk on Monday. It was the first such gathering in the highly guarded city centre, kept out of bounds for protesters since the summer agitation of 2010.
Student shout anti-Israeli slogans during a protest in Srinagar. Tribune photo: Yawar Kabli

Travel advisory issued by Israel on Kashmir
Jammu, July 15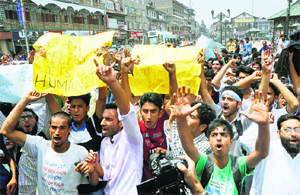 With protests against Gaza killings across Kashmir, Israel has asked its citizens to avoid visiting Kashmir while its embassy in India is closely monitoring the situation. The travel advisory has been issued by the National Security Council (NSC) of Israel, its highest defence body, following large-scale protests in the Valley and other parts of the world against Israel's air offensive against Gaza in which more than 170 people have been killed.

The Kashmir valley has been witnessing widespread protests against the Gaza killings. Here, college students raise anti-Israel slogans in Srinagar on Tuesday. Tribune Photo: Amin War

PDP moves adjournment motion in LS over Gaza killings
Srinagar, July 15
Peoples Democratic Party (PDP) MPs continued their protest in the Lok Sabha for the second consecutive day today, seeking an end to the killings in Gaza. The PDP moved an adjournment motion in the House today, seeking a discussion on the Gaza crisis.
Drought on horizon as rain falls 39% short
Jammu, July 15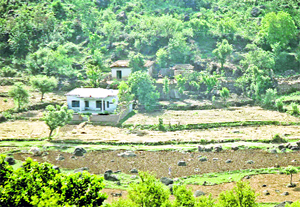 A drought-like situation looms over the state as sowing is yet to begin on large tracts of agricultural land due to the poor monsoon, raising fears of a fall in food production and water and power crises. The state has recorded a shortfall of nearly 39 per cent in rainfall with the Jammu district recording a rain deficit of 79 per cent so far. "The state has a rain deficit of 39 per cent so far. The state recorded 79.4 mm rain till July 15 while 130.5 mm was the normal rainfall quantum," a senior Indian Meteorological Department official said.
The drought-hit agricultural land in Udhampur district. Tribune Photo: Inderjeet Singh

mbbs scam
Another accused surrenders before crime branch
Srinagar, July 15
One of the proclaimed offenders in the MBBS exam scam Mushtaq Ahmad Kenu today surrendered before the crime branch, which is investigating the case
Fluctuating CAPD supplies lead to 'black-marketing'
Anantnag, July 15
With the officials of the Consumer Affairs and Public Distribution (CAPD), overlooking the functioning of government fair price shops, turning a blind eye at the "gross mishandling" of the supplies, "black-marketing" of essential goods is on the rise.
Pulwama residents protest case against youth
Pulwama, July 15
Pulwama residents resorted to stone-throwing after a youth was booked for attempt to murder today. The youth was booked after he allegedly beat up a police officer yesterday.
poonch ied blast
Police intensify search
Jammu, July 15
The police have intensified their search to nab the two accused in the IED blast on the revenue office along the Line of Control in Poonch district on June 24 night. The duo managed to escape from police custody in Srinagar on July 12.
Petrol bomb hurled at PDP leader's cavalcade
Kulgam, July 15
The cavalcade of senior PDP leader Abdul Majeed Padroo was today attacked with stones and a petrol bomb near Qaimoh in Kulgam. A security vehicle was damaged and a police constable received minor injuries.
Trend of outdoor Iftar parties picks up in Kashmir
Srinagar, July 15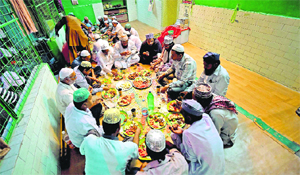 Having Iftar at home has become old fashioned for many Valley youth as the trend of Iftar parties has gained popularity this Ramadan. Earlier, people preferred to reach their homes before dusk, but nowadays outdoor Iftars are becoming common among locals, particularly youth. Inviting friends and relatives for breaking fast together at restaurants has added to the festivity of the month.
Muslims break their fast during a Ramadan get-together. PTI

Defunct traffic signals create chaos in city
Srinagar, July 15
Defunct traffic signals have aggravated the already bad traffic scenario in the city leading to chaos. Traffic signals were introduced in Kashmir in 2012 to regulate 4 lakh vehicles on Srinagar roads, but today due to timers lying defunct at many places, they have become a cause of traffic jams in the city.
Residents rue water scarcity
Srinagar, July 15
City residents rued scarcity of drinking water for the past one week. The protesting locals said despite bringing the problem into notice of the Public Health Engineering (PHE) Department, nothing was done on ground.
Private schools defy govt order on summer vacation
Srinagar, July 15
Despite state government instructions to close all private and government educational institutions from July 15 to July 31 for summer vacation, many private schools defied the government orders by remaining open today.
Uniform Force celebrates Raising Day
Katra, July 15
Reasi-based Rashtriya Rifles' Uniform Force celebrated its 12th Raising Day today. A solemn ceremony was held at Sila Garrison.
Summer camp concludes with staging of play
Jammu, July 15
A month-long summer camp, organised by Samooh Theatre in collaboration with RRaSh Motion Pictures and Krishna Colour Lab, concluded with the staging of a short play, "Arise and Awake".
KC International School organises workshops for teachers
Jammu, July 15
To equip and enable the staff to cope with challenges in the field of education, a series of workshops and orientation programmes were organised at KC International School.
J&K Bank guard shot at in Pulwama
Pulwama, July 15
A security guard of Jammu and Kashmir Bank in Pulwama was shot at by unidentified gunmen around 4 pm today. The injured guard has been identified as Mohammad Rajab Dar (50). He was on duty at the ATM near the gate of Shaheed Park.
iron scrap auction
Handloom officials booked
Jammu, July 15
The State Vigilance Organisation (SVO) on Monday booked officials of the Export Oriented Handloom Development Project, Samba, for causing a loss to the exchequer by committing irregularities in iron scrap auction.