Counselling for residential schools from July 21
Venue likely to be shifted to Amritsar as most students are from economically weaker families
Neeraj Bagga
Tribune News Service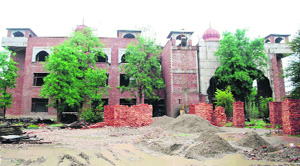 A view of the Senior Secondary Residential School for Meritorious students at Guru Nanak Dev University in Amritsar. Photo: RK Soni

Amritsar, July 19
The state government would hold counselling for admission to Senior Secondary Residential School for Meritorious Students, Amritsar, from July 21 to 26 at Mohali. As many as 550 students, including, 416 girls and 134 boys have applied for admission here against the sanctioned 500 seats. Of these, 300 seats would be available for non-medical, 100 for medical and an equal number (100) for commerce.
DEO (Secondary) Satinderbir Singh said he was trying to shift the venue for counselling to Amritsar as a majority of the students come from economically weaker families.
The scheme is registered as "Society for promotion of quality education for poor and meritorious students of Punjab". The students of government schools affiliated with the Punjab School Education Board, who have attained 80 per cent marks or above in Class X during the 2013-14 session, were admitted to these schools.
These schools, named Senior Secondary Residential School for Meritorious Students, are coming up at Amritsar (GNDU campus), Patiala (Punjabi University), Bathinda (Giani Zail Singh Engineering and Technology College), Ludhiana (Government College for Boys), Jalandhar (Sports School) and Mohali (Sector 70, opposite Mataur village).
The DEO said the school would be functional from August 1. The faculty of the school would report here on July 25 and subsequently, they would undergo a three-day orientation programme before the commencement of classroom teaching. At present, Manmeet Kaur, principal, Government Senior Secondary School for Boys, Ajnala, has been given the additional charge as principal of the meritorious school.
He said the school building was ready to host the regular classrooms but its entire building would be completed by October 31. Besides, labs are ready and benches have arrived.
He said for the meantime, Baba Darshan Singh Dera across the road from the school would accommodate boys while the girls' hostel was ready on school campus. He said the the school required 45 rooms but 36 were ready.
The Amritsar Improvement Trust has constructed a double-storey building with 20 classrooms, two separate hostels for girls and boys each besides residences for 10 school staff members and a principal.
To strengthen the structure of education at the senior secondary level, the state government has started the admission process for its six smart residential schools established for meritorious students who would be imparted quality education for Class XI and XII free of cost.
Besides the syllabus of Class XI and XII (English medium) prescribed by the board, special teaching classes for preparation of various competitions like JEE, medical entrance tests, CLAT/ CPET and other undergraduate tests held by universities would be undertaken. These classes too would be free of cost.
The curriculum had been designed to build the overall personality of the students. Special career counsellors would also be there to assist the students from the initial stage. The curriculum would be in English medium with help from the teachers to translate it into local languages.
Fact file
As many as 550 students, including, 416 girls and 134 boys have applied for admission here against the sanctioned 500 seats. Of these, 300 seats would be available for non-medical, 100 for medical and an equal number (100) for commerce.
Manmeet Kaur, principal, Government Senior Secondary School for Boys, Ajnala, has been given additional charge as principal of the meritorious school.
The school would be functional from August 1. The faculty of the school would report here on July 25 and subsequently, they would undergo a three-day orientation programme