Magisterial probe ordered into teenager's killing
Anantnag, July 20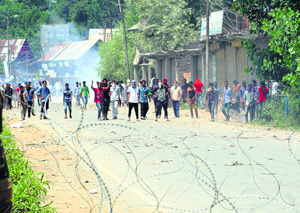 A magisterial probe was ordered on Sunday into the killing of a 14-year-old boy during anti-Israel protests in the Qaimoh area of Anantnag district in south Kashmir. Violent clashes between youths and government forces continued in the area and other places in south Kashmir throughout the day, resulting in injuries to at least six persons.


Kashmiri youth throw stones at security personnel in Kulgam district on Sunday during a protest against the killing of teenager Suhail Ahmad Lone on Saturday. Tribune photo: Amin War

Govt jobs under quota fail to enthuse sportspersons
Jammu, July 20
As sportspersons of international repute, who have bagged medals in different disciplines, are "complaining" about getting a raw deal even after getting government jobs under sports quota (SRO-349), the upcoming standing committee meeting of the J&K State Sports Council is likely to take up all important issues concerning these players.
On the frontline
Protests in Valley: Let the repeat of history be halted
Anybody with the slightest knowledge of history of protests in Kashmir could have easily foreseen the shape the anti-Israeli protests against the killing of Palestinians in Gaza would take. A known fact about protests in the Valley is that these have a tendency to swell and turn violent, provoking retaliation from the law-enforcing agencies.
'We never saw such intense shelling, not even before 2003 ceasefire agreement'
RS Pura/Arnia, July 20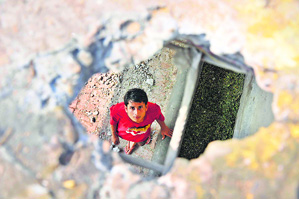 Intense Pak shelling on Sunday sent a chill down the spine of hundreds of villagers living along the international border in the RS Pura sector of Jammu district. "Four mortars exploded in my house in a span of half an hour between 1 am and 1.30 am injuring livestock. My family and I were lucky enough to survive as we live in another house," said Yashpal Singh of Kaku-de-Kothay, a village barely 500 metres away from the Zero Line.

A villager looks through a hole in the roof of a house shelled by Pakistan Rangers in Gharani village in the R S Pura sector on Sunday. Tribune Photo: Inderjeet Singh

Pakistani firing more dangerous than Chinese threat: Omar
Jammu, July 20
Chief Minister Omar Abdullah on Sunday said firing from the Pakistani side on the border was more dangerous than the Chinese threat. He said firing on the border had caused serious problems for the people living near the Zero Line.
Basmati cultivation takes another blow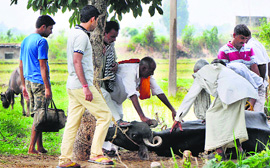 Jammu, July 20
Amid firing and shelling by Pakistan in the RS Pura sector of Jammu district, its basmati rice yield this winter is not likely to be close to average as migrant labourers who sow paddy have either fled to their homes or refuse to go to the fields close to the Zero Line.

A team of veterinary doctors and assistants treat an injured buffalo in Rakh Jeora Nikowal village in RS Pura sector of Jammu on Sunday. Tribune Photo: Inderjeet Singh

De-silting at filtration plant affects water supply in city
Jammu, July 20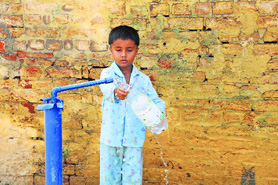 Several areas in Jammu city are facing water shortage for the last two days as the Public Health Engineering (PHE) Department is carrying out de-silting process after the recent flashfloods in the Tawi damaged some portion of tanks at the filtration plant. In most of the affected areas, people are without water supply for the last two days, while the PHE has asked them to use water judiciously till the plant is again made functional.

Due to scarcity of water, a boy fills a bottle from a tap far away from his house in Jammu on Sunday. Tribune photo: Inderjeet Singh

Appointment of SHRC members
Govt considering panel names suggested by Law Department
Srinagar, July 20
The state government is seriously considering the panel drawn by the Law Department to reconstitute the State Human Rights Commission (SHRC). In this regard, Chief Minister Omar Abdullah also held a meeting with the stakeholders before giving his nod for fixing a meeting of the selection panel.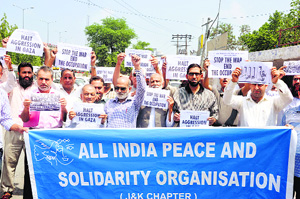 In solidarity with Gaza: Members of the All-India Peace and Solidarity Organisation participate in a peace march condemning the ongoing Israeli attacks on Gaza, in Jammu on Sunday. Tribune photo: Anand Sharma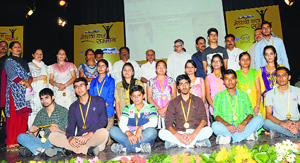 talent rewarded: Chief Minister Omar Abdullah with award-winning students during a function organised by a newspaper publication house in Jammu on Sunday. Tribune photo: Anand Sharma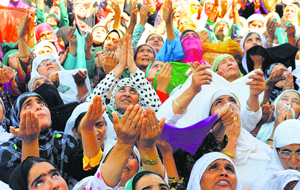 In Reverence

: Kashmiri Muslim women pray as the head priest (not in picture) displays the holy relic, believed to be a hair from the beard of the Prophet Mohammad, during special prayers to observe the Martyr Day of Hazrat Ali, cousin of Prophet Mohammad, on the 21st day of Ramadan at the Hazratbal shrine in Srinagar on Sunday. Hazrat Ali was martyred on the 21st day of the month of Ramadan 1,400 years ago. Tribune photo: Amin War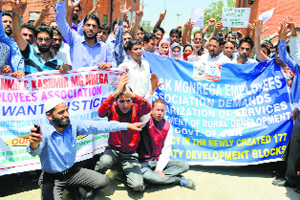 Up in arms

: Members of the Jammu and Kashmir Mahatma Gandhi National Rural Employment Guarantee Act Employees Association hold a protest in Srinagar on Sunday. Tribune photo: Amin War

Shoppers throng Valley markets ahead of Eid
Srinagar, July 20
With Eid-ul-Fitr round the corner, city markets witnessed a huge rush of customers today. The Sunday market which is held in the heart of the city at Lal Chowk from tourist reception centre to Amira Kadal Bridge also witnessed a huge rush of people which also resulted in traffic mess at several places.
BJP hits out at J&K Govt over 'graft, failure to utilise' Central funds
Srinagar, July 20 Bharatiya Janata Party national general secretary and Rajya Sabha member JP Nadda today hit out at the state government for "rampant corruption" and for "not properly utilising the Central funds for developmental purposes".
Meet to discuss demands of PHE employees
Jammu, July 20
A meeting of the district executive bodies of the Public Health Engineering (PHE) Employees Association (PHEEA) of Jammu district was held at the PHE headquarters to discuss demands of the PHE employees. The meeting was held under the chairmanship of state president of the Indian National Trade Union Congress (INTUC), J&K, Shiv Kumar Sharma, who is also the provincial president of the PHEEA, Jammu province.
Public transport goes off roads during dusk
Srinagar, July 20
In the holy month of Ramadan, commuters especially office-goers who use public transport are facing problems as the public transport remains unavailable during the evening hours. Public transporters, especially drivers of buses and Sumos, call it a day much earlier in this month, thus causing great inconvenience to commuters.
Traders seek early resolution of K-issue
Srinagar, July 20
Batting for early resolution of the Kashmir issue, the Valley traders today said conflict was not allowing the business community to prosper. Addressing a press conference here, Mohammad Yaseen Khan, chairman of the Kashmir Economic Alliance (KEA), an amalgam of various traders' and hoteliers' bodies, said the local economy would stabilise only after the Kashmir issue was resolved.
School holds orientation programme
Jammu, July 20
Presentation Convent Senior Secondary School, Gandhi Nagar, organised an orientation programme for parents of Class X students of the school. The aim of the orientation programme was to make the parents aware of the details of the CCE pattern adopted by the Central Board of Secondary Education (CBSE). Principle of the school Rosamma welcomed the parents and told them about the objective of the interactive session.
IGP directs policemen not to resort to firing
Srinagar, July 20
A day after the killing of a 14-year-old boy during anti-Israeli protests, Inspector General of Police, Kashmir, Abdul Ghani Mir has told his subordinates not to fire in any case while dealing with law and order problem. "It is unfortunate that we are not learning from mistakes," the IGP said in a communication to district police officers. "Please ensure that you don't put yourself in situations where firing is resorted to," the missive added.
Army man killed in accidental LoC blast
Srinagar, July 20
An Army man was killed in a grenade exploded accidentally during a counter-infiltration operation in north Kashmir's Gurez sector last night. The Army had foiled an infiltration bid in the sector two days ago.
Lawyer Sunil Sethi joins BJP
Jammu, July 20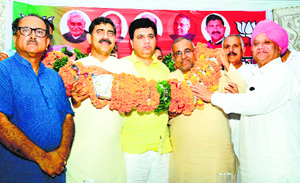 Senior lawyer of the Jammu and Kashmir High Court Sunil Sethi today joined the Bharatiya Janata Party (BJP) along with his supporters. Sethi joined the BJP in presence of state president Jugal Kishore Sharma, in charge Jammu and Kashmir BJP, Avinash Rai Khanna, Ashok Khajuria, Dr Nirmal Singh, Shamsheer Singh Manhas, Kavinder Gupta and Bali Bhagat.

BJP leaders welcome Sunil Sethi (centre) into the party fold during a function in Jammu on Sunday. A Tribune photograph

Volkswagen launches new Polo car in Jammu
Jammu, July 20
Volkswagen has announced the launch of its new Polo in Jammu. The new Polo range is available with three-cylinder 1.2-litre MPI, four-cylinder turbocharged 1.2-litre TSI and all-new four-cylinder 1.5-litre TDI engines. The new car was unveiled by Sheikh Mehmood, IPS (retd) and Suresh Choudhary, chief manager, J&K Bank,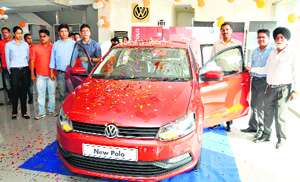 Gangyal. Speaking at the launch of the new car, Devinder Singh, general manager sales, Indus Autowheels Private Limited, said, "With its best-in-class build quality, outstanding driving dynamics and safety credentials, the Volkswagen Polo has already established itself as a leading contender in the premium hatchback segment in the Indian car market." TNS

Sheikh Mehmood, IPS (retd), and Suresh Choudhary, chief manager, J&K Bank, Gangyal, at the unveiling of the Volkswagen new Polo car in Jammu on Sunday. Tribune photo: Inderjeet Singh

Need to adopt merit-based selection stressed at JKCA meeting
Jammu, July 20
Jammu and Kashmir Cricket Association (JKCA) chairman Arvinder Singh Mickey and general secretary ML Nehru today held a series of meetings at the JKCA office, Jammu. The meetings were attended by selectors of various age groups of the Jammu region. The office-bearers stressed upon the need to adopt transparency and merit-based selection process. In a separate meeting with Jammu-based clubs and institutions, the chairman and general secretary deliberated upon various calendar of activities and infrastructure development in the Jammu province. The central office-bearers had recently met JKCA president Dr Farooq Abdullah at Delhi and were committed to develop new infrastructure in the state. It was also decided in the meeting that the second phase of coaching-cum-trial camps for the Jammu province will commence on July 28. TNS
Gandhi to organise solo art show in Chandigarh
Jammu, July 20


Eminent artist from the state KK Gandhi (see pic), whose art has been appreciated by every section of society making him one of the finest landscape artists of the country, will exhibit his solo show in Chandigarh from July 25-28. Showing interest and admiration towards the distinct yet popular style of working of Gandhi, the Kadamb Art Society for Environment Awareness in association with "Saplings" has invited Gandhi to exhibit his solo show in Chandigarh. "The event will be a small gesture for appreciating, recognising and admiring the art work of Gandhi," the chairperson of the society said. This forthcoming solo exhibition at Chandigarh will be Gandhi's 16th solo show. Besides, he has participated in more than 40 group shows in India and abroad and 33 national and international camps. TNS
2-day Islamic Art Festival concludes
Srinagar, July 20
The two-day Funtoosh Ramadan Art Expression 2014 Festival concluded here today. The event which was organised by the Aryans Group of Colleges, Chandigarh, was aimed to share beautiful and positive image of Islam around the world. The theme of the event was "Islam and Ramadan". On the first day of the event, more than 300 students from different schools participated who seemed very excited and demanded that more such events be organised in future. The Kashmir's head priest and All-Parties Hurriyat Conference (moderate) Chairman, Mirwaiz Umar Farooq, on Saturday inaugurated the two-day Funtoosh at Nigeen Club. "More than 350 students in senior and junior categories participated in the event," the hosts added. The participants were awarded with merit certificates. TNS
Army organises 15-day tour for students
Srinagar, July 20
A 15-day long national integration tour was organised by the Army for the students of Guru Nanak Dev Model High School, Baramulla. The tour was flagged off on July 5 and it culminated in a glittering ceremony attended by the civilian dignitaries and parents of students at Baramulla yesterday. "The unique initiative was undertaken by the Army's Rashtriya Rifles unit with an aim to provide adequate exposure to the youth of Kashmir," a Defence official said. During the tour, students visited historical monuments like Humayun Tomb, Dargah Hazrat Nizamuddin, Taj Mahal and Fatehpur Sikri. — TNS