Antibiotics in chicken 'hitting Indians' resistance to drugs'
Vibha Sharma
Tribune News Service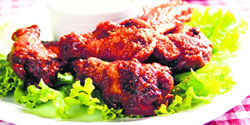 Lab tests


70 chicken samples taken from Delhi and NCR


Three tissues — muscle, liver and kidney — were tested for six antibiotics


Residues of five antibiotics were found in all three tissues


In a sample taken from Gurgaon, a cocktail of three antibiotics was found


Antibiotics are regularly mixed with feed to promote growth and routinely administered to all birds to prevent infections, even when there are no signs of it
New Delhi, July 30
A study conducted by the Centre for Science and Environment (CSE) has linked growing antibiotic resistance in humans to its large-scale, indiscriminate use in the poultry industry.
"Drugged" is the theme of the report — Antibiotics in the Chicken — which studied the level of common antibiotics in popular non-vegetarian food of Indians, especially in the North. The Delhi-based research and advocacy think tank has suggested that Indians are developing resistance to antibiotics and hence falling prey to a host of otherwise curable ailments.
Some of this resistance may be due to large-scale unregulated use of antibiotics in the poultry industry.
Of the 70 chicken samples taken from the Delhi-NCR region for six commonly used antibiotics, the CSE found 40 per cent samples positive with residues of more than one antibiotic in 17 per cent samples.
The CSE claims it to be "the biggest study done in India to test residues of antibiotics in chicken". This points to large-scale unregulated use of antibiotics as growth promoters by the poultry industry, says the environmental NGO.
"Antibiotics such as ciprofloxacin, important to treating diseases in humans, are being rampantly used by the industry. This is leading to increased cases of antibiotic resistance in India," it says.
The study goes on to say large-scale misuse and overuse of antibiotics is leading to the emergence of antibiotic-resistant bacteria in chicken. These bacteria are then transmitted to humans through food or environment.
Eating small doses of antibiotics through chicken can promote development of antibiotic-resistant bacteria in humans.
"Replying to a question in Parliament recently, Health Minister Harsh Vardhan said the number of multi-drug resistant (MDR)-TB cases in the country had increased fivefold between 2011 and 2013. Studies show one-third of the MDR-TB cases are resistant to fluoroquinolones, which are critical for MDR-TB treatment," says the CSE.
The study found two fluoroquinolone antibiotics —enrofloxacin and ciprofloxacin — in 28.6 per cent of the chicken samples tested.
India has no regulation on stemming the use of antibiotic in the poultry industry or controlling sales of antibiotics to the industry.
So, while it is literally "free for all in the sector, the country also has not set limits for antibiotic residues in chicken".
"Our study is only the tip of the iceberg. There are many more antibiotics that are rampantly used but the lab has not tested," says Chandra Bhushan, CSE's deputy director general.