Lend him your ears
As one of the finest exponents of Patiala Gharana, Ustad Hamid Ali Khan, who is based in Pakistan, credits the legacy of his family tradition and classical music, which he considers are the fundamental essence of his very existence.
Lust for Life
His unassuming nature is almost disarming. He sits cross-legged on the sofa in the lobby of Hyatt Regency Ludhiana, wearing a T-shirt and shorts and talks of his latest collection, Bleeding Lust, which is a part of Kingfisher Ultra Punjab Style Tour.
GYAN ZONE
When music is religion
It is music largely unconstrained by words and the kind where each beat is left to the interpretation and imagination of the listener. EDM, a staple of any dance-based environment, has garnered a fan base hardcore enough to perceive the genre nothing less than religion! That explains the myriad initiatives to turn listeners into converts.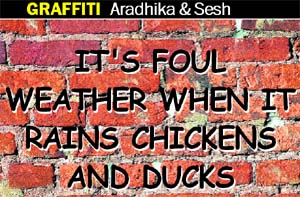 first-day-first show
Of battles & blood
Directed by Brett Ratner, Hercules is an action adventure film that stars Dwayne Johnson, John Hurt and Ian McShane. The story of the film revolves around the life of Hercules a tormented soul who walked the earth neither as a man nor or as God.
punjabi scope
Don't take a panga!
Paisa Pyar N Panga, this week's Punjabi film, justifies every bit of its title. First, you spend your paisa (money) to watch the film with the thought of falling in pyar (love) with it, and once through the film, it will create a panga (problem) since you have to answer the question — who suggested you to watch this film!
The natural click
Snowcapped mountains, clouds over the hills, animals lazing around in the meadows and more…are what 22 students of Dikshant International School, Zirakpur, have put up for display at Punjab Kala Bhawan-16.
In the service of art
Art that stays restricted to galleries is only exhibits. Unless it leaves the public spaces and moves onto people's homes, it is only a slice of history. While there is no need to go on an overdrive recreating master prints, one must find ways to make art a way of life. "I have been painting from home since 2006; it is only recently that I decided to move onto commercial space with twin objectives.
star track


Shraddha injures herself


Entertaining formula


Hrithik upset over alimony report


House hunting


Family production
chatter box


Tales of heroism


Raj Babbar to make TV debut with Shubhangi


Karan helps out Divyanka