Bespoke beauties
A lot of expectations are pinned on the India Bridal Fashion Week 2014 as the big names of fashion industry are set to showcase their collections
Heavy-weights in the business of bespoke, get together to ensure that in a society obsessed with big fat weddings, brides look the part. The larger than life part, that is. It is the couture that you can wear, albeit once in a lifetime. There are those still hung-over from the India Couture Week, there are those, who can never have enough of the bridal couture. The more, the merrier. Bring them on.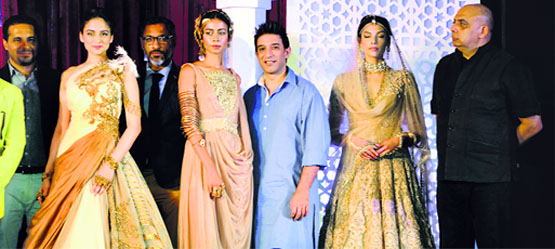 dream makers:

India Bridal Fashion Week 2013 was not just about splendid clothes but also dramatic ambience.

Naked truth
While she pacified the turbulent tides of circumstances that inked the contents of her book, Cru et Nue (Crude and Nude), the storm that was stirring within her soul pricked her existence (as a woman) of the constant servility it was subjected to.
STAR TRACK
Ranveer adores Manish's style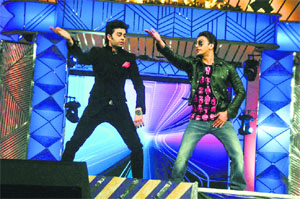 A little birdie informs us that actor Ranveer Singh admires Manish Paul's dressing style. In fact, Ranveer has been overheard complimenting Manish many times. Ranveer himself is known to experiment a lot. He likes Manish's suits which he wears at events and especially on the reality show Jhalak Dikhla Jaa.


fan club: Manish Paul and Ranveer Singh

Sonakshi on the move
Sonakshi Sinha, who was last seen opposite Akshay Kumar in Holiday, has a lot on her platter currently and the actress has been travelling continuously to fulfill her work commitments.

Asin pledges to donate eyes, organs
Actress Asin is known for her charitable endeavours and carrying forth her philanthropy she has pledged to donate her eyes and organs. This is not the first time the actress has extended her support towards those in need. In the past she has donated blood in a blood donation camp as well.
Out of closet
Singer-turned-fashion designer Victoria Beckham is selling more than 600 of her own personal items in order to raise money for charity.
When Shabana Azmi was left teary-eyed!
Raju Singh and wife Sherley Singh hosted a special screening of film Punjab 1984 in which Raju has given the background score.
Family gossip
Kareena Kapoor Khan talks about family members, and baby prospects.
Not pregnant
Would I have signed Kabir Khan's Bajrangi Bhaijaan, which will be 2015's Eid release opposite Salman (Khan) a few days ago if I was expecting? I am a responsible actress. I don't understand why people immediately jump to such conclusions when a married actress refuses a film. Accepting or refusing a film is an actor's prerogative. No one should intrude on his or her privacy.
Money talk
Kick is racing towards the two-hundred crore club. The other films that have grossed more than Rs 200 crores are Chennai Express, 3 Idiots, and Dhoom 3.
the 'in' side
Map to a dream home
Are you looking for an easy and inexpensive way to decorate your walls? Consider maps. Decorating with maps can give your room an elegant and classy look. They are especially nice in an office, dorm room, study, library or a child's room.
On the big stage
Soon to be seen as one of the top 10 contestants on India's Raw Star that will be telecast on Star Plus, 22-year-old Pardeep Sran is all set to sizzle on the stage with his power-packed Punjabi performance.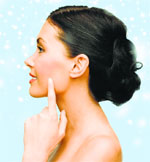 Doc Talk
Acne aches
Acne breakouts are the most common skin problem during the rainy season and are even tougher to manage in humid weather. It is painful when one wakes up in the morning and finds bumps on the nose or cheeks. Acne, when severe, tends to affect the lifestyle and quality of life of many in India.
The magic of mojito
Chilis Bar and Grill at Elante Mall, which boasts of Chandigarh's only exclusive margarita bar in the region, has now come up with a Mojito Festival nicknamed Mojito Mania. As rain is finally here, Chilis has decided to offer six new tempting flavours of the original Mojitos, including Classic, Chilli, Mango, Apple Rasberry, Strawberry and Veryberry. The festival is on till August 31.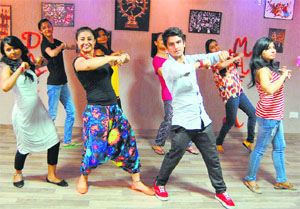 Dance pe chance
A dance academy, The Dance Mafia, has been launched by Ripanpreet Sidhu, a finalist of Boogie Woogie, in Mohali. "The main motivation behind starting our own company was to create a platform where dance moves could be taught. This is a place where you can learn dance the fun way," she shares. A variety of dance forms, including hiphop, Salsa, B-boying, contemporary, Cha-cha-cha, Jazz, Bhangra, among others, will be taught here.
step UP: Ripanpreet Sidhu (L)

CHATTER BOX
Stars sizzle in grand finale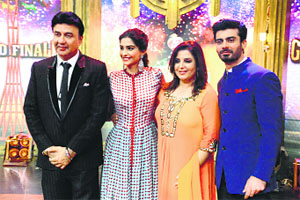 Yet another season of the most entertaining reality show Entertainment Ke Liye Kuch Bhi Karega comes to an exciting end. But, just as the name of the show goes, the grand finale is going to leave the viewers spellbound. To make it more engaging, the gorgeous Sonam Kapoor and the dashing Fawad Khan will make an appearance on the show to promote their upcoming flick Khoobsurat.

Parting shot: (L-R) Anu Malik, Sonam Kapoor, Farah Khan and Fawad Khan at the final episode of the show

And the award goes to...
After the success of the previous two editions, the BIG Life OK Now Awards are back for the third edition. With Independence as the central theme, the evening saw spectacular performances by some of the biggest names in Bollywood and television. The anchors for the evening Chintu aka Sunil Grover and Varun Sharma, kept everyone in splits with their gags and comic timing.
1,500 & going strong
Producer Rajan Shahi recently organised a havan on the sets of Yeh Ristha Kya Kehlata Hai to celebrate the completion of 1,500 episodes. They held a cake-cutting ceremony and post that, a delicious lunch.
Leap time in Buddha
After a 25-year leap, actor Himanshu Soni, who is only 27, will play a 72-year-old in the show Buddha.

Character calling
With dipping ratings, the makers of Mahadev are planning to give actor Mohit Raina another character in the show. Last time when he had played Shiva and Jalandhar in Devon Ke Dev Mahadev, the ratings increased. Now it's been a year so they are trying the trick again and will introduce a character called Lohitang, who will be aggressive and hot-tempered.
The year ahead
If your birthday is August 7...
Astro Turf
ARIES: The card 'Nine of Wards' can make this a day of enjoyment and opportunity. Personal plans are likely to receive a severe setback. Serious quarrels are