G R O U N D Z E R O
ground zero
In defence tech, India's dil is still firangi
Raj Chengappa

Before Chuck Hagel became US Defence Secretary he distinguished himself in politics and was a highly respected member of the Senate. In India for the past two days, he displayed another talent – as a master salesman for his country. In his meetings with Prime Minister Narendra Modi and Defence Minister Arun Jaitley he stressed on the theme of how Indo-US defence industrial cooperation stood far below the potential.
Hagel pointed out that the next steps in the partnership had "to be result oriented and build momentum with concrete achievements." Among the proposals the US is offering is pushing the co-development and co-production of the next generation of Javelin anti-tank missiles. "This is an unprecedented offer that we have made to India and no one else," he told a gathering at the Observer Research Foundation in New Delhi yesterday.
America hopes that when Narendra Modi goes to Washington DC next month for a summit with President Barack Obama, the Indian Prime Minister would agree to move ahead on this mega defence deal. The Modi government has already indicated that it wants to put defence industrial development on the fast track by raising the cap on Foreign Direct Investment (FDI) from 26 per cent to 49 per cent in this critical sector. The buzzwords are co-development, co-production and offsets.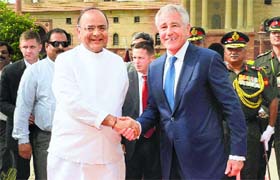 Arun Jaitley with US Defence Secretary Chuck Hagel at South Block in New Delhi on Friday. PTI
It is important for Modi to push ahead quickly as the paralysis of the UPA government in its final years had dented India's defence preparedness. But while speed is the need of the hour, equally important is that the Prime Minister uses the challenge to unveil a blueprint that would revolutionise India's approach towards meeting its armament requirements.
Currently, India's policy is severely flawed. Last year, India had the distinction, albeit a dubious one, of emerging as the world's largest importer of armament. A Stockholm International Peace Research Institute (SIPRI) report on international arms transfers between 2009 and 2013 revealed that India accounted for 14 per cent of all global sales. It was ahead of China which accounted for 5 per cent of the total imports. In 2013 alone, India imported close to $ 4.6 billion (Rs 30,000 crore) worth of equipment.
The irony is that next month, an Indian spacecraft will reach distant Mars after traversing 680 million km in space — a significant achievement that will put India among a clutch of nations that have the capability to do so. One may rightfully ask: If India can build such sophisticated rockets and satellites, why can't we manufacture our own defence equipment rather than pile up such a huge bill? That is more than a $ 4 billion question. India's research and development capability since Independence has only islands of excellence in a vast ocean of mediocrity.
This is particularly true of defence where we spend most of our hard-earned money with little returns. We may have giant public sector units like Hindustan Aeronautics Limited, a vast network of laboratories under the Defence Research and Development Organisation (DRDO) and Ordnance factories and warship-building units under the armed forces. But yet we end up on top of the list when it comes to importing arms and almost at the bottom in exporting them.
Take Tejas, the Light Combat Aircraft that has been under development since the mid-80s and has recently gone into production. While the DRDO claims it's 70 per cent indigenous, many of its critical components, particularly the engine, are imported. That's because while we have mastered rocket technology, we are still struggling to build jet engines. For Tejas, India has picked up engines from American giant General Electric.
Engine making, in fact, has been India's Achilles heel whether for cars, tanks or warships. The DRDO, which built the Arjun as India's Main Battle Tank, was forced to import a German engine to power it with Indian efforts falling woefully short. The Navy may have designed the Shivalik-class warship but it had to import the French Pielstick engines for it.
The Indian defence industry, to paraphrase the yesteryear hit from the movie "Shree 420", goes by the verses, "Mera dil hai firangi, phir bhi sar pe topi Hindustani. (While my heart is foreign made, my hat remains Indian)". The Modi government has the opportunity to make a paradigm shift by raising the threshold of technology for both military and civil use. It must scan the horizon and see what critical technologies India needs to develop in each of the vital sectors whether in engines, chips or metallurgy.
Since we are in a buyers' market, India must insist that all defence purchases have in-built co-development and co-production, apart from offsets to ensure that over a period of time we develop the capability of manufacturing these equipment indigenously and even become a net exporter of defence technology. To attract both foreign and domestic manufacturers, the new government must build an enabling ecosystem that ensures transparency, accountability and predictability in policy and cuts through red tape. It may take more than a decade but at the end of it we could sing "... phir bhi dil hai Hindustani" (yet my heart is truly Indian).