Gang offers lift
Pathankot couple robbed, cops clueless
Amritsar, August 13
Instances of a gang robbing elderly people of their belongings continue unabated as two more incidents have come to light. The police, however, have failed to make any arrest in this regard.
Hotels, restaurants, bars directed to serve liquor until 11 pm only
Amritsar, August 13
A brawl that occurred outside a bar in the Ranjit Avenue area a few days ago has woken up the city police to take measures to discourage serving of liquor in the late night hours, which often leads to such instances.
Security beefed up for I-Day, VIP visits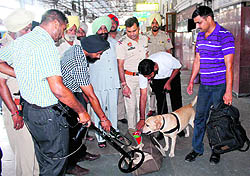 Amritsar, August 13
The city police have been put on high alert in view of the proposed visit of Union Defence Minister Arun Jaitley and Independence Day celebrations. Police stations have been provided with additional forces. Surprise checks are being carried out and nakas are being laid at various chowks and important places to prevent any untoward incident.


Dog squads pressed into service during a search operation at the railway station
Animal Husbandry Minister to unfurl Tricolour in city
Amritsar, August 13
Minister for Animal Husbandry and Dairy Development Gulzar Singh Ranike would unfurl the national flag during the Independence Day celebrations at Guru Nanak Stadium, said Deputy Commissioner Ravi Bhagat after the full dress rehearsal today.
Matrimonial disputes on rise in city
Amritsar, August 13
Myriad reasons like poverty, illiteracy, minimum exposure, drug and alcohol addiction, greed, ego and crumbling of the joint family system are behind the rising matrimonial discord instances in the city.
City bus fares cut to increase occupancy, fight competition
Amritsar, August 13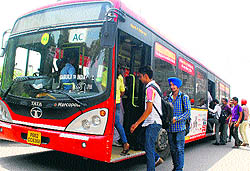 In view of the fact that the city bus service has been reeling under losses for the past sometime, the authorities have slashed the prices of tickets in an apparent attempt to deal with the competition posed by auto-rickshaws. It seems that taking the "volume" theory into account, the company has rolled back its move of abolishing the least fare ticket slot comprising Rs 2 and Rs 5, the least fare of non-AC and AC buses.

Passengers board a city bus in Amritsar on Wednsday. Photo: RK Soni

MC, volunteers join hands to clean up the streets leading to Golden Temple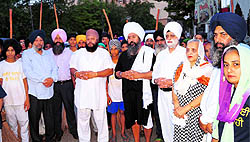 Amritsar, August 13
With the night sanitation contract of the private firm, engaged for keeping the surroundings of the Golden Temple clean, coming to an end, the Municipal Corporation and many volunteers have joined hands to do the service.

NRI couple Amrik Singh Sadana and Bibi Harbans Kaur Sadana along with members of the Golden Temple management, Sant Baba Kashmir Singh Burewale and volunteers who have taken up the task of cleaning the surroundings of the Golden Temple in Amritsar. A Tribune photograph

Noted artists to display their works in 'Kala Mela'
Amritsar, August 12
To promote a healthy art culture in the city, city-based artist and art critic Brijesh Jolly will be organising 'Kala Mela' in association with Alpha One. The shopping mall complex has become an open art space for city artists and a vehicle to popularise live art.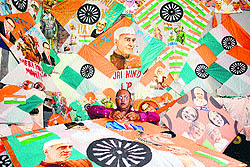 colours of freedom:

Kite-makerJagmohan Kanojia makes tri-coloured kites ahed of Independence Day in Amritsar on Wednesday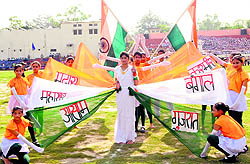 School students participate in the final rehearsal for the Independence Day function at Guru Nanak Dev Stadium in Amritsar on Wednesday. Photos: Vishal Kumar

Doctors sweat it out in operating theatres as AC system breaks down
Amritsar, August 13
Doctors had to sweat it out at the orthopaedic operating theatre of Guru Nanak Dev Hospital as the air-conditioning facility went out of order once again today. Even the water supply to the operating theatre was inoperative during the early morning hours today.
GNDU holds seminar on UPSC exam
Amritsar, August 13
The All India Services Pre-examination Training Centre of Guru Nanak Dev University organised a seminar on 'How to Crack UPSC Examinations' at Guru Nanak Bhawan Auditorium. As many as 300 students and faculty members participated in the seminar, which was organised in association with Shive Illuminate Private Limited, New Delhi.
BUSINESS NEWS
Beverage offers mango-milk delight
Amritsar, August 13
Coca-Cola India today launched Maaza Milky Delite — a new innovation by the beverage brand.