PoJK refugees demand implementation of relief package
Jammu, August 13
Displaced people from Pakistan-occupied Jammu and Kashmir (PoJK) today alleged that the Central Government is again following discriminatory policies towards the refugees, who were forced to leave their land in 1947, when Pakistan occupied a part of J&K.
Soldier injured as Pak pounds Jammu posts
Jammu, August 13
Even as Prime Minister Narendra Modi lambasted Pakistan on Tuesday for waging a proxy war against India, the Pakistani Rangers and army pounded Indian forward posts last night and today along the international border in the RS Pura sector of Jammu district and the Line of Control (LoC) in the Balakote sector of Poonch district, leaving an Indian soldier injured.
Post-taxi hijack, red alert across J&K
Batote, August 13
Close on the heels of a taxi hijacked by four suspected ultras from the Karol bridge in Ramban district yesterday, the Jammu and Kashmir Police has sounded a red alert across the state.
1,100 fall prey to gastro in Kupwara village
Kupwara, August 13
At least 60 fresh cases of gastroenteritis were reported from remote Zurhama village of Kupwara district today. "With this, the total number of people who have taken ill due to the infection since Monday has reached 1,100," Health Department officials said.
Forces take vantage positions in Hiranagar, Samba
Jammu, August 13
Ahead of the Independence Day celebrations and against the backdrop of a car-hijack by four suspected ultras from Ramban on the Kashmir highway yesterday, the Jammu and Kashmir Police has taken over vantage positions, especially in the Hiranagar and Samba sectors. These are the traditional and shortest route of infiltration for Pak ultras to reach the Jammu-Pathankot highway after crossing the international border.
PM ignoring Srinagar: CPM
Srinagar, August 13
Accusing Prime Minister Narendra Modi of ignoring Srinagar, the CPM state secretary and MLA, Mohammad Yousuf Tarigami, has said that "it seems" the Kashmir region does not figure in the PM's priority list.
Guv lauds govt, security agencies for their support to Amarnath yatra
Srinagar, August 13
Governor NN Vohra today lauded the "excellent synergy and very high level of coordination" among the state government, the Shri Amarnathji Shrine Board and various security agencies, including the Army, and local stakeholders involved in the management of just concluded Amarnath yatra.
Lt Gen KH Singh flags in educational tour
Jammu, August 13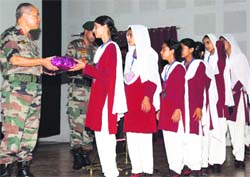 The General Officer Commanding (GOC) of the White Knight Corps, Lt Gen KH Singh, today asked a group of 25 girls from Ramban district to take charge of their destiny and contribute their bit to nation building.




General Officer Commanding of the White Knight Corps Lt Gen KH Singh interacts with the participants of an educational tour at Nagrota on Wednesday. A Tribune Photograph
Villgam villagers continue to protest for tehsil status
Kupwara, August 13
Normal life in Kupwara's Villgam village remained affected for the 14th consecutive day today as residents continued to protest in support of their demand for tehsil status to the village.
Week on, no clue about fire at Directorate Education office
Srinagar, August 13
A week after the fire mishap at the Directorate of Education office in Srinagar, the police have been unable to generate any important lead in the case.
Security stepped up in Kashmir ahead of I-Day
Srinagar, August 13

Ahead of Independence Day, security has been tightened in the entire Kashmir valley as police and paramilitary personnel have increased their presence in the city. They have intensified patrolling and are frisking pedestrians and carrying out searches of vehicles.
Policewomen march during the full dress rehearsal for the Independence Day function at Bakshi Stadium in Srinagar on Wednesday. Tribune photo: Amin War
Rajouri students seek permission for hoisting Tricolour on campus
Rajouri,August 13
A group of students from the Engineering College at the Baba Ghulam Shah Badshah University (BGSBU) have sought permission from the varsity authorities to hoist the Tricolour at the Sabrang Chowk inside the institute complex on the Independence Day.
Kulgam students protest I-Day rehearsals
Kulgam, August 13
Things took a violent turn in Kulgam town of south Kashmir after the police used force to quell protests held by the Government Degree College students against the Independence Day rehearsals within the college premises.
Independence Day celebrations: Full dress rehearsals held in Kashmir
Srinagar, August 13
Full dress rehearsals for the Independence Day celebrations were held in the city today, an official spokesman said.



(1) Kashmiri schoolgirls; (2) members of the J&K police motorcyclist team and (3) a Ladakhi dressed in traditional outfit during their full dress rehearsal for the Independence Day function at Bakshi Stadium in Srinagar on Wednesday. Tribune Photos: Amin War
Full dress rehearsal of Independence Day function organised
Jammu, August 13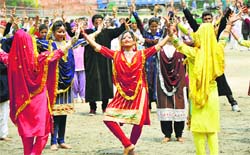 A full-dress rehearsal for the Independence Day function was held at the Mini-Stadium, Parade Ground. Contingents of the district police, CRPF, JKAP, NCC, fire and emergency Services, State Disaster Response Force, Forest Protection Force and children drawn from various schools participated in the march past.
Sudents participate in the full dress rehearsal of the Independence Day function at the Mini-Stadium, Parade Ground, Jammu, on Wednesday. Tribune photo: Inderjeet Singh
Full dress rehearsal for parade at Doda
Doda, August 13
To finalise the preparations for the Independence Day celebrations, a full dress rehearsal was organided at the Sports Stadium, Doda. District Development Commissioner (DDC), Doda, Shyam Vinod Meena, and SSP, Doda, MS Chouhan, supervised the final full dress rehearsal. The Doda SSP inspected parade contingents.
DPS celebrates I-Day
Jammu, August 13
Delhi Public School (DPS), Jammu, today celebrated Independence Day on the school premises.
J&K Bank posts Q1 net profit of Rs 130 crore
Srinagar, August 13
J&K Bank today posted net profit of Rs 130.05 crore for the quarter ended June 2014.
Executing agencies told to speed up Jamia beautification plan
Srinagar, August 13
Minister for Rural Development and Panchayats Ali Mohammad Sagar has asked the officers concerned to speed up the beautification plan of the Jamia Masjid area so that it could be developed on heritage basis.
Friends separated by LoC reunite to keep bond alive
Srinagar, August 13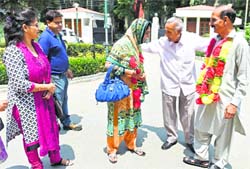 As Pakistan and India observe their Independence Days this week, two families from either side of the LoC reunited here today to celebrate a bond of friendship which has remained unscathed by the tragedy of partition and three wars.



Celebrating the sprit of friendship, Tandons from Jammu receive Mughals from PoK (with garlands) in Srinagar on Wednesday. PTI
Arms, ammunition seized in Kashmir
Srinagar, August 13
Two days ahead of the Independence Day, security forces today scuttled a probable militant plan to carry out an attack by seizing a large cache of arms and ammunition, including two assault rifles and a pistol, in Baramulla district of north Kashmir, the police said today.
Police crack down on motorcyclists in Srinagar; over 500 bikes seized
Srinagar, August 13
With just two days left for the Independence Day celebrations, the police have intensified its crackdown on bikers as hundreds of bikes have been seized from different localities of Srinagar city.
Two found dead in Valley
Srinagar, August 13
Two persons were found dead under suspicious circumstances at separate places in the Kashmir valley, prompting the police to launch investigations to ascertain the causes of their death.
Health officials, teacher suspended
Rajouri, August 13
The Deputy Commissioner, Rajouri, Jatinder Singh today placed three employees of the Health Department under suspension after they were found from duty.
3 booked for spreading rumours
Srinagar, August 13
The police today booked three people for spreading rumour and fabricating information from a phone messaging application.
2 cops, civilian killed in militant attack
Pulwama, August 13
Two policemen and a civilian were killed when militants attacked a police vehicle at Galandar Pampore in south Kashmir's Pulwama district today evening.
Calendar for session issued
Srinagar, August 13
Chairman of the Legislative Council Amrit Malhotra today issued a provisional calendar for the upcoming House session, beginning August 25. According to it, the government business would be taken up on August 25, 27, 28 and 30. — TNS