27 die in U'khand rain, cloudbursts
Jotirmay Thapliyal
Tribune News Service
Dehradun, August 16
Twenty-seven persons were killed and three others injured in incidents of cloudburst and heavy rain that lashed Uttarakhand over the past two days. Several houses were damaged and livestock washed away in the rain. Relief and rescue operations are underway.
Twelve persons died in Pauri Garhwal district, while seven persons were killed in Dehradun. One person died in Pithoragarh district.
Nearly four cloudbursts occurred in Pauri over the past two days. Three persons died at Diyuli and Dhamanda villages in Yamkeshwar tehsil of Pauri district, while two others died at Dibogi village. Two houses were flattened.
Two persons died at Naudi village in Kaljikhal block, while two more lost their lives at Parsoli village in Dwarikhal block of Pauri. Another four died in Simli Kuti. A landslide triggered by heavy rain killed seven persons, including four women, in Dehradun when three houses were buried in the mud and rocks on Saturday.
Flood situation grim in Assam
Flood situation in Assam today turned grim claiming the life of a child as the Brahmaputra and its tributaries inundated vast tracts of land in Upper Assam and in the Kaziranga National Park following incessant rainfall in the catchment areas. The situation turned critical in Lakhimpur, Dhemaji and Sonitpur districts with a minor boy being washed away in Naoboicha area of Lakhimpur.
In neighbouring Meghalaya, the North Eastern Space Application Centre (NESAC) sounded flood alerts in low lying areas of Meghalaya's West Garo Hills district after incessant rains lashed the region in the past 48 hours.
In Arunachal Pradesh, two children of a family were killed and another boy injured when a retention wall of BSNL fell over their dwelling at C Sector area of Itanagar during a landslide, the police said.
Flood warning in UP
With River Raptie in Uttar Pradesh flowing above the danger level, the Centre today issued a warning of "high flood situation". "River Raptie in Balrampur district of UP is now flowing in high flood situation. At 8 am today, it was flowing at 104.79 metre with a rising trend," said a statement issued by the Ministry of Water Resources.
Evacuation on in Bihar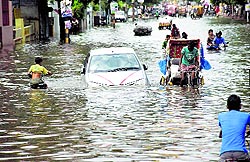 Thousands of people in Darbhanga, West Champaran and Nalanda districts of Bihar have been affected by floods after rivers flowing through these districts breached their embankments. Floods occurred in Darbhanga and West Champaran districts after breaches developed in the embankments of Kamla Balan and Gandak rivers, respectively, while in Nalanda it was due to the overflowing of Panchane River.

Vehicles move through a waterlogged road in Patna on Saturday. PTI

Aid for Odisha victims
Expressing grief over the loss of lives in the recent floods in Odisha, PM Narendra Modi today announced an ex gratia of Rs 2 lakh for the next of kin of the deceased.
(With agencies inputs)