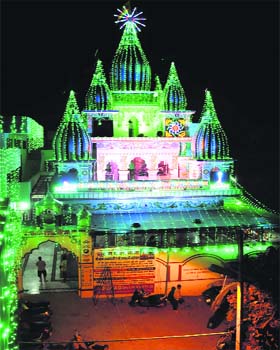 All Decked up: Chaitanya Goria Math all spruced up on the eve of Janmashtami in Bathinda on Sunday. Tribune photo: Pawan Sharma
Man booked for assault, theft
Bathinda, August 17
The police have booked a person for assaulting a resident of Carpet House Street. In a complaint to the police, Harish Kumar stated that he was attacked by Varun Kumar, a resident of Bathinda.
One booked for rape bid
Bathinda, August 17
The police have booked a resident of Bir Talab, Prem Singh, for an attempt to rape a 16-year-old minor girl. As per the complaint, the victim was alone when the accused entered her home and tried to rape her.
In-laws booked for seeking dowry, attempt to murder
Amritsar, August 17
A woman has lodged an attempt to murder and dowry case against her in-laws, including her husband. Nancy, a resident of Katra Moti Ram, said she got married to Vishal Sehgal in 2008 and since then she was being mentally and physically harassed by the in-laws for bringing insufficient dowry.


Teaching turban tying keeps Sikh youth's hopes afloat
Mansa: August 17
Qualified but unemployed! Tejinder Singh of Mansa, however, did not let his spirit flag and has been serving the community for the last three years by teaching turban tying techniques free of cost to those who are interested in it. Besides, he even motivated the youth to retain their faith in turban, a unique cultural identity of the Sikhs, for which they have sacrificed themselves in history.


Tejinder Singh ties turban on a volunteer at a gurdwara in Mansa. A Tribune photograph

Celebrating the lord's birth: Devotees take part in a rath yatra organised by the Chaitanya Goria Math in Bathinda. Tribune photo: Pawan Sharma
painting competitions
Students to be sensitised about energy conservation
Bathinda, August 17
Aiming to sensitise students about the need to conserve energy, the Director General School Education-cum-Project Director of the Sarva Shiksha Abhiyaan (SSA) had shot off letters to the in-charges and principals of the government schools of the state directing them to organise school-level painting competitions.
A train of problems greets passengers at city railway station
Bathinda, August 17
Passengers at the city railway station are facing several problems. Garbage can been seen scattered at all platforms of the railway station. Meanwhile, the Railway Police Force (RPF) and the Government Police Force (GRP) have failed to prevent passengers from crossing the railway lines due to the staff crunch.
Passengers wait for the train; and (right) a man on his motorcycle at a platform of the city railway station. Photos: Vijay Kumar
City pays tributes to 'son of the soil'
Amritsar, August 17
Addressing a state-level function organised today to commemorate the martyrdom day of Shaheed Madan Lal Dhingra at BBK DAV College for Women, Cabinet Minister Anil Joshi announced that the SAD-BJP coalition government has incorporated a chapter on the life and sacrifice of "son of the soil" in Class IX syllabus from this academic session.
Godman claims divine power to heal through water, Tarksheel Society seeks probe
Bathinda, August 17
The "Paniwale Baba" can cure all diseases including cancer and diabetes with just a glass of water. This was claimed by the Baba aka Radhe Krishna of Radhe Krishna Dharmarth Social and Welfare Society who has come to Bathinda from Haridwar to hold a three-day camp in the city.
Paniwale Baba interacts with mediapersons; and (right) the water supplied by a local company and sold by him in Bathinda on Sunday. Photos: Vijay Kumar
Interrogation of terrorists gives vital leads to police
Jalandhar, August 17
The interrogation of the three alleged Khalistani terrorists, recently nabbed by the Jalandhar rural police, has reportedly given vital leads to the police about their network. Police officials, who are otherwise tight-lipped on the issue, are working overnight to work on the information gathered from the trio.
Weak monsoon leaves paddy farmers worried
Jalandhar, August 17
Following a weak monsoon this season, paddy farmers in the region area worried lot. After the transplantation of paddy in adverse conditions somehow, they seem to be anxious about the future care of the crop.


Open House response
Residents want MC polls at the earliest
Due to the lack of public representation in the Municipal Corporation Bathinda (MCB), various development works in the city have come to a halt. Politics is behind the delay in the MCB election. As the ruling SAD-BJP combine is not confident of getting a mandate in the MC elections, it is using delaying tactics.
A view of the Municipal Corporation office in Bathinda. A file photograph