Prevention of Damage to Public and Private Property act 2014
Police attempt to foil protest bid of unions
Various unions come out on roads to protest the 'black bill'; hundreds arrested
Sukhmeet Bhasin
Tribune News Service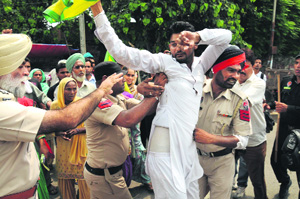 Protesters from various unions were arrested by the police while on the way to the dharna site in Bathinda on Monday. Tribune photo: Pawan Sharma

Bathinda, August 11
The police today attempted to foil the protest bid of various unions against the Prevention of Damage to Public and Private Property Act, 2014, at the grain market here. Various unions today came out on roads against the Punjab Government's new bill. The protesters said the bill was introduced with an intention to suppress public protests against the government.
The police took a tough stand against the unions and arrested many union members. Hundreds of workers from various organisations were arrested before they could stage a protest at the grain market. The police and intelligence were busy in getting updates regarding the presence of workers of these unions in the city.
At many places, protestors were forcibly dragged to the police vehicles and protestors coming to Bathinda were arrested on the outskirts of the city and were taken to various police stations. Still, Bharatiya Kisan Union (BKU) Ekta Ugrahan workers, along with various other organisation workers, succeeded in taking out a protest march at Power House Road.
After receiving information, DSP (City) Gurjit Singh Romana, along with heavy police force, reached Power House Road and forcibly started dragging the protestors into police vehicles. Meanwhile, the protestors kept on shouting slogans against the state government.
Different organisations had made an announcement to protest the bill at grain market today. When, at around 11 am, some leaders reached the venue to prepare the stage, they were arrested and taken to the Vardhman police post.
Dihati Mazdoor Sabha leader Mahipal Singh, Democratic Right Sabha leader Prithpal Singh, Naujawan Bharat Sabha leader Amarjit Huni, Tarkshel Society's Ram Singh Nirman, BKU Ekta Urgahan leader Darshan Singh, Punjab Khet Mazdoor Union Thana Singh and BKU Dakonda leader Rajmohinder Singh Kotbhara were arrested by police.
Besides, Sukhdev Singh (Democratic Kisan Sabha), Kuka Singh Rupana (Dihati Mazdoor Sabha), Surmukh Singh Salebrah (BKU Krantikari), Paramjit Kaur Pitho, Karamjit Lehra Khana were arrested when they were coming from the Nathana side. Their vehicles were stopped near Bucho and they were taken to the Nathana police station.
Leader Mahipal Singh, Buta Singh Burjgill (BKU Dakonda), Jasveer Singh Burj Sema said they would submit a memorandum to the Governor through deputy commissioner demanding cancellation of the 'black bill'.
They said it was quite surprising that the protest was being lodged by the organisations across the state in a very silent manner. But it was only in Bathinda among all districts that hundreds of workers had been arrested, they added.
They said the Bathinda police had arrested and kept the workers at Kotfatta, Canal Colony, Civil Lines, Cantonment and Nathana police stations without any reason.