'Killer' potholes resurface after rains in Bathinda
Gurdeep Singh Mann
Tribune News Service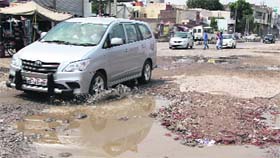 The broken stretch of a road close to the residence of Bathinda MLA Sarup Chand Singla. Photo: Vijay Kumar
Bathinda, August 3
A spell of rain in the city and surrounding areas brought some respite from the humidity but also exposed the killer potholes on numerous roads leading to dangerous road accidents. Apart from obstructing smooth flow of traffic the gaping holes have also added to the commuters' woes.
"Potholes have not only resurfaced on city roads but also on the peripheral roads. Despite being filled every summer, these potholes come up again as the authorities initiate stopgap arrangements," said Bhupinder Brar, a software engineer.
Brar shuttles between his village at Faridkot and Bathinda everyday in car and got his vehicle damaged to a great extent due to the potholes. "I travel between Matta village of Faridkot and Bathinda city everyday and now, got to know about many deadly potholes, which I try to escape but usually fail," Brar said. "There is one deadliest pothole with at least two and half feet of radius on Jaitu-Goniana Road ahead of Chandbhan village. The front wheel of a car moving ahead of my car fell into the pothole and a tractor-trolley hit the car on Saturday evening," Brar said.
He added that another bus travelling at high speed, full of passengers, tried to negotiate the two already collided vehicles—tractor and car—that occupied the entire road—but failed. The bus tured towards the wet agricultural fields and failed to come out, Brar said, who witnessed the accident.
"When the passengers came out of the bus they used abusive language against the authorities, the Punjab government and political leaders for their failure to save the lives of motorists by not providing the basic facilities. The passengers revealed that a number of road accidents took place due to this on the road," Bhupinder said.
He added that there are many other vehicles that too fell off or have met with accidents while trying to negotiate the pot hole, which is situated ideally on road in a deadly manner.
"A young couple's motorbike also fell into this pothole and the man fractured his nose and damaged eyes on Wednesday," said another Jaswinder Chahal, a resident of Jujhar Singh Nagar of Bathinda.
A city-based transporter Ravi Jalal said his nephew's mobike too met with an accident due to the same pothole. He said the pothole is not noticed after the sunset as there is no provision of streetlights on the road. Also, during and after the rainfall the other potholes are not seen as these are filled with water.
Dheeraj Dixit, a city resident, said not only the potholes but the tractor-trailers carrying construction material are not being checked either by the transport authorities or the traffic policemen.
"A tractor-trailer overloaded with crushed stones spread the material all over the road between Bibiwala Chowk and Power House Road last week. The stone hit a child in the eye near Ghorewala Chowk road after it flew up after a truck sped away over it," Dixit said. He added that the matter ws brought into the notice of Police Control Room (PCR) by dialling 100 but no action was taken against the trolley driver.
He added that the Bathinda Development Authority (BDA) and Municipal Corporation Bathinda (MCB) were seen repairing the roads just three days before rains and huge amounts of money got wasted as roads conditions deteriorate again after fresh spell of rain. Residents said that instead of re-carpeting the roads during monsoon, the authorities should have done only the repair work and laying of roads should be done after monsoon.
Narrating her harrowing tale Nikita, a B.Sc student said her classmate too met with an accident when it was raining in the city on Friday. "She fell into a pothole and received serious head injury. Travelling on the city roads has become nightmarish during rains as the holes are filled with water and could not be seen," Nikita said.
She said that the authorities continue their slumber as people are losing their lives on busy stretches. She added that her classmate fell off near Bhatti Road as her scooter skidded on a rough patch, which is quite close to the residence of Bathinda MLA Sarup Chand Singla.
"It is surprising and shameful that even the roads are broken and filled with potholes around the residence of our MLA where numerous people have been hit by stray animals as well in the past," said a concerned Nikita.
She said the drivers require special skills to maneuver around the rough patches full of potholes, especially during the rainy season.
"The recently laid speed-breakers or bumps in Model Town Phase-II, Namdev Road and Bhatti road are so deceptive that a biker tends to abruptly swerve or apply sudden brakes due to faulty height of the bumps. The moment someone tries to negotiate to avoid the bump, it is hit so hard that a pillion rider falls," said Rajiv Arora, a resident of Model Town Phase-II. Such bumps lead to constant problems in four- wheelers as they develop snags after repeatedly hit such speed breakers.
"Bumpy rides could damage the oil sump, steering and suspension components and sometimes the front bumpers of four wheelers too get dislocated", said Happy, a car mechanic. Executive Engineer of Public Works Department (PWD) Building & Road (B&R), Neeraj Bhandari said that the link roads are repaired after every five years.
"At present, we are repairing the roads which were pending in 2005," he said. "The department initiates the repair work of a particular stretch at a cost of Rs 8 lakh per kilometer. Problems in the release of funds and various technical hitches further delays the process of repair but we are fast catching up with the work and it will soon be done," Bhandari claimed.