Misbehaviour with Civil Surgeon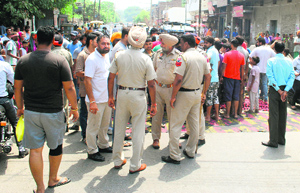 Health staff demand arrest of attackers
Amritsar, August 23
The Health Department employees have threatened of non-cooperation with the Police Department if they fail to arrest the persons guilty of abusing and manhandling senior health officials, who were attacked during an inspection at a private hospital two days ago.

Policemen pacify protesters in the Haripura area at Amritsar on Saturday. Photo: RK Soni

'For city to rise, stabilise power hike'
Amritsar, August 23
With the Punjab State Electricity Regulatory Commission's (PSERC) power hike between 1.86 to 2.05 per cent effecting various categories of consumers, a cross section of consumers from the city bat for uninterrupted power supply and stablising its prices.
Atta-Dal Scheme: Actual benefit in store for Blue Card beneficiaries
Amritsar, August 23
The Food and Supplies Department has pressed 83 inspectors to release subsidised grain for over two lakh Blue Card beneficiaries, who have not received their quota of ration for the past nearly four months.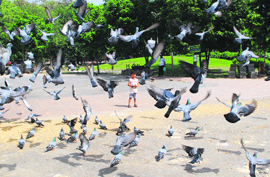 SKY IS THE LIMIT: Pigeons take a flight as a child looks on at the Company Bagh Garden in Amritsar on Saturday. PHOTO: RK Soni

Health Dept to verify certificates
Amritsar, August 23
After the detection of around 70 fake birth certificates, the Health Department has initiated the process to scrutinise 900 more certificates sent by the Regional Passport Office for verification. The scam came to light earlier this month when the department found 70 out of the 600 scrutinised certificates fake. Though these certificates had the official stamp of the department, officials could not find any records pertaining to the issuance of these certificates.
1,500 participate in WWF eco-quiz
Amritsar, August 23
The World Wildlife Fund (WWF) organised a "Wild Wisdom Quiz (WWQ) 2014" on forest biodiversity in the city. Over 1,500 students from schools across Punjab participated in the quiz. Winners of Amritsar to Ludhiana zone, which included schools from Beas, Ludhiana, Amritsar, participated in the inter-city quiz.
Iron trader robbed off Rs 6 lakh
Amritsar, August 23
In a broad day light robbery, four armed youngsters looted an iron trader of Rs 6 lakh here today. The incident took place around 4 pm, when four armed men barged into the trader's office while he and his employee was busy counting cash.
Hyderabadi fest woos foodies
Amritsar, August 23
As the famous Spanish proverb says, "Belly rules the mind", it seems to be the most effective in Amritsar. Food has always been an advantage here, aesthetically as well as traditionally. And with the love for good food, come numerous food festivals.
From Schools & College
Shooting competition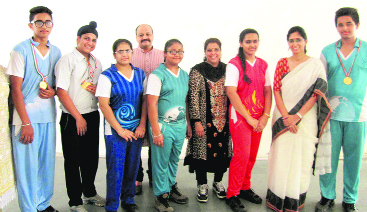 Amritsar: As many as nine students of Millenium School participated in the district-level shooting competition held at Spring Dales Senior Secondary School here recently. In pistol shooting, Harnoor of Class X won a silver medal and Sukhnoor won bronze.

Students of Millennium School, Amritsar, who won medals in the state pistol shooting championship. A Tribune Photograph

'Qayeda' staged at Punjab Natshala
Amritsar, August 23
Depicting the socialist politics, the exploitation of the working class by the established rule and the common man stuck in a class warfare, the play, "Qayeda" opened to a full house at Punjab Natshala today. The play has been adapted and directed by Rajindra Singh, a National School of Drama graduate and a patron of city-based theatre group, Dastak. It just has the right punches, humorously and figuratively.
Indian killed in US robbery bid cremated
Amritsar, August 23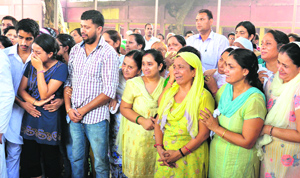 Rajinder Kumar Sharma, who was killed by an African-American man in Washington (USA) in a robbery bid on the intervening night of August 7-8 was cremated here today. Rajinder's body had arrived in the city today. Apart from family members, Congress MLA and vice- chairman, National SC Commission, Raj Kumar Verka, were also present at the cremation.

The family members of Ravinder Kumar, who was killed in the USA in a gas station robbery bid, at his cremation in Amritsar on Saturday. Photo: RK Soni

Feedback
Post offices sans money transfer facility
Post office savings bank account holders in the city cannot transfer redemption amounts of the post office saving schemes to their accounts in other banks. They are given a State Bank of India cheque, which has to be deposited in one's own bank account. This involves a lot of efforts and loss of interest on the savings for a few days. The cheques issued by post office are not cleared because the Amritsar Post Office is not a member of the clearing house.