PHE staff defer strike for week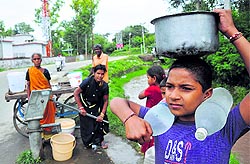 Jammu, September 3
Striking daily wage workers of the Public Health Engineering (PHE) Department in Jammu region on Wednesday suspended their agitation for one week following an assurance by the government that their demand for regularisation would be considered by the Cabinet.

Water crisis: People of the Jammu region have not received drinking water for three days as PHE workers went on a strike demanding reguralisation of service. Tribune Photo: Inderjeet Singh

Tarigami demands compensation for victims of Pakistani shelling
Jammu, September 3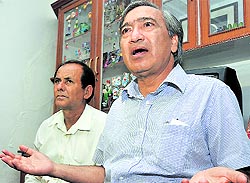 State secretary of the Communist Party of India (Marxist) (CPM) MY Tarigami today demanded proper compensation to the people affected by recent heavy shelling by Pakistan on border and urged the Central Government to ensure safety of the people. Tarigami also urged the Central Government to continue dialogue with the Pakistan Government to ensure people on the borders don't suffer and sanctity of 2003 ceasefire agreement is maintained along the LoC in the state.
CPM leader MY Tarigami addresses a press conference in Jammu on Wednesday. Tribune photo: Inderjeet Singh

BJP wants Panthers Party to contest on lotus symbol
Jammu, September 3
The BJP is exerting pressure on the National Panthers Party (NPP) to contest the coming Assembly elections on the lotus symbol.
Rajnath may visit RS Pura on Sept 5
Jammu, September 3
Union Home Minister Rajnath Singh is likely to visit the forward areas on the international border in the RS Pura sector of Jammu on September 5 to take stock of the prevailing situation.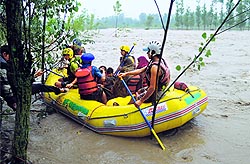 rescue act:

Army and police personnel evacuate people trapped in flood waters in south Kashmir's Kulgam district on Wednesday. Tribune photo: Amin War

NC a divided house over Ganderbal seat
Srinagar, September 3
The ruling National Conference is facing a divide within the party in Ganderbal Assembly constituency, which is considered its stronghold.
CM orders enhanced power supply to Jagti township
Jammu, September 3
Chief Minister Omar Abdullah today ordered enhanced supply of power to the Jagti township for displaced Kashmiri Hindus in Jammu.
Omar inaugurates 1st synthetic turf football stadium
Srinagar, September 3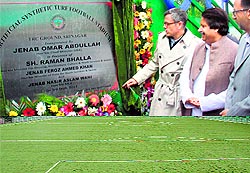 Chief Minister Omar Abdullah today inaugurated a synthetic turf football stadium at the TRC Polo Ground here which is the first of its kind in the state. The synthetic turf for the stadium has been procured from Limonta, Italy, and is laid over six years of base course. The stadium has a capacity for 15,000 spectators with facility for car parking also.


Chief Minister Omar Abdullah inaugurates the state's first synthetic turf football stadium in Srinagar on Wednesday

Hotels' association hails Omar for laying stone of multi-tier parking


Jammu, September 3
The All Jammu Hotels and Lodges Association (AJHLA) has welcomed the laying of foundation stone of the multi-tier parking building by Chief Minister Omar Abdullah on Tuesday and demanded that other pending projects related to tourism development in the city should also been completed.

Omar Abdullah
Sikhs threaten stir over delay in gurdwara committee poll
Srinagar, September 3
The All Parties Sikh Coordination Committee (APSCC) today condemned the postponement of the Gurdwara Management Committee elections.
Tosa firing range not to be shifted to Yusmarg
Srinagar, September 3
The government today denied the reports that picturesque Yusmarg was being leased to the Army for conducting artillery exercise and said there was no question of replacing the firing range at Tosmaidan in central Kashmir's Budgam district with Yusmarg.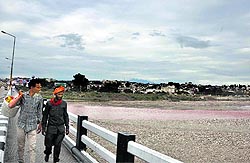 Respite from scorching heat:

An overcast sky in Jammu on Wednesday. Tribune photo: Anand Sharma

District panels to provide help to terror victims
Jammu, September 3
The state government today constituted district-level committees to provide assistance under the Central scheme to civilian victims or family of terrorist, communal and Naxal violence.
Right wing propaganda dangerous, says Sagar
Srinagar, September 3
NC leader and Rural Development Minister Ali Mohammad Sagar on Wednesday lashed out at the BJP and the PDP, accusing them of an evil partnership and terming "right wing propaganda" as dangerous.
Editors Association meets Governor
Srinagar, September 3
A delegation of theJammu and Kashmir Editors Association led by its president Rasheed Rahi called on Governor NN Vohra here today.
Process of community policing to be completed soon: DGP
Samba, September 3
Director General of Police K Rajendra today inaugurated the newly constructed building of the Ghagwal police station at Ghagwal in Samba district.
Non-migrant Pandits threaten stir in Delhi
Srinagar, September 3
With their repeated pleas falling on deaf ears, non-migrant Pandits on Tuesday threatened to take to New Delhi their fight against the government''s ''biased'' policies towards them.
Railways official makes it to elite group
Jammu, September 3
Divisional Traffic Manager, Railways, Jammu, RN Meena has made it to the elite club of the Indian Railways Traffic Services (IRTS) Group 'A' officers.
Pandita, Kaul get Sharda Puraskar
Jammu, September 3
Noted Sanskrit scholar Dr Ved Kumari Ghai has said Kashmir is central to the Indian ethos and profound contribution of Sanskrit scholars of the Valley have laid the basis of the vast Indian cultural output which also influenced other regions of the world.
Shri Chander Jayanti celebrated with fervour
Srinagar, September 3
The 520th birth anniversary of Bhagwan Shri Chanderji was celebrated with religious fervour here today.
Three-day orientation programme at CUK
Srinagar, September 3
The School of Legal Studies, Central University of Kashmir (CUK), organised a three-day orientation programme for newcomers.
Daily, casual workers to gherao civil secretariat
Srinagar, September 3
The daily and casual workers of various departments will attempt to gherao the civil secretariat tomorrow against the government's failure to address their demands.
Leh ready for interaction with Modi, but Kashmir pvt schools to skip speech
Srinagar, September 3
Jammu and Kashmir will be among the five states wherein students will interact with Prime Minister Narendra Modi on Teacher's Day, which is observed on September 5.
8th batch of Haj pilgrims leaves for Medina
Srinagar, September 3
The 8th batch of 558 pilgrims departed from here to Medina in the Saudi Arabia for the annual Haj pilgrimage.



up in arms:

Members of the Casual Employees Union stage a protest in Srinagar on Wednesday. Tribune photo: Yawar Kabli

Seminar on credit guarantee fund held
Srinagar, September 3
The Industries and Commerce Department organised a seminar on the topic "Credit Guarantee Fund Scheme for Micro and Small Enterprises" here today.
Dental college holds training programme
Jammu, September 3
Indira Gandhi Government Dental College (IGGDC), Jammu, organised the Indian Dental Association (IDA) - Colgate Future Dental Professionals Programme in its auditorium here today.
23 injured in dog attack in Kupwara
Kupwara, September 3
Residents of Kralpora town in Kupwara district killed a rabid dog Tuesday after the canine bit at least 23 people including women.
Youth booked for raping minor
Rajouri, September 3
The police here have booked a youth for allegedly raping a minor.