61 IAF planes pressed into service to evacuate flood-hit
Sumit Hakhoo
Tribune News Service
Jammu, September 9
With helicopters, naval boats and soldiers of elite special force in operation, the rains and resulting floods have transformed Jammu and Kashmir into a battleground.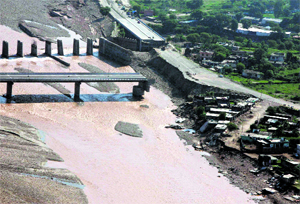 An aerial view taken from an IAF helicopter shows the remains of a bridge on the Tawi in Jammu. REUTERS
Floods have destroyed everything in its path and the Indian Air Force (IAF) planes are the only hope for lakhs of people trapped in the worst affected areas of Kashmir, Rajouri, Poonch, Reasi, Udhampur and the plains of Jammu region ravaged by the rain and floods between September 3 and 6.
The IAF pressed in AN-32s, four IL-76, five C-130J and two C-17 transport planes to rescue people from parts of the state.
Rajbagh, Badami Bagh cantonment, Indira Nagar, Shivpora, Gogji Bagh, Jawahar Nagar, Rambagh, Alichi Bagh, Bemina, Hyderpora, Karan Nagar, and Batmaloo areas in Srinagar are marooned.
Most of the government buildings and offices in Srinagar, including hospitals, Army barracks and the High Court building, have been badly hit by the rising waters.
With the amount of damage in south Kashmir districts of Anantnag, Shopian, Kulgam and Pulwama yet to be ascertained the situation remains grim.
Although floodwaters have started to recede in central Kashmir, Budgam, Beerwah, Magam and Chadoora remain inundated. The flow is now moving towards the Sopore, Kupwara and Baramulla areas of north Kashmir as the Wullar Lake has begun to swell.
There has been massive devastation in the Jammu region as well with the Chenab wrecking havoc in the low-lying areas of the Akhnoor sector. Tawi in Jammu, Ujj in Kathua and the Suran river in Poonch have also been in spate. Poonch district has been totally cut off from the rest of the state and the IAF aircraft are the only bridge to the area.
Several villages in Akhnoor, Jourian, Pargwal, Hamirpur and Khour were evacuated after breach in the Chenab embankment. However, people have begun returning home with the help of the Army as the water level has began to recede.
Rajouri district, where more than 50 members of a wedding party were washed away by floods in the Lam area on September 4, has witnessed large-scale destruction of houses. People in Thannamandi, Kotranka, Manjakote, Sunderbani, Kalakote and Darhal are among the worst sufferers.
Panchari area in Udhampur district bore the maximum brunt with 37 people dead at the Saddal village.
Impending danger and rescue work
n With the water level in the Wullar lake beginning to swell, there is flood threat in north Kashmir areas of Sopore, Baramulla and Kupwara
n More than 42,000 people have been rescued by security forces so far across J&K
n The Army has deployed nearly 20,000 soldiers, 65 medical teams, 15 special engineering task forces to rescue affected people. A 700-strong NDRF team is also on the ground
n The IAF has pressed in 61 helicopters and aircraft to help out people, while the elite Marcos Naval commandos have been deployed to evacuate stranded to safety
n Hundreds of vehicles and more than 3,000 people stranded on the Jammu-Srinagar highway