Tales of goodwill and greed from the Valley
Jammu, September 12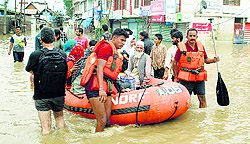 Tales of angels and mercenaries are coming from the submerged Kashmir Valley, which is presently grappling with the worst-ever floods in 109 years after incessant rains last week. Apart from the Army, NDRF, Air Force and other agencies engaged in rescue and relief operations across the state, there are local volunteers in the Kashmir valley who had also been working hard to rescue trapped people.
NDRF men escort flood victims to safety in Srinagar. Photo: Yawar Kabli

Educational institutions reopen after week in Jammu province
Jammu, September 12

All the educational institutions in the Jammu province, which were closed on September 5 following unprecedented rains and flash floods in the state, were reopened today. Chief Education Officer (CEO), Jammu, Tarsem Lal said, "All schools reopened today and normal class work has been resumed."


Students in a jubilant mood while going to school in a van in Jammu. Tribune photo: Inderjeet Singh

Govt neglecting Rajouri flood victims: PDP
Rajouri, September 12
After six days of flood fury, the state government sent a helicopter to Rajouri to drop relief material to the people who have been spending nights in the open or in some tents provided by local Army units.
Victims dread the winter ahead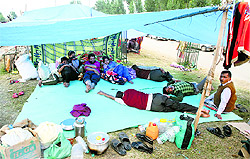 Srinagar, September 12
As the water level recedes, the flood-affected residents of the Kashmir valley living in makeshift camps are now worried about their future in view of the approaching winters. "We are left with nothing to eat and nowhere to go as our houses have been completely damaged by the floods. We are lucky to have survived, but we are worried where we will live now."

Flood victims rest in a makeshift tent on a road divider in Srinagar on Friday. Photo by Yawar Kabli

Provide more boats, copters for rescue ops: CCI
Jammu, September 12
The Chamber of Commerce and Industry (CCI), Jammu, today requested the Prime Minister Narendra Modi to provide more boats and helicopters for flood-affected people of Jammu and Kashmir.
Samsung donates Rs 3 crore for flood victims
Jammu, September 12
Samsung Electronics today donated Rs 3 crore to the Prime Minister's National Relief Fund to aid the relief operations in the flood-hit J&K.
Flood-affected trek hours to reach Banihal
Ramban, September 12

Number of flood-affected people from the Kashmir valley today reached Ramban on foot. "I along with my 19 other colleagues started off from Rambagh, Srinagar, yesterday morning on foot and reached Banihal today afternoon," said Chand Lal Yadav, who hails from Bihar and was working as a mason in Srinagar.


Flood-hit people receive food at an Army relief camp in Jammu on Friday. Tribune Photos: Inderjeet Singh

Leh observes bandh in solidarity with Valley
Leh, September 12
The entire Leh town wore a deserted look today as all commercial establishments downed their shutters to express solidarity with the people of the Kashmir valley who have lost their lives and belongings in the devastating floods.
Kashmiri youth steps in as translator at Army camp
Tribune News Service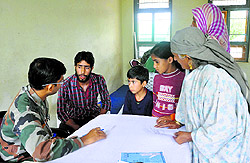 Manasbal (Bandipore), Sept 12"Even if I get threats, I am not afraid of militants and their diktats (against cooperating with the Army) because I have to help my people, who are in dire straits." These were the words of a young student of a pre-university course, Abid Rashid Malik of Safapora, who has donned the role of a translator at an Army medical camp in north Kashmir.

Abdul Rashid Malik volunteers as a translator for Kashmiri patients and a doctor at a medical camp in Manasbal on Friday. Tribune Photo: Anand Sharma

Army provides satellite phones to CM
Srinagar, September 12
The Army today provided six digital satellite public telephones (DSPTs), 20 international maritime satellite (INMAR) phones and its own cellular network equipment to Chief Minister Omar Abdullah for better coordination between the civil administration and other rescue agencies involved in the mammoth task of providing help to flood-hit people in the Valley.
Airtel sets up 5 VSATs in Srinagar, PCOs in Poonch
Jammu, September 12
Airtel says it has been working round the clock with the Department of Telecommunications (DoT) and the local authorities to restore connectivity by setting up five Very Small Aperture Terminals (VSATs) to create public Wi-Fi hot spots in Srinagar.
Chief Medical Officer directs officials to be present at health centres
Rajouri, September 12
The Chief Medical Officer (CMO) here today directed all the health officers to be present at the health centres situated in flood-hit areas of the district.
Public warned to keep away from Chenab
Jammu, September 12
The management of Dulhasti Power Station, NHPC Limited, has cautioned the public of Kishtwar, Doda and Ramban districts against going near the Chenab river from 10 pm on September 13 to 12 am on September 14 as the gates of the Dulhasti Power Station dam would be opened for periodical reservoir flushing. During this period, the water level may rise temporarily.
Pandits dismayed at UK parliament discussion on Kashmir issue
Jammu, September 12
The joint forum of Kashmiri Pandit (KP) organisations expressed its dismay at the move of the British parliament holding a discussion on the Kashmir issue.
Plan submitted for Rs 500-cr sewage disposal project at Gandhi Nagar
Jammu, September 12
To ensure proper disposal of sewage in the Gandhi Nagar area, Minister for Housing Raman Bhalla has said the state government has submitted a proposal for a project involving Rs 500 crore to the Central Public Health Engineering Department.
NRHM to fill posts in State Health Society on contract basis
Jammu, September 12
Various posts in the State Health Society, under the National Rural Health Mission (NRHM), will now be filled through hiring on the contract basis initially for one year and the contracts will be renewed on annual basis, subject to review of the performance of the employees by the Mission Director, NRHM.