Over 1,200 government schools damaged in Jammu floods
Jammu, September 18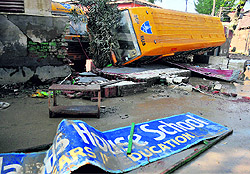 The recent floods in the state have severely affected the routine class work in 1,276 government schools across Jammu province. The buildings of these institutions have been either partially or fully damaged. The schools in low-lying areas are still filled with slush and mud, making it difficult for the school authorities to run the classes smoothly.


A damaged school bus in Srinagar. Tribune photos: Amin War/Inderjeet Singh

Trade, travel across LoC resumes via Chakan da Bagh
Jammu, September 18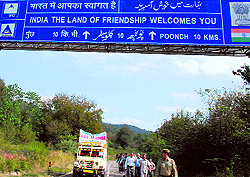 The devastating deluge has also cast its shadow on the trans-LoC trade and travel that takes place between India and Pakistan via Jammu and Kashmir, thereby causing huge losses to traders on both the sides. While trade and travel remain suspended via Salamabad in Baramulla district of the Kashmir region, the two services were resumed via Chakan da Bagh in Poonch district from September 15.

While trade and travel remain suspended via Salamabad in Baramulla district of the Kashmir region, the two services were resumed via Chakan da Bagh in Poonch district from September 15

Repair of damaged Ranbir Canal begins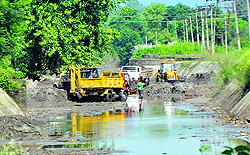 Jammu, September 18
The recent floods, which ravaged several areas of Jammu, has also damaged 2 km-long portion of the Ranbir Canal after water from the Tawi, which washed away two pillars of the fourth bridge, entered the canal.


Employees of the Irrigation Department remove silt from a canal in Jammu. Tribune photo: Inderjeet Singh

ASCOMS conducts medical camps at Makwal, Purkhoo
Jammu, September 18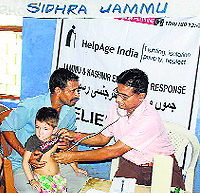 Community outreach medical relief camps by the Acharya Shri Chander College of Medical Sciences (ASCOMS) and Hospital for people in flood-ravaged areas were conducted at Makwal village in the Phallayan Mandal area of Nikki Tawi and Purkhoo, Mishriwala, Jammu, in coordination with the HelpAge India Society. At Makwal, the floodwater had entered the houses of people and there was apprehension of water-borne and communicable diseases.


A doctor examines a patient at a medical camp in Jammu. A Tribune photograph

Flood-hit people of Jammu village demand ration
Jammu, September 18
President of the Marh Vikas Morcha Deepak Kumar Sharma visited the flood-hit Phallian Mandal village on the outskirts of Jammu and listened to the grievances of the affected families.
Bar Association to provide free legal aid to flood victims
Jammu, September 18
The J&K High Court Bar Association, Jammu, has established a helpline to provide free legal aid to the flood-affected people of the Jammu region.
Omar thanks Guv for donating month's salary for flood relief
Srinagar, September 18
Chief Minister Omar Abdullah today expressed gratitude to Governor NN Vohra for donating his one month's salary to the J&K Chief Minister's Flood Relief fund.
SC to Centre, states: Put your heads together for flood relief
New Delhi, September 18
The Supreme Court today asked the Centre, J&K Government and other states and agencies to put their "heads and hands together" to deal with the gigantic task of ensuring relief and rehabilitation to the flood-hit people.
Samba flood victims allege bias, demand timely government relief
Samba, September 18
Amid tall claims of the government of providing relief to those affected by the recent floods across the state, flood-hit victims of Samba district have alleged that they are being neglected by the government and no relief has reached them.
DC, SSP take stock of relief measures in Reasi
Jammu, September 18
District Development Commissioner, Reasi, Shabir Ahmad Bhatt, Senior Superintendent of Police (SSP), Reasi, Vivek Gupta along with other civil and police officials today took stock of the relief measures put in place to provide necessary help to the rain-hit families of the district.
Minister condoles death of former MP Goni
Jammu, September 18
Minister for Roads and Buildings Abdul Majid Wani has expressed grief over the death of former Member of Parliament (MP), ex-Health Minister and ex-Ambassador of Jordon, Haji Abdul Gani Goni Mohammad.
Lt Gen Hooda arrives in Srinagar
Jammu, September 18
Northern Command chief Lt Gen DS Hooda reached Srinagar today on a one-day visit to review the ongoing relief and restoration operation in the Valley.
GCW-Parade elects new presidium
Jammu, September 18
Government College for Women (GCW), Parade today conducted elections to the presidium 2014-15.
Absconder arrested after 11 months
Jammu, September 18
The Bakshi Nagar police today arrested an absconder, who had been evading arrest for the past 11 months.