M A I N N E W S
Nobel for India, Pak child rights crusaders
Two countries celebrate as Kailash Satyarthi, Pak teen activist Malala Yousafzai jointly awarded the coveted Peace Prize
Oslo, October 10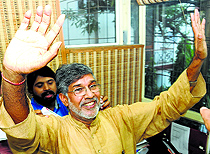 Indian activist Kailash Satyarthi and Pakistan child prodigy Malala Yousafzai were today announced winners of the Nobel Peace Prize for 2014 for their work on promoting child rights in the troubled subcontinent.
Satyarthi (60) gave up his job as an electrical engineer to run an NGO in India for rescuing children from forced labour and trafficking. Malala (17) survived a near-fatal Taliban attack two years ago for advocating education for girls. The two were named by the Nobel Peace Prize Committee for the prestigious global award this year.
"The Norwegian Nobel Committee has decided that the Nobel Peace Prize for 2014 is to be awarded to Kailash Satyarthi and Malala Yousafzai for their struggle against the suppression of children and young people and for the right of all children to education," the jury said.
Satyarthi, who runs NGO Bachpan Bachao Aandolan (Save Childhood Movement), reacted to the announcement with elation, saying the award would spur him into further action to try and eliminate child slavery in India.
Satyarthi, whose organisation has rescued over 80,000 children from forced labour and trafficking, also congratulated co-winner Malala.
"I know her. I will call her and congratulate her. We have to go further and work for peace between the two nations (India, Pakistan)." The Nobel Committee said Satyarthi has maintained the tradition of Mahatma Gandhi and headed various forms of peaceful protests, "focusing on the grave exploitation of children for financial gain".
The committee said it "regards it as an important point for a Hindu and a Muslim, an Indian and a Pakistani, to join in a common struggle for education and against extremism".
Malala had displayed courage even after the Taliban attack when she expressed her determination to carry on with her campaign for child rights and girls education. She has become the youngest Nobel laureate. Satyarthi is the second Indian after Mother Teresa to get the peace prize. — PTI

I owe it to oppressed: Satyarthi
Ananya Panda
Tribune News Service
New Delhi, October 10
Kailash Satyarthi today dedicated his award to the cause of child rights, saying it is in recognition of the plight of millions of children trapped in labour across the world.
The honour comes at a time when border tension has escalated between India and Pakistan. Satyarthi said: "It is a big statement from the Nobel committee and has to be read between the lines not only by the governments but also by the public. It is a curse on the face of humankind that children are born in such tension and violence."
"This prize is in honour of millions of children languishing in slavery in brick and stone kilns. Around 16 crore children are still suffering in labour and servitude the world over. "This is a great recognition and honour for all my fellow Indians. I'm proud to be an Indian. I always say India has the potential to offer solutions to all problems and every Indian has a responsibility to remove the menace (child labour)," said Satyarthi in South Delhi.
The problem of child labour is not limited to India but is a global scourge that calls for a collective effort, noted Satyarthi who has championed the cause over the past there decades and worked in 144 countries. "The world has to rise up to the occasion and I call upon the world to globalise compassion," he said.
Fighting slave labour
Kailash Satyarthi, born on January 11, 1955 at Vidisha (MP), has been spearheading child rights campaign through his organisation — Bachpan Bachao Andolan (BBA) — for three decades
He had his first brush with child labour when he saw a child and his father working as cobblers on his first day at primary school in MP
He gave up a promising career as an electrical engineer at the age of 26 and founded the BBA in 1980
An avid follower of Gandhian philosophy, Satyarthi has helped free 80,000 children
Satyarthi, who lives in New Delhi, is the second Indian to win the award after Mother Teresa













special to the tribune
How Malala shot to fame
Shyam Bhatia in London

Thanks to an anonymous diary published on BBC Urdu, Malala Yousafzai was already well known in the Swat valley and the rest of Pakistan before she was shot in the head by Taliban gunmen enraged by her campaigning for girls' right to education.

Her diary published under pseudonym Gul Makai, the heroine of a Pashtun folk tale, came to public attention between January and March 2009 with its passionate chronicling of how girls were struggling for education in the Taliban-controlled Swat Valley. The Taliban's subsequent attempt to kill her and her recovery thereafter, first in a Pakistan military hospital and later in the UK, is a remarkable testimony to the power of international feeling and collaboration across the world's continents. Malala and her family were forced to flee the Swat valley in 2009 because daily life for them and others was made difficult

by the Taliban. While they were away from their ancestral lands, Malala became known worldwide as the girl blogger from Swat who spoke her mind.

In 2012, she won the Pakistan Government's National Peace Award, since renamed as the National Malala Peace Prize. A documentary film was made about her and she was nominated for the International Children's Peace Prize. The same year, the Taliban shot her with a bullet penetrating the left brow and travelling down the head and into the shoulder.

To start with, she was treated at a Pakistan military hospital, but thanks to an outpouring of international sympathy she was later flown to Birmingham's Queen Elizabeth Hospital in the UK where she was fitted with a titanium plate and a cochlear implant in the head to facilitate hearing. To help support her, the authorities in Islamabad gave her father a three-year job with the Pakistan consulate in Birmingham.

She also started attending Edgbaston High School in the city. The following year, still aged 15, she signed a $3 million publishing deal to write a book of her memoirs, entitled, "I am Malala".

Before the book came out last year, Malala was quoted as saying: "I hope the book will reach people around the world, so they realise how difficult it is for some children to get access to education. I want to tell my story, but it will also be the story of 61 million children who can't get education. "I want it to be part of the campaign to give every boy and girl the right to go to school. It is their basic right."

Championing women's education
Malala Yousafzai, born on July 12, 1997, at Mingora in Pakistan, is hailed around the world as a champion of women's right to education
As a young student in Pakistan Swat valley, she wrote an anonymous blog describing her life under the Taliban and their efforts to deny women education
In 2012, she was shot at by Taliban gunmen and was airlifted to Britain. She has since become a symbol of defiance in the fight against militants
Yousufzai, who is now based in Britain, is the youngest Nobel laureate ever