Mehbooba seeks cooperation of Pandits in rebuilding Kashmir
Jammu, October 12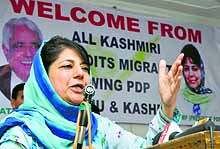 Seeking cooperation of the Pandit community in rebuilding Kashmir after the devastating floods, president of the Peoples Democratic Party (PDP) Mehbooba Mufti today said this community had immensely contributed in the past in emancipation of the Kashmir society and it was time for their return to their homes with honour and dignity.


Peoples Democratic Party chief Mehbooba Mufti addresses Kashmiri Pandits in Jammu on Sunday. Tribune photo: Inderjeet Singh

Congress asks ECI to monitor transfer orders
Jammu, October 12
Congress national spokesperson Salman Anees Soz today urged the Election Commission of India (ECI) to closely monitor implementation of the J&K Government's order related to transfers of staff in various departments.
Pak firing, shelling injure two of family in Arnia
Jammu, October 12

Two brothers received severe injuries when Pakistani forces again indulged in indiscriminate firing and shelling in civilian areas of Arnia in Bishnah and RS Pura near the international border on Saturday night. The firing started in Arnia at 8:15 pm on Saturday and continued till 8.30 am on Sunday. Heavy exchange of fire between Indian and Pakistani forces was reported in the sector as Pakistani forces launched an assault.

A water tank damaged by a shell fired by Pakistan in Arnia village of Jammu. Tribune photo: Inderjeet Singh

on the frontline
Fresh security threats loom large over Valley
A look back in time and the evaluation of developments concerning Jammu and Kashmir in the last few months should have been a moment of reflection about the long-term problem that is going to plague this state. Not that it does not exist at this point of time; it does.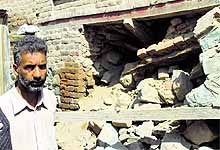 In ruins:

A man stands outside his house, which was damaged in the recent floods, in south Kashmir's Pulwama district on Sunday. Tribune photo: Amin War

KU likely to get VC soon
Srinagar, October 12
Kashmir University's Vice Chancellorship selection process, which was halted due to the deluge, is back on the track and the university will soon get its Vice Chancellor in the next few days.
Navodaya Vidyalaya Samiti for safety of girls
Jammu, October 12
The Navodaya Vidyalaya Samiti in its Perspective Academic Planning, 2014-15, has suggested various measures for adequate safety of girl students in Jawahar Navodaya Vidyalayas.
With shops shut, street vendors give new hope to city
Srinagar, October 12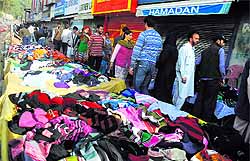 With all shops closed in the city centre, Lal Chowk, street vendors have taken over the market giving a hope of recovery. After being hit by devastated floods last month, shopkeepers are still busy in cleaning the muck from their shops in the commercial hub. However, street vendors have kept the hope of new beginning alive.


Vendors sell garments on a footpath in Srinagar. Tribune photo: Yawar Kabli

Mazdoor body demands regularisation of daily wagers
Jammu, October 12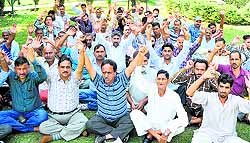 The National Mazdoor Conference (NMC) today appealed to Chief Minister Omar Abdullah to regularise the services of all daily wagers, casual and seasonal labourers engaged in various state departments after 1994.


Members of the National Mazdoor Conference protest in Jammu on Sunday. A Tribune photograph

Important to back talent with performance: Sehwag
Jammu, October 12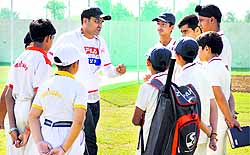 Out of favour cricketer Virender Sehwag today said the talent alone was not enough to make it to the highest level and consistent performance was imperative for making it to the international stage. "Talent can help you reach to a certain level, but eventually it is the performance which helps the cricketer to prove his worth at the national and international level."

Virender Sehwag gives tips to budding cricketers at the Sehwag Cricket Academy
Sehwag Cricket Academy launched at Sainik Colony
Jammu, October 12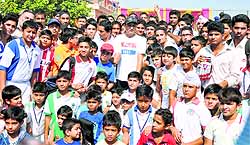 Former India skipper Virender Sehwag today inaugurated the Sehwag Cricket Academy at Heritage School, Sainik Colony, on the outskirts of the city. The swashbuckling opener also interacted with the budding cricketers and gave them tips to hone their skills.

Virender Sehwag along with the students of Heritage School, Sainik Colony, Jammu, on Sunday. Tribune photo: Inderjeet Singh

Subdued Karva Chauth for Samba women displaced by border firing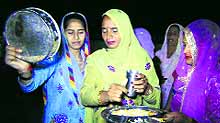 Samba, October 12
Karva Chauth is celebrated with pageantry and prayers by married women, but for those displaced by border firing and living in camps in Samba, the festival remained sombre.


Women celebrate Karva Chauth at a migration camp in Samba district on Saturday. A Tribune photograph

Man detained for anti-India slogans
Jammu, October 12
The police today detained a person for raising anti-national slogans in the bus stand area of the winter capital.
Rana exhorts youth to strive for excellence in sports, academics
Jammu, October 12
Provincial president of the National Conference Devender Singh Rana today exhorted the youth to sharpen their sports talent along with pursuing academics and strive for excellence in both.
Postal services yet to resume fully
Srinagar, October 12
Even as most of the post offices have restored services after being hit by the flood fury, 12 post offices are yet to start functioning fully.
Jhelum washes away poet Agha Shahid's house
Srinagar, October 12
The only significant remains of Kashmir's celebrated English poet Agha Shahid Ali, a cottage house in the Rajbagh area of Srinagar, was washed away by the Jhelum waters. Ali died in Massachusetts, US, at the age of 52.
Delay in flights hassles Haj pilgrims' families
Srinagar, October 12
Haj flights to here from Saudi Arabia are getting delayed that are causing inconvenience to both the pilgrims and their relatives, who receive them at the airport.
Docs raise alarm over soiled medicine sale
Srinagar, October 12
Doctors in Kashmir have raised an alarm over the sale of soiled tablet strips and bottles after the floodwaters inundated their shops during the recent floods.
Urs of Sufi saint on Wednesday
Srinagar, October 12
The annual Urs of revered Sufi saint Hazrat Sheikh Noor-ud-Din Wali is being observed on the coming Wednesday.
Sikh body seeks probe into floods
Srinagar, October 12
Demanding a probe into the reasons that led to flooding of dozens of localities in Srinagar city and other parts of the Valley, All Parties Sikh Coordination Committee's (APSCC) Jagmohan Singh Raina laid stress on the need to take action against politicians and officers who played "havoc with the life and properties while being responsible for the flood".
Youth hold blood donation camp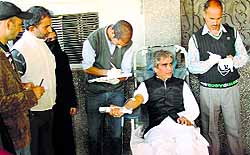 Srinagar, October 12
Several youth of the old city area today joined hands to hold a blood donation camp to express solidarity with the flood victims. The camp was held with the support of the city-based SMHS hospital. The camp was inaugurated by Tanvir Sadiq, political secretary to Chief Minister Omar Abdullah at Firdous Cinema, Hawal Chowk.

Tanvir Sadiq, political secretary to the Chief Minister, donates blood at a camp in downtown Srinagar on Sunday. A Tribune photograph

Three dead, 8 hurt in Valley road mishaps
Srinagar, October 12
Three persons, including two minors, have died, and eight others have been injured in various road accidents in the Valley, the police said today.
Explosion in Sopore, three children hurt
Srinagar, October 12
Three children were injured in an explosion in Sopore town today, a senior police officer said.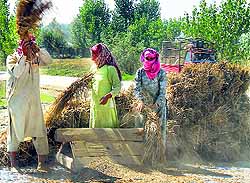 HARVEST TIME: Farmers thresh paddy on the outskirts of Srinagar on Sunday. Tribune photo: Amin War

Man found dead in Qazigund
Srinagar, October 12
The police recovered the body of a man from a paddy field at Khargund in Qazigund town of south Kashmir on Sunday.
25 sheep killed in Pattan
Srinagar, October 12
The police said 25 sheep were killed when they were hit by a train at Shalbone village near Pattan town of north Kashmir on Saturday evening.
Teachers' body urges Guv to reschedule special convocation
Jammu, October 12
The Jammu University Teachers Association (JUTA) today requested Governor NN Vohra to reschedule the special convocation of the varsity scheduled to be held on October 24.
Congress leader seeks compensation for farmers
Jammu, October 12
Senior Congress leader and former Youth Congress representative Kapil Singh today urged the state government for conducting an exhaustive survey to assess the loss to paddy and other crops in the Marh Assembly constituency due to the recent hailstorm.
Natrang stages 'Topian'
Jammu, October 12
The Natrang today staged Mani Madhukar's hard-hitting political satire 'Topian' at the Natrang studio theatre here. The play was directed by Balwant Thakur.
CRPF organises 'Run for Unity'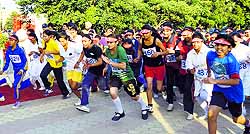 Jammu, October 12
The CRPF, Jammu Sector, today organised 'Run of Unity' for the flood-affected, underprivileged and specially-abled children at the Police Gulshan Ground here.


Schoolchildren participate in the 'Run for Unity' organised by the CRPF at the Gulshan Ground in Jammu on Sunday. A Tribune photograph