Pak guns continue to motivate youth in border villages to join Army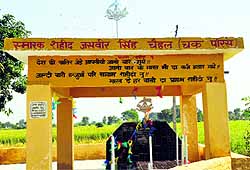 Govindgarh, October 15
As Pakistani guns continue to target border villages in the Jammu region, the martyrs' memorials in these areas stand witness to the sacrifices made by the people to safeguard country's borders over the years.


Memorials to martyrs dot areas shelled by Pakistan along the international border in Jammu. Tribune Photo: Inderjeet Singh

Guv, CM discuss ceasefire violations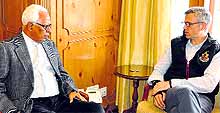 Srinagar, October 15
Chief Minister Omar Abdullah met Governor NN Vohra here today. In their over an hour-long meeting, the Governor and Chief Minister discussed issues relating to the continuing incidents of ceasefire violations across the international border and the Line of Control.
Governor NN Vohra with Chief Minister Omar Abdullah during a meeting in Srinagar on Wednesday. A Tribune photograph

Traffic held up for six hours on Jammu-Srinagar highway
Nandini (Jammu), October 15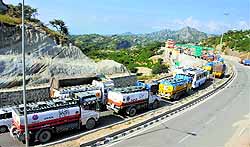 The breakdown of a vehicle near the road leading to Nandini Tunnel led to a six-hour traffic jam on the Jammu-Srinagar highway Wednesday.


Vehicles stuck in a traffic jam near the toll plaza in Nandni on the Jammu-Srinagar national highway in Jammu on Wednesday. Tribune Photo: Inderjeet Singh

Teachers demand pending salaries
Jammu, October 15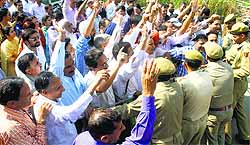 The Jammu and Kashmir Teachers Forum (JKTF) today held a protest alleging that the Education Department has adopted pick-and-choose policy in the adjustment of newly promoted masters, lecturers and headmasters in the state.


Members of the Jammu and Kashmir Teachers Forum protest in Jammu on Wednesday. A Tribune photograph

PHE Dept workers seek regularisation of service
Jammu, October 15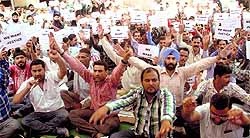 A protest was held by casual labours and need-based, ITI-trained and CP workers under the banner of the United Front outside the Public Health Engineering (PHE) office here today.


Workers of the Public Health Engineering Department protest in Jammu on Wednesday. A Tribune photograph

NCP announces first list of candidates for Assembly polls
Jammu, October 15
The Nationalist Congress Party (NCP) today announced the first list of party's candidates for the upcoming Assembly elections in the state.
PDP gets boost in Kargil as youth prez of religious group joins party
Srinagar, October 15
The opposition Peoples Democratic Party (PDP) got a shot in the arm as the youth president of an influential religious group in Kargil — Islamia School Kargil, Inayat Ali, joined the party today.
Cong wants quota for LAC people
Srinagar, October 15
J&K Pradesh CongressCommittee chief Saifuddin Soz today demanded reservation for people living along the Line of Actual Control (LAC).
SDP wants elections deferred
Jammu, October 15
Socialistic Democratic Party (SDP) president Darakhshan Andrabi Wednesday demanded that Assembly elections be postponed till March next year as a majority of the population was passing through testing times and struggling to start their lives afresh.
Frequent traffic jams routine affair in city
Srinagar, October 15
With most of the roads in Srinagar city damaged due to floods, frequent traffic jams and congestion has become a routine affair for commuters travelling to different parts of the city.
An arduous journey for this brave UN peacekeeper
Jammu, October 15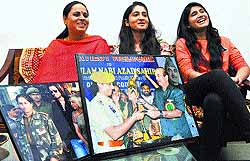 For the International Female Police Peacekeeper Award winner, Shakti Devi, it has been an arduous journey from a remote village of the Jammu region to the UN Assistance Mission in Afghanistan.


Family members of Shakti Devi, who won the international female peacekeeper award, in jubilant mood in Jammu on Wednesday. Tribune Photo: Inderjeet Singh

Rajouri flood victims protest, demand relief
Rajouri, October 15
More than a month has passed since the floods struck Rajouri district, but many victims are claiming that they did not receive any government relief.
Collapsed houses: State okays Rs 71 cr for flood victims
Srinagar, October 15
Chief Minister Omar Abdullah today chaired a high-level meeting to review the ongoing rehabilitation process.
Floods delay payment of relief to 1991 'mass rape' victims
Srinagar, October 15
The recent floods which wreaked havoc across Kashmir, particularly Srinagar, also caused delay in payment of compensation to victims of the Kunan Poshpora mass rape case dating back to 1991.
Cut-off for class IV posts: 88% in matric
Srinagar, October 15
Shaheena (name changed), a resident of Srinagar's posh locality in her 30s, who scored nearly 90 per cent marks in her Class X in the early 2000, is one among 740 candidates shortlisted for interview to be held for Class IV posts.
MC seals shop selling soiled medicines in Srinagar
Srinagar, October 15
Following court orders against the sale of flood-affected items, the Srinagar Municipal Corporation (SMC) today raided several areas and sealed a prime city-based medical shop and food store.
DM issues order on sale of crackers
Jammu, October 15
As per an order issued here today by the District Magistrate, Jammu, Ajeet Kumar Sahu, no firework, cracker or explosive shall be stored or sold in place other than those specified by him for the areas within the Jammu municipal limits and by the respective SDM/tehsildar for the areas outside the Jammu municipal area in the district.
Speaker takes stock of relief, rehabilitation
Srinagar, October 15
Speaker of the Legislative Assembly Mubarak Gul today toured Noorbagh, Palpora, Pamposh Colony, Guzzarbal and other areas of the Eidgah constituency to take stock of relief and rehabilitation measures post floods.
Candidates shortlisted for jail warden post continue to protest
Jammu, October 15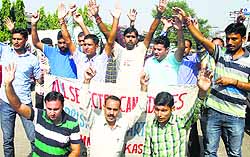 The protest of candidates shortlisted for the posts of jail warden continued today. The candidates said many political and non-political organisations have supported the demands raised by them, but the government has yet to release the selection list.


Candidates shortlisted for the posts of jail warden protest in Jammu on Wednesday. A Tribune photograph

I-T Dept to speed up refund claims
New Delhi, October 15
In view of the devastation caused by recent floods in J&K, the Income Tax Department will take steps to process expeditiously refund claims of taxpayers in the state who have submitted their returns electronically.
Ramban gets new school
Ramban, October 15
Ramban MLA Ashok Kumar Wednesday opened government high school at Sundhgali.
Waving of ISIS flags worries Army
Srinagar, October 15
The waving of ISIS flags in Kashmir is a matter of concern and deserves the highest attention of security agencies so that the youth are prevented from being lured into the ranks of the organisation, Lt Gen Subrata Saha said Wednesday.
Bhim Singh meets Guv
Srinagar, October 15
National Panthers Party chief patron Bhim Singh called on Governor NN Vohra here today.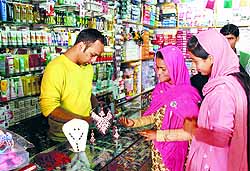 Shoppers' choice:

Post floods, residents of Srinagar visit shops on the outskirts of the city. Tribune photo: Amin War

JU postpones convocation to Nov 14
Jammu, October 15
The special convocation of the Jammu University was today postponed again in view of the upcoming festivals. The convocation was scheduled to take place on October 24.
Army Public School organises walkathon
Jammu, October 15
Army Public School (APS), Damana, organised a walkathon under the Swachh Bharat Swachh Vidyalaya Abhiyaan.
Delhi Public School holds poetry recitation contest
Jammu, October 15
A Hindi poem recitation contest was organised by Delhi Public School (DPS), Jammu, for the students of Class II. The students presented variety of interesting poems on the theme, "Humare Bhartiya Tyohaar".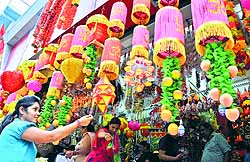 Festival shopping: A girl purchases decorative lamps ahead of Diwali in Jammu. Tribune photo: Inderjeet Singh

Factory damaged in fire
Srinagar, October 15
A factory has been damaged in a fire incident at Shalteng on the outskirts of the city here, the police today said.
Man dies in Bijbehara road mishap
Srinagar, October 15
A resident of city's Rainawari locality died in a road accident in south Kashmir's Bijbehara town, the police today said.
5 hurt as minibus rolls down into gorge in Doda district
Doda, October 15
Five persons were injured as a minibus rolled down into a gorge in the Bhagwa area of Doda district Wednesday afternoon.