PDP submits rebuilding, rehab plan to Prime Minister
Srinagar, October 17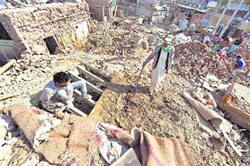 The three MPs of the Peoples Democratic Party (PDP) Thursday met Prime Minister Narendra Modi and submitted a memorandum suggesting ways for rehabilitation and reconstruction in the flood-hit state. They stated that the floods had provided an opportunity to better rebuild destroyed assets.


People salvage their belongings from their flood-ravaged houses in Srinagar on Thursday. PTI

Relief mismanaged: City residents
Srinagar, October 17
People in Srinagar criticised the state government and various NGOs for "mismanagement" in relief distribution. The locals claimed that they were not getting assistance as was shown by the media and announced by the government.
Overloading of passenger vehicles goes unchecked
Nagrota, October 17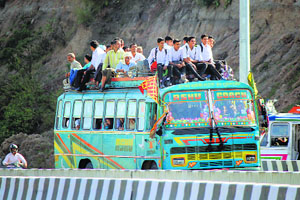 Despite witnessing several tragic road accidents involving overloaded passenger vehicles, the authorities seems to have turned a blind eye towards the violation of traffic rules, particularly on the national highway. Teams of traffic police personnel have been deployed in the city and on its outskirts, but there is no check on overloading of vehicles.

Students and other passengers travel sitting atop a bus on the national highway near Nagrota. Tribune photo: Inderjeet Singh

'We survived floods, but it is impossible to bear the chill'

Srinagar, October 17
The recent floods in Srinagar, which has left hundreds of people homeless, now feel let down by the government as they claim that no politician or government official have visited them so far. Some of them are now living in temporary tents and makeshift shelters at different places in Srinagar city.


Flood-hit people raise slogans against the state government in Srinagar on Friday. Tribune photo: Amin War

Need additional forces to conduct fair polls: DGP
Pulwama, October 17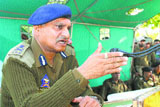 Director General of Police (DGP) K Rajendra Kumar today said there was need of additional deployment in the state to ensure smooth conduct of the Assembly elections. "Although we have made arrangement for the upcoming Assembly elections, additional troops are required for smooth conduct of the process," the DGP said.

DGP Rajendra Kumar
JKCA starts selection camp for under-14 cricketers
Jammu, October 17
In order to identify budding cricketers, the Jammu and Kashmir Cricket Association organised a selection camp for U-14 players at Mayank Goswami Cricket Academy for upcoming cricket tournaments.
Jitendra Singh felicitates Asian Games medallist
Jammu, October 17
The Union Minister of State for Science and Technology and Earth Sciences and Minister of State for PMO, Jitendra Singh, today formally felicitated Chain Singh, bronze medal winner in men's 50 m rifle shooting event in the 2014 Asian Games at Inchon, South Korea.
Jamiat Ulama-i-Hind delegation calls on Guv
Srinagar, October 17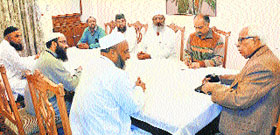 A delegation of the Jamiat Ulama-i-Hind, led by its secretary Maulana Hakimuddin Qasmi, called on Governor NN Vohra here today. The delegation apprised the Governor of the ongoing rehabilitation work for the flood victims in the Valley.

Governor NN Vohra interacts with the Jamiat Ulama-i-Hind delegation in Srinagar. A Tribune photo

Two masked youths wave ISIS flag in Srinagar
Srinagar, October 17

Two masked youths Friday appeared outside the Jamia Masjid and waved an Islamist black flag, used by the ISIS and the al Qaeda, despite stringent security. The youths emerged from a sloganeering crowd which briefly threw stones at state police units stationed outside the mosque premises.

Youths hold an ISIS flag during a protest after Friday prayers in Srinagar. Tribune Photo: Yawar Kabli

Licences of 7 medical shops suspended
Srinagar, October 17
Continuing with its drive of ensuring that people get quality medicines, a team of officers of the Drug and Food Control Organisation (DFCO) today conducted a surprise check of drug sale establishments in various areas of Srinagar city which included Qamarwari, Karan Nagar, Sanat Nagar, Rawalpora, Hyderpora and HMT.
Train service restored fully in Kashmir valley
Srinagar, October 17
More than a month after the floods forced the suspension of train service in the Valley the rail traffic was restored fully today with the trains making 22 trips between Barmulla in north Kashmir and Banihal in Ramban district of the Jammu region.
Bank pays Rs 128-cr dividend to CM


Srinagar, October 17
J&K Bank chairman Mushtaq Ahmad Friday presented two dividend cheques for Rs 128.88 crore to Chief Minister Omar Abdullah. The state government is the largest shareholder with over 53 per cent stock.

J&K Bank Chairman Mushtaq Ahmad presents Rs 5 crore relief cheque to Chief Minister Omar Abdullah on Friday. A Tribune photo

Central team assesses flood losses in Kashmir
Srinagar, October 17
A Central team including Joint Secretary for Home Gopal Anand and Revenue Secretary Vinod Koul Friday visited Anantnag and Pulwama districts in south Kashmir to take stock of damage to infrastructure due to the recent floods.
Patwar association demands Revenue Dept's revamp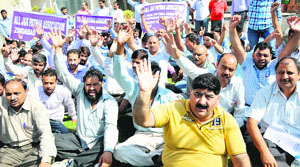 Jammu, October 17
The All Jammu and Kashmir Patwar Association (AJKPA) today held a protest demanding revamp of the Revenue Department and establishment of a departmental enquiry cell for investigation of corruption cases.


Members of the All J&K Patwar Association protest in Jammu. Tribune photo: Inderjeet Singh

Andrabi University of Kashmir VC


Srinagar, October 17
Governor NN Vohra has appointed Prof Khurshid Iqbal Andrabi as Vice Chancellor of the University of Kashmir for three years. His appointment will be effective from the date he takes charge. He is Director for Research at present. The Governor is Chancellor of the university.

Prof Khurshid Iqbal Andrabi
Indecisive Cabinet upsets casual workers
Jammu, October 17
The Cabinet, which met on Thursday at Srinagar, has disappointed the daily-rated workers (DRWs) and casual labourers engaged in different departments of the state, who were eagerly awaiting decision on their regularisation.
Jhelum House win athletic meet
Jammu, October 17
Curtains came down on the 38th annual athletic meet of Sainik School, Nagrota, at the school stadium today amidst fanfare and jubilation. The three-day-long annual feature of the school commenced on October 15 and included a variety of track and field events. Aspiring athletes from three houses, namely Sindh, Jhelum and Chenab, competed in the junior as well as senior categories. Jhelum House topped the medal tally at the end of the second day in both categories. The final day's events included 4x100 m relay for juniors, 4x100 m relay, long jump, 4x100 m hurdle race and 100 m run for seniors. Chenab House, which followed closely at the second place could not turn the tables in their favour, despite some superlative efforts from cadets Ankush Kotwal and Rahul Kumar in their respective events. TNS
6 injured ITBP men rescued in Ladakh
Jammu, October 17
Three Air Force helicopters were Thursday flown close to the border with China to rescue six grievously injured ITBP personnel near the Hot Spring post in Ladakh. "A team of 15
ITBP personnel was on border patrol when it met with an accident and fell into a ravine," said Col SD Goswami, defence spokesperson. "The site is close to the border and has no helipad. The six injured were evacuated to Leh, where they were provided treatment," he said. Bad weather hampered the rescue operation, but the Air Force helicopters were safely flown to evacuate the injured, he added. TNS

Indian Air Force personnel rescue an ITBP man in Ladakh on Thursday. PTI
Govt forms panel to monitor MGNREGA
Jammu, October 17
The state government today constituted an 11-member state-level executive committee to monitor and ensure timely preparation of convergence plans with the line departments under the Mahatma Gandhi National Rural Employment Guarantee Act (MGNREGA). The committee has also been assigned the task of proper implementation of convergence plans at the ground level for creation of durable assets besides providing work to the rural workforce on their doorstep. The panel will be headed by the administrative secretary of the planning development department. Administrative secretaries of other government departments will be members of the panel. The committee will meet at least once in three months. TNS
Puja holidays in schools from October 21-25
Jammu, October 17
All educational institutions, including recognised private schools, up to higher secondary level of the Jammu division would observe Puja holidays from October 21 to 25. As per an order issued by the Director School Education, Jammu, any default on the part of private schools in observance of the holidays would attract action under rules. TNS
DGP visits Zewan police complex
Srinagar, October 17
Director General of Police K Rajendra today visited the Armed Police Complex, Zewan, near here and took salute on a rehearsal parade organised in connection with Police Commemoration Day scheduled to be held on October 21. Senior police officers, including ADG Headquarters, SP Vaid, and ADG Armed, SM Sahai, accompanied the Director General. TNS
Science congress inaugurated
Jammu, October 17
The Kendriya Vidyalaya Sangathan today organised the cluster-level 22nd National Children Science Congress (NCSC) in nine clusters of the region. A function was organised at Kendriya Vidyalaya No 1, Gandhi Nagar, to conduct science congress for the Jammu region. TNS