Licence to shop
India sure has elaborate festivals, and Diwali is the biggest! Starting today, with Dhanteras, in the coming week each day has a traditional puja, each with its significance and unique way of celebrating it.
Stirring with strings
Santoor happened early on. Early enough to be called a part of the subconscious. So much so that Abhay Rustum Sopori doesn't remember first picking up the instrument; he only recalls first playing it. "My earliest memory is of me sitting in my father's lap and playing the instrument. I must have been between three or four or probably even younger. That's all I remember, apart from the fact that I have played it ever since," shares Abhay, while in Chandigarh for Akashvani Sangeet Sammelan 2014.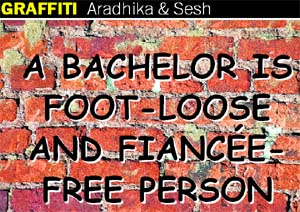 Sweet trap
There's enough hoopla about cracker-free Diwali, with animal supporters taking to Facebook statuses (oh, the fury) about how NOT to celebrate Diwali.
gyan zone
A unique celebration
GroupM, along with Google, Amazon.in, LINE Messenger and a host of other brands across various categories, is bringing a unique online carnival for Indian consumers this Diwali. It allows users from across India to try out everyday products through samples @Rs1, play games that are in sync with the cultural moment; stream your favourite movies for free and watch great content from the upcoming film Happy New Year!
Master Chef
Mazedar modak!
A twist here and there; fusion food is always a delight. With a dash of chocolate, one can change the traditional modak into a modern one by adding chocolate chips and chocolate sauce. Here is the recipe for Makai Chocolaty Modak.
star track


Some hits, some misses


Rahul Khanna in The Americans Season 3


Shibani too busy to celebrate Diwali with hubby


Bombairiya is an ode to Mumbai


Training time


Special screening for Fury
chatter box


Sunnyís anger diaries


Trouble in paradise


350 up for Jodha Akbar!


A juniorís recipe


Cricketing fervour