Steps towards fitness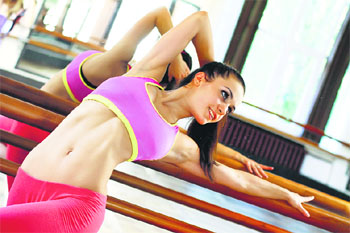 Would you prefer to pump an iron or rather join a party? With many opting for the latter category, Tricity gyms have geared up to make workouts interesting and motivating. The easiest way to do so is to include some music and moves to the rhythm. While the latest equipment is a constant, the gyms are increasingly offering dance classes for those looking for fun and fitness together.
Desi beats
Dance exercise is what they aim at Body Zone Fitness N Spa-9. Right from bhangra to salsa, they pick-up steps from different dance forms to design a complete workout programme.
When black is not dark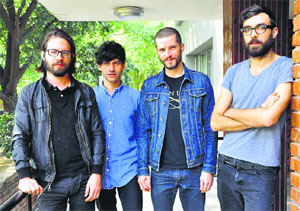 Black metal is about dragon and death, right? The sub-genre given to extremities and associated with rebels! As for the music, hasn't it been stereotyped as loud and noisy? French black-metal band The Plebeian Grandstand doesn't conform to the image that the genre and its propagators famously conjure up. "We are not a political band nor do we encourage people to do bad things. Even our lyrics can be quite poetic and dream like. We are not spunk at all," laughs 32-year-old Ivo Kaltchev
(L-R) Olivier Lolmede, Adrien Broue, Ivo Kaltchev & Simon Chaubard

STAR TRACK
Shock treatment
In Detective Byomkesh Bakshi, Sushant Singh Rajput will be seen doing a long lip lock scene. It is, in fact, the longest onscreen kiss Sushant has done till date.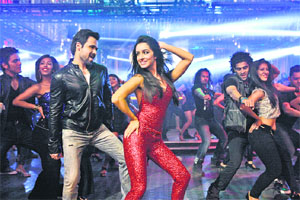 Basanti gets grooving
The trailer of Dharma Productions' Ungli, a sleek, edgy, vigilante drama starring Emraan Hashmi, Kangana Ranaut, Randeep Hooda and Sanjay Dutt in the lead roles, has been a conversation point among the Indian youth ever since its online release, creating an upsurge and drawing attention.
Emraan Hashmi and Shraddha Kapoor in the song Dance Basanti

Clash of the Titans
On Christmas in 2015, Ranbir Kapoor and Deepika Padukone-starrer Tamasha, directed by Imtiaz Ali will be pitted against Ranveer Singh, Deepika Padukone, and Priyanka Chopra-starrer Bajirao Mastani, directed by Sanjay Leela Bhansali.
All the right moves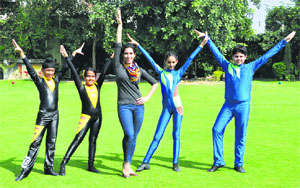 Hail the happy feet, who danced their way into a foreign territory while making India one of the first to have participated in the World Championship of Rock and Roll at Sochi, Russia. Make way for the four dancing divas, from Dance Dacha, Jas K Shan's dance Academy in Chandigarh, as they speak volumes about their experience at the international level.
Happy feet: Jas K Shan with her team of youngsters

Read between the lines
Call it beginner's luck; Bhaavna Arora's debut novel made it to Crosswords Bookstores' bestsellers' list placed besides the author, who grew up reading Paulo Coelho. Call it a coincidence; Adultery and The Deliberate Sinner touch on the same topics albeit in a different way.
Nine-yard wonder
Love for saris made Priyadarshini Nehru turn her passion into a profession. A holiday in Indore at her sister-in-law's place made her buy thirty Maheshwari saris, which sold like hotcakes in her circle. "I had little business acumen at that time," Priyadarshini says. She sourced more on demand and soon she was holding a small exhibition at a friend's salon!

It's happening
Visual treat
As part of its commitment to bringing the very best from the world of art to the city, Chandigarh Lalit Kala Akademi is organising a two-day art workshop on October 30 and 31 by renowned artist G R Iranna along with 20 students of MFA painting from Government College of Art, Chandigarh.
A literary date
The city will play host to the third edition of Chandigarh Literature Festival (CLF), 2014, from October 30 to November 2 at the Chandigarh Club, Sector 1. The festival will be inaugurated on Thursday at 4 pm followed by a panel discussion on 30 Years of Operation Bluestar. The panelists will include Nirupama Dutt, Rahul Singh, Ramesh Vinayak, Kiran Nagarkar, Amandeep Sandhu and Ravi Singh. In the next three days, there will be book sessions, movie screenings and discussions.
CELEB POINT
The abiding charm of SRK
The first time that I met Shah Rukh Khan was in the Yashraj office. I was obviously introduced to him as a newcomer. What I expected was a casual 'hi', but what came my way was a gracious, chivalrous bow and a very warm handshake. I obviously was overwhelmed. 'Hope to work with you soon,' he said.
chatter box
Ties of blood
Families that seem like harmonious units and pillars of the community on the outside, often hide the darkest secrets inside. In Blood Relatives, the façades are shed to reveal complex layers of jealousy, adultery and vengeance that result in the unthinkable — a murder within the family.
Coming to a close
Popular show Gustakh Dil on Life OK is all set to bid goodbye next month. It will end on November 14. Actress Sana Amin Sheikh said, "I am so happy that the show had a good run. It lasted for more than a year. I would say that Ravi Ojha Productions has given me the best chance so far and it was a wonderful experience working in this show. I will take this end on a positive note and will continue with my Sunday Radio Mirchi show."
The year ahead
If your birthday is October 30...
Astro Turf
ARIES: A hazardous day. Keep your mind on the job throughout the day. Do not be tempted to day-dream of what lies ahead. Be sure to get to the bank before it closes.
Miss & match
Halloween diva Neeta Lulla It seems that Neeta decided to take a leaf out of Morticia Adams' look, or she's prepping for a Halloween party. The dark lipstick combined with the gothic sari gown is unflattering and the lace sleeves aren't working either. However, one thing that is working here is her chic hairdo.



Halloween diva
Neeta Lulla
It seems that Neeta decided to take a leaf out of Morticia Adams' look, or she's prepping for a Halloween party. The dark lipstick combined with the gothic sari gown is unflattering and the lace sleeves aren't working either. However, one thing that is working here is her chic hairdo.

She made it!
Kangana Ranaut
Kangana's balloon skirt actually works here, since she's paired it with a much lighter shade and almost nude pink pointed toe shoes. The bag doesn't add much to the outfit and her hair is a bit too severe. We love the pretty, subtle makeup though!


No tricks up the sleeve
Huma Qureshi
Ah Huma! This could have been such a gorgeous look, if only the transparent cap sleeves were not there. For once, the dark makeup doesn't look ghastly and while the legs are a little too flared for our taste, she could have pulled off this look better without the sleeves.

Skirting the issue
Neha Dhupia
We're getting a little tired of seeing crop tops and Neha's sports bra look-alike is not helping much. The neckline is too pronounced and the necklace is too embellished for this style. She's just lucky her skirt takes the attention away enough for it to be a slightly passable outfit.
Kitty on the go
Gauri Khan
It's time to go easy on animal print and get the hang of camera-friendly makeup, because this look is just not working for Gauri. The skirt is fine, but the clutch, shoes and hairstyle are so boring that she looks more like a kitty party planner than a red carpet icon.