Kashmir orphanage 'exploiting' tender souls
Srinagar, October 30
Carrying a file comprising papers, nine-year-old Mudasir Ahmad, who stays in an orphanage, is seen seeking and collecting money from elite shopping malls at Lal Chowk. Mudasir, who claims to be a resident of Pattan in Baramulla district, says he has been sent by the owner of his orphanage to collect money.
High Court notice to govt over school examinations in Valley
Srinagar, October 30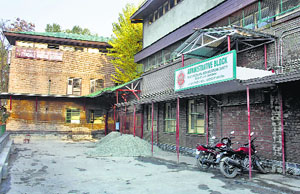 The J&K High Court today issued notices to the J&K Government, Director of School Education, Board of School Education and others in response to a public interest litigation opposing the postponement of school examinations in the flood-hit Kashmir. The PIL termed the recent Cabinet decision about the conduct of such exams in March, 2015, as "unreasonable".

A private school in Srinagar post floods. Tribune Photo: Yawar Kabli

Pvt schools announce date sheet for Class X pre-board exams
Srinagar, October 30
The row over school examinations is refusing to die down with the city's private schools, Tyndale Biscoe and Mallinson School, Shiekh Bagh, issuing notifications for pre-board exams for Class X. The examinations are scheduled to begin from November 7.
Don't charge students for flood period: HC to private schools
Srinagar, October 30
The Jammu and Kashmir High Court has directed private schools not to charge tuition fees and bus fare for the months of September and October, the period during which most of the schools in flood-hit areas of Kashmir remained inundated and did not function.
Prof RD Sharma officiating Vice Chancellor of Jammu University
Jammu, October 30


Prof RD Sharma, the senior most professor and former Chairman of the state Board of Professional Entrance Examination (BOPEE), today took over as the officiating Vice Chancellor of the University of Jammu. He replaced Prof Mohan Paul Singh Ishar, who resigned from the top position after he was reportedly denied extension to his three-year term, which was to end on January 27, 2015.
Congress leader demands Jammu regional council
Jammu, October 30
With an eye on the coming Assembly elections, Congress leader Madan Lal Sharma today raised the demand of regional council for Jammu province to end "discrimination" with the region.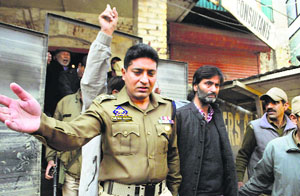 Crackdown on separatists ahead of Assembly polls
Srinagar, October 30
As part of its crackdown ahead of the forthcoming Assembly elections, the J&K police has raided and rounded off several separatist leaders from different parts of the Valley over the past 24 hours.


Separatist leader Yasin Malik arrested in Srinagar on Thursday. Tribune Photo: Amin war

Sham Lal wants Jammu to elect Cong candidates
Jammu, October 30
Reiterating his commitment to serve the people of the Jammu region without compromising dignity of the land, Minister for PHE, Irrigation and Flood Control Sham Lal Sharma has said people of the region must show a united face to get their equal share in development.
Expelled PDP leader to contest as Independent
Pulwama, October 30
Expelled Peoples Democratic Party (PDP) leader and Member of Legislative Assembly from Rajpora Syed Bashir today said he would contest the coming Assembly elections as an Independent. He said the decision was reached after people from his constituency approached him and urged him to participate in the democratic process.
'Ghazal Master' Amin Kamil dies at 90
Srinagar, October 30
Well-known poet and writer Amin Kamil (90) breathed his last here today. Born in 1924 at a village in south Kashmir, Kamil spent most part of his life in Srinagar city and passed away in Jammu.
Family of dead youth demand high-level probe into 'murder'
Samba, October 30
A few days after the death of Anil Kumar, whose body had been found near a railway track, his family expressed lack of confidence in the police investigation and demanded a high-level probe. The 20-year-old victim was reportedly murdered and his body thrown near the railway track in the Badi Brahmana area of Samba district on Monday.
JU women shuttlers lose quarterfinal
Jammu, October 30
The dream run of host University of Jammu (JU) women shuttlers had finally came to an end today after suffering defeat in the hands of formidable Guru Nanak Dev University, Amritsar, by 2-0 in the quarterfinal of the ongoing North Zone Inter-University Badminton Championship being played at Gymnasium Hall, of the varsity here. The host varsity shuttlers failed to put up any fight against the seasoned shuttlers of Guru Nanak Dev University, Amritsar, and eventually lost the game.
Decision on new highway hailed
Jammu, October 30
As the Union Ministry for Road Transport and Shipping has approved the alignment of the National Highway-1B (old) from Chenani to Kishtwar via Sudhmahadev-Goha-Khelani, it will benefit the twin districts of Doda and Kishtwar. The road connectivity to the two districts is poor as the existing Batote-Kishtwar national highway gets damaged frequently. The highway was declared unsafe by the Geological Survey of India in 2010.
2 killed, 27 injured in Rajouri mishap
Rajouri, October 30
Two persons were killed and 27 others injured when a minibus in which they were travelling in from Lam to Kotranka skidded off the road and fell into a 200-ft gorge near Budhi Morh in Rajouri this evening.
DGP reviews security scenario in Valley
Srinagar, October 30
Director General of Police (DGP) K Rajendra Kumar today reviewed the security situation and deployment of forces in south Kashmir and sought report from the Superintendents of Police (SPs) concerned regarding the law and order situation and achievements made by the police on the anti-militancy front.
Registration centre set up in Chandigarh for Pandit voters
Srinagar, October 30
An additional centre for registration of migrant Kashmiri Pandit voters has been set up in Chandigarh ahead of the Assembly elections, Chief Electoral Officer (CEO) Umang Narula said here today. The Chandigarh centre has been established in addition to the facilities at Jammu, Udhampur and Delhi.
Police to probe DIG's 'power abuse'
Srinagar, October 30
The police Thursday ordered a probe into the reported case of abuse of power by Kathua Deputy Inspector General (DIG) Shakeel Beig after his son Tony posted on Instagram pictures of the father-son duo enjoying various special privileges.
Army continues search operation in Handwara forests
Srinagar, October 30
The search operation in the Waderbala forests of Handwara continued for the sixth day today in frontier Kupwara district. Three militants were killed in a gunfight that started in the forest area on Tuesday and continued till yesterday morning. "After two militants were eliminated on Tuesday morning, there has been no exchange of firing. We are combing the dense forest to ensure that no militant is hiding in the forest," a source said.
Ministry approves alignment of NH-1B
Srinagar, October 30
In response to a communication from Governor NN Vohra, the Central Ministry of Road Transport and Shipping has approved the alignment of the National Highway-1B (old) along Chenani-Sudhmahadev-Goha-Khelani-Kishtwar-Sinthan Pass-Anantnag. The important alternative road shall connect vast areas of erstwhile Doda district with the National Highway-1A.
Army provides bedding to Sopore orphanage
Srinagar, October 30
General Officer Commanding of the Srinagar-based 15 Corps Lt Gen Subrata Saha visited an orphanage in north Kashmir's Sopore town today and provided bedding and financial assistance for the inmates. The orphanage is being run by the J&K Yateem Trust. "The Corps Commander provided beddings and financial assistance to enable re-orientation of the centre and help it meet the challenges of winters," said an Army spokesperson. Considering the request of the director of the orphanage and the staff, bedding including mattresses, blankets and pillows and a cash amount of Rs 25,000 was provided to the centre to gear up for the fast approaching winters, the spokesperson said. Senior Army officers, director of orphanage, civil dignitaries, children and staff were present on the occasion. — TNS
Interaction with music experts held
Jammu, October 30
A interaction session on the importance and role of music, art and culture in the life of youth, was held during "Jalwa 2014" (a multi-talent show) organised by the Nirvana Academy, a cultural club, in association with Pammy Art Academy. Bharat Chowdhary, an entrepreneur and politician, was the chief guest, while Ajay Chowdhary was the guest of honour. Parents and their participating children along with various personalities from the fields of art, culture and music were present. The programme started with an interaction session with Brij Mohan, Dr Kewal Samnotra, Hitesh Badyal and Shashi Gupta. — TNS

Yoga championship begins
Jammu, October 30
A two-day yoga workshop-cum-district championship organised by the Shri Mata Vaishno Devi Shrine Board commenced at the Multipurpose Hall of Shri Mata Vaishno Devi (SMVD) Multipurpose Sports Stadium, Katra, today. Dr MK Kumar, Additional Chief Executive Officer, Shri Mata Vaishno Devi Shrine Board (SMVDB), inaugurated the event wherein 86 boys and girls from 16 government and private educational institutions of Reasi district are participating. The Additional CEO interacted with students and appreciated them for demonstrating various yog asanas. He also underscored the benefits of yog asanas for a healthy living. TNS
Power Grid organises essay competition
Jammu, October 30
As a part of its Vigilance Awareness Week celebrations, Power Grid Corporation of India Limited, Northern Region-II, Jammu, organised an essay competition at Kendrya Vidyalaya No 1, Gandhi Nagar. The topic of the competition was "Combating corruption - Technology as an enabler". Students of the school enthusiastically participated in the competition. They expressed their views on the topic through their essays. Results of the essay competition will be declared on the closing day of Vigilance Awareness Week and the winners will be felicitated by Power Grid Corpporation of India Limited. — TNS
Co-driver of bus killed in Rajouri
Rajouri, October 30
The co-driver of a bus was crushed to death in Rajouri this morning. He slipped from the bus through a rear window. Mohammad Farooq of Dassal Jattan was the co-driver of a bus, owned by Panorama Higher Secondary School. The bus was halted near Kallar village. The driver started for the next stop. Farooq fell as he lost his grip on the handle and was crushed under the rear tyres before the driver could apply the brakes. The police impounded the bus and registered a case. They took the body to a hospital for postmortem. The body was later handed over to the family. — OC
DC, SP visit Warwan, take stock of poll preparedness
Doda, October 30
Deputy Commissioner, Kishtwar, Mohammed Javed Khan along with Superintendent of Police Yougal Manhas today visited the far-flung area of Warwan and took stock of the poll preparedness and availability of essential services in the area. Khan also held meetings with general public and officials to review the functioning of the government machinery. The residents highlighted various problems being faced by them, including shortage of ration and medical supplies, poor road condition and shortage of teaching staff. OC
Shias apprise Guv of problems
Srinagar, October 30
A three-member delegation of JK Anjuman-e-Sharie Shian, led by Aga Mujtaba, called on Governor NN Vohra here today. The delegation apprised the Governor about the problems and hardships being faced by the Shia
community on account of the recent devastating floods, issues relating to the rehabilitation of the Dal Lake dwellers and rent due from the Army in respect of the Shia Waqf Board lands. The Governor assured the delegation that he would take up the issues with the authorities concerned. TNS

Governor NN Vohra meets a delegation of the JK Anjuman-e-Sharie Shian at Raj Bhawan in Srinagar on Thursday. Tribune Photo

Death sparks protest in Bandipora
Srinagar, October 30
A protest erupted in north Kashmir's Bandipora town today after a woman was crushed to death under an Army vehicle. Protesters said a fast-moving Army vehicle hit the woman near the Bandipora police station, killing her instantly. The woman was identified as Sooda Akhter from Turkapora in Bandipora. The police registered a case. Police officers said she died after she was hit by an Army vehicle near Bandipora police station. — OC