Political, civil top brass wield the broom
Chandigarh, November 1
T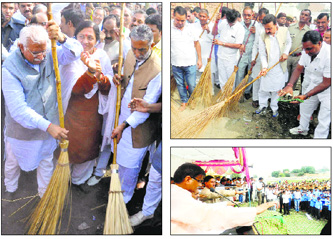 he political and administrative top brass of the state wielded the broom on Haryana Day under its week-long Swachh Haryana-Swachh Bharat Abhiyan. CM Manohar Lal Khattar led the cleanliness drive in a slum in Faridabad where he exhorted the people to make it a mass movement as cleanliness was a challenge for the government and the general public. Everyone should come together to make the drive a success and to realize the dream of 'a clean India' of Mahatma Gandhi.

(Clockwise) CM Manohar Lal Khattar and MoS Krishan Pal Gujjar take part in the Swachh Bharat Abhiyan in Faridabad on Saturday; PWD Minister Rao Narbir Singh shows the way in Farukhnagar district of Gurgaon; and Agriculture Minister Om Prakash Dhankar administers oath to maintain cleanliness in Badli village of Jhajjar. Photos: PTI, Sayeed Ahmed, Manoj Dhaka

Intense lobbying on for board, corporation chiefs, members
Chandigarh, November 1
With the Khattar government showing the door to the previous government's political appointees, including chairmen and members of various boards and corporation, lobbying has picked up momentum to grab these plum postings.
Madhogarh fort to be made tourist attraction
Mahendragarh, November 1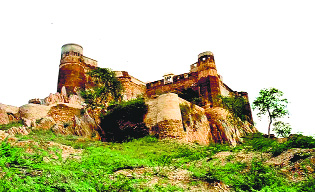 The state government has decided to develop the historical fort at Madhogarh village in the district as a tourist centre to preserve it and generate employment avenues as well. Ram Bilas Sharma, Tourism and Transport Minister, disclosed this while interacting with mediapersons today. He, along with a team of administrative officials, visited the fort and took stock of the site. It is believed that the Madhogarh fort, located on the Mahendragarh-Satnali road, was built more than 500 years ago by Maratha emperor Madhoji Rao.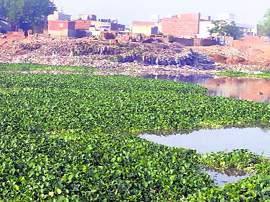 Cleanliness drive brings no cheer to Fatehabad
Fatehabad, November 1
The day the state government launched its week-long statewide cleanliness campaign, residents of Ambedkar Nagar, Shashtri Nagar and some other localities alleged that the same authorities that were cleaning the town were responsible for garbage, squalor and sewage contents in their areas.


Garbage dumped near Shashtri Nagar in Fatehabad. Tribune photo
Robbery bid: National-level wrestler among 5 held
Hisar, November 1
A wannabe singer, a national-level wrestler and an aspiring engineering student were in the group of five that attempted to rob an ATM in Narnaund town today. The police team spotted the youths during night patrolling and nabbed them from near an ATM of SBI at the Khanda turn in the town in the early hours today. The police said the accused had planned to loot the ATM to get instant money and were equipped with gloves, black spray and rods to execute their maiden robbery.
Finance Minister puts state's debt burden at Rs 81,000 crore
Rohtak, November 1
Finance Minister Capt Abhimanyu today said the state suffered massive revenue loss due to low manufacturing rate resulting from industry-unfriendly approach of the previous Congress regime in the state. Addressing a news conference here, he said not even a single clearance was granted during the previous government's tenure.
Bail-jumpers attack raiding party; DSP hurt
Hisar, November 1
Hisar DSP Paramjit Samota was injured in a police raid on the hideout of two persons accused of jumping bail in Hanuman Colony of Hisar's Hansi town late yesterday evening. According to information, Samota – a Commonwealth gold medallist boxer — went to the locality on a tip-off that bail jumpers Kuldeep Gurjar and Sonu were living in rented accommodation there.
Trader robbed by men posing as tax officials
Fatehabad, November 1
A Fatehabad-based cloth merchant was robbed of his Nissan Terrano car worth Rs 12 lakh, clothes worth Rs 4.5 lakh, gold ornaments and cash on the National Highway between Hisar and Fatehabad last night.
Court employee commits suicide; judge booked
Faridabad, November 1
The local police registered a case against an Additional District and Sessions Judge (ADJ) posted at Palwal in connection with the suicide by Gaurav Kumar, an employee of the district court. A case under Section 306 of the IPC has been registered following on the complaint of Meena Devi, wife of Gaurav (32), a resident of Kumarwara of Ballabgarh town. She alleged that her husband was a peon in the court of ADJ Subhash Chand and he had committed suicide following mental harassment by the accused. He consumed poison at his house on Friday. TNS
2 booked for minor's gangrape
Yamunanagar, November 1
The Sadhaura police booked two youths for gangraping a minor girl last night. The victim is a 15-year-old studying in class IX. The victim told the police that on October 21 she was going to her school, which is about four km away from her village. On the way two boys, one belonging to her village and the other belonging to Ambala but living in her village, stopped her and took her to a deserted place forcibly. She alleged that the boys raped her there. SHO Om Prakash said the medical examination of the victim was conducted on Saturday while her statements were recorded before a magistrate today. He said efforts were on to arrest the accused. OC