TRIBUNE IMPACT
Rs 6 crore for Shanta's project to be released soon
Kangra, November 1
The state government has decided to construct Bachat Bhawan at Tehsil Chowk here at a cost of Rs 6 crore, funds for which will be released soon. Urban Development Minister Sudhir Sharma today said the Bachat Bhawan project with a parking lot, shopping complex, coffee house and an auditorium, besides a commercial accommodation at the top of the building, would come up.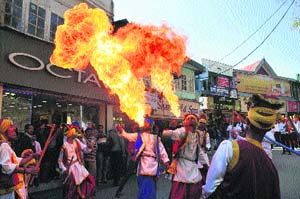 Fireplay

: Sikh youths perform a fire trick during a religious procession ahead of Gurpurb in Shimla on Saturday. Photo: Amit Kanwar

IGMC to be decongested soon
Solan, November 1
Chief Minister Virbhadra Singh today said the congestion in the IGMC, Shimla, would soon be eased as the government had identified 165 bighas of land on the outskirts of the city where both dental and nursing college would be built. Addressing delegates of the 13th annual HP State Dental Conference organised by the state chapter of the Indian Dental Association (IDA) here, he said dentistry had emerged a new medicinal science and a specialised service. He said the state government was committed to improving the health services and had opened many institutions in the remote areas where placement of doctors was being ensured.
Telestroke project a success in state
Shimla, November 1
Telestroke projects, started by Himachal under the technical guidance of All-India Institute of Medical Sciences (AIIMS),Delhi, is proving to be a big life saver for many stroke patients in remote areas with the facility to treat it being made available at 19 hospitals besides two government medical colleges. It was considering not just the high mortality rate of stroke, but even its morbidity that the telestroke project was launched in Himachal in April earlier this year.
Farm varsity's foundation day celebrated
Palampur, November 1
CSK HP Agriculture University celebrated its foundation day here today. Dr KK Katoch, Vice-Chancellor (VC), while addressing university officials, students, teaching and non-teaching staff, recalled the contributions of former vice-chancellors and other staff towards the development of the institution in the past 36 years.
Guv opens seminar at CPRI
Shimla, November 1
A national seminar on the emerging problems of potato was organised jointly by the Indian Potato Association and the Central Potato Research Institute (CPRI) at the CPRI here today. It was inaugurated by Governor Urmila Singh. In her address, Urmila Singh urged scientists to develop disease-free seed varieties for farmers in the country to achieve the potato production target of 150 million metric tonnes by 2050.
Hearing against Dhumal, sons deferred
Shimla, November 1
The Chief Judicial Magistrate (CJM) today adjourned the defamation cases filed by Chief Minister Virbhadra Singh against former chief minister PK Dhumal and his sons, BJP MP Anurag Thakur and Arun Dhumal, for the service of Anurag Thakur and his brother Arun Dhumal for December 27.
CPM to launch anti-Modi govt campaign in state from Dec 8
Shimla, November 1
The Himachal Pradesh state committee of the Communist Party of India (Marxist) will launch a weeklong campaign against the Modi government's Hindutva agenda from December 8 to December 14 in the state on the call given by the CPM central committee.
Sobha Singh club to train 20 women
Palampur, November 1
The Sobha Singh Memorial Art Society in collaboration with the North Zone Cultural Centre, Ministry of Culture, will hold a six-day workshop to train 20 rural women in art and craft work, including fabric and glass painting. Art material will be provided to trainees and they will be given five prizes worth Rs 5,500 and art material worth Rs 10,000.
Special squad to check cattle thefts
Mandi, November 1
In view of the rising cases of cattle thefts, the district police have constituted a special team named the Cattle Theft Prevention and Detection Squad under the supervision of the Deputy Superintendent of Police (Headquarters).
1.10 crore units of blood needed every year, says Kaul Singh
Mandi, November 1
Nearly 11 million units of blood is needed every year in the country, said Health and Family Welfare Minister Kaul Singh Thakur at a blood donation camp held at DAV Centenary Pubic School here today. He said: "India needs 11 million units of blood, but only 9 million units are contributed every year."
Mehatpur industry faces power cuts
Una, November 1
Industrialists of the Mehatpur industrial area have expressed deep concern over the erratic power supply to industrial units due to frequent power cuts. SK Uppal, vice-president of the association, chaired a meeting today. He said the industrialists rued that the units were forced to incur losses due to power cuts as the productivity of the units were being affected. The association members said the state government was organising investor's meets in different parts of the country, besides providing sops to prospective industrialists, the power supply was negating these efforts.Officials of the Himachal Pradesh Electricity Board said power cuts were done only twice a week. Industrialists Ashwani Jain, CR Kaushal, HP Singh, VK Sanghi, BN Kashyap, CS Kapoor and Viresh Kashyap were also present. OC
Contractual teachers seek job regularisation
Mandi, November 1
A delegation of the Himachal Contractual Teachers Association today submitted a charter of their demands to Health Minister Kaul Singh Thakur. Inderjeet Thakur, vice-president of the association, said the contractual employees must be regularised after five years of service as it was promised in the Congress manifesto during the Assembly elections. He said the employees should be regularised and should be given dearness allowance (DA). The contractual period should be added in the service period, so that seniority could be maintained, he added. He said even after two years, the state government had failed to fulfil most of their demands. Rajesh Verma, general secretary of the association, said the contractual employees were ignored in the state. TNS
Man gets life term for killing wife
Mandi, November 1
Additional District and Sessions Judge Padam Singh today sentenced a man, Gangadhar of Trambi Chahadi here, to life imprisonment for killing his wife Beena Devi. As per the prosecution, Beena, in a statement before her death, had stated that she was married to Gangadhar 10 years ago and he used to quarrel with her over trivial issues. She said after a fight on September 4, 2012, her husband poured kerosene oil on her and set her on fire. After sometime, she succumbed to her burn injuries. The police registered a case under Sections 302, 498-A and 606 of the Indian Penal Code against the accused for murdering, harassing and threatening his wife. TNS
Blood donation camp at DAV school
Una, November 1
A blood donation camp was organised at DAV Centenary Public School in Una. The camp was organised as part of the Mahatma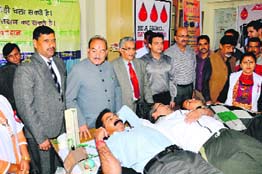 Hans Raj Blood Donation Week. Atul Mahajan, Principal, and Balwinder Singh, president, parents-teachers association (PTA), also donated blood. Balwinder said he was motivated by the Principal to donate blood. School staff Ram Kumar, Vipan Kapila, Ravi Kumar, Sudesh Kapil, Shailza, Ranjana Katoch and Daulat Ram also donated blood. The units were donated to the blood bank at the district hospital. OC

Atul Mahajan, Principal, and Balwinder Singh, president of the PTA, with Health Minister Kaul Singh during a blood donation camp in DAV school in Una on Saturday. Photo: Rajesh Sharma

Clean Palampur drive soon
Palampur, November 1
Palampur Municipal Council (MC) has announced to make 'Swachh Bharat Abhiyan' a success in the town. The MC will launch a special campaign in this regard. Stating this to mediapersons, Thakur Balwant Singh, president, MC, said 10 new garbage dumpers would be kept at different parts of the town. He said garbage dumpers would also be kept at panchayat areas. He thanked MP Shanta Kumar for donating Rs 20 lakh to the MC to purchase dumpers. OC