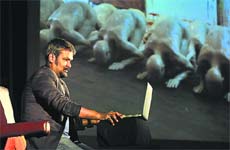 Dramatic dialogue
Often, when art is seasoned with perspective, it tenders a vision that dances attendance to the tunes of wisdom, thereby creating a dialogue that is both substantially significant and engaging. Perhaps, that is one of the many reasons behind GR Iranna's exceptional success as a painter, sculptor, and an installation artist.
Truth be told
As a young journalist, she had just given into the urban trap of work hard and party harder. A mother's timely admonition lends perspective to the way of life she was yet to embrace. "My mother said only one thing to me, 'Feel your freedom, but always remember you are only one step away from incredible failure' and told me the case of Aruna Shanbaug."


A unique historical journey
A journey that all the four members of the family initiate together, an experience that touches all of them differently, a destination that they reach and a story that they will be sharing together; a story of four brave souls who made the ultimate sacrifice — is the story of Chaar Sahibzaade.
Soul treat: (L-R) Amrinder Gill, Harry Baweja, Harman Baweja and Pammi Baweja Photo: S Chandan

A complete entertainer
A radio jockey, an actor, and a musician, RJ Abhimanyu comes across as a jack of many trades, who swears that he is the master of one - "entertainment". As we greet him on his homecoming, which extends to two very significant frames of his existence, one of which is his career as a radio jockey and the other being his love for Chandigarh, he seems only too elated to be back.


Chit chat: RJ Abhimanyu



Deep impact
The literary journey just gets better. On the second day of Chandigarh Literature Festival, we get up, close and personal with authors Aniruddha Bahal, Jai Arjun Singh and KR Meera.
Wordsmith's world
His closest friends have been words — words he has pulled out from under the blank sky of his village, Cheema (Sangrur district), words he has splashed on white-blank pages, words he has rolled out in moonlit nights. For singer Harvinder Singh, better known in the music industry as Harf Cheema, words have and continue to define him.
Jazbaa teaser for Aishwarya
Aishwarya Rai, who turned 41 on Saturday, has many special things to look forward to. While her family has been ensuring to make it a memorable birthday, Sanjay Gupta, the director of Jazbaa, toiled to put together a premature teaser trailer of her movie. "It was an idea that came to me very late.
Kim's weight problem
Reality TV star Kim Kardashian, who shed weight after the birth of her daughter last year, is keen to loose 10lb (about 4.5 kg) more. She talked about losing weight while talking to Grazia magazine and said that she feels she is gaining again.


Success is temporary: Deepika
Deepika Padukone continues her smashing success streak with Happy New Year and balancing blockbusters with independent or content-driven films. She talks about her success and more.

Level headed: Deepika Padukone
Hrithik, Sussanne now legally divorced
Hrithik Roshan and his estranged wife Sussanne Khan were granted divorce by the Bandra court on Saturday, the Bollywood star's lawyer said. Lawyer Deepesh Mehta said, "They are legally divorced now. Today at around 10:30 am, all things were done.
Rajasthani tune for P.K.
Rajasthani singer Swaroop Khan has been roped in by Rajkumar Hirani for his next project P.K. Swaroop Khan was a very popular contestant on a singing reality show and was appreciated for his talent.
Prabhu Dheva's tribute to Elvis
Prabhu Dheva has released the first song of his upcoming film Action Jackson titled Keeda. The song is generating a lot of buzz as it not only sees an otherwise serious Ajay Devgn dancing but also because through this peppy romantic number the actor-director duo has paid tribute to the King of Rock & Roll, Elvis Presley.
Amitabh looks his part
The first look of Amitabh Bachchan's upcoming film Piku is out and knowing Big B's penchant for getting into the skin of a character, his first look is no surprise.
Strength of character
What do you think is the reason behind you creating such an impact with Mahadev?