M A I N N E W S
MHA does a U-turn, tells EC no relief announced for anti-Sikh riot victims
Ajay Banerjee
Tribune News Service
New Delhi, November 7
In a dramatic about-turn, the Central Government has told the Election Commission (EC) that no decision was taken to give additional Rs 5 lakh compensation each to the families of those killed in the 1984 anti-Sikh riots.
This comes a week after the media extensively reported on October 30 that the Union Ministry of Home Affairs (MHA) had okayed Rs 5 lakh compensation to families of riots victims.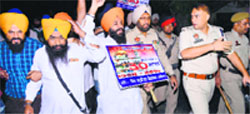 Protesters raise slogans seeking justice for '84 riot victims. file photo
The EC had sent a notice to the MHA saying "this was in violation to the model code of conduct which was in force in Delhi for byelections to Mehrauli, Tughlakabad and Krishna Nagar Assembly segments. In its response to the EC, the MHA said: "No decision (additional compensation to Sikh families) has been taken so far."
Leading Sikh right activists and persons, including Punjab Chief Minister Parkash Singh Badal had welcomed the announcement.
Not satisfied with the MHA response, the EC said the news of announcing additional compensation was widely published and disseminated in the media and several panel discussions on the subject were held on TV channels.
"The commission has also not come across any denial of the news by the government," the EC told the MHA in written response today, a copy of which is with The Tribune.
The ECI added, "Thus, it cannot be denied that the above news item gave an unmistakable impression to the electorate that a decision to the above effect was, in fact, taken by the government and that had the likelihood to effect of disturbing the level playing field".
The ECI has hinted that the MHA used media to send the impression of additional compensation for Sikh families. Like all newspapers, The Tribune had also reported this based on the information originating from the ministry. On October 30, the MHA had held a meeting on enhancing compensation for those killed in communal violence. A press release was issued saying, "The Union Home Minister approves grant of higher compensation to victims of riots, naxal and terrorist violence".
It further said, "Union Home Minister Rajnath Singh has approved a proposal to substantially enhance the compensation to civilian victims of communal, terrorist or Naxal violence from Rs 3 lakh to Rs 5 lakh".
At least 3,325 persons, including 2,733 in Delhi, were killed in the riots triggered by the assassination of former Prime Minister Indira Gandhi by her bodyguards on October 31, 1984.
EC letter to ministry
* After news reports emerged that additional compensation had been announced on October 30, the ECI shot off a notice to the MHA
* The letter said the compensation was in violation to the Model Code Conduct which was in force in Delhi
* The code was imposed due to the ongoing bye-elections to the Delhi Legislative Assembly for three constituencies
MHA reply
… no decision in regard to the matter (additional compensation to Sikh families) has been taken so far. — MHA.