Amritsar-Attari bypass
Residents for public transport system
Amritsar, November 15
The local residents, especially those living in the colonies developed on either side of the Amritsar-Chheharta bypass road, are facing a lot of difficulties over the absence of any public transport system on the 25-km stretch.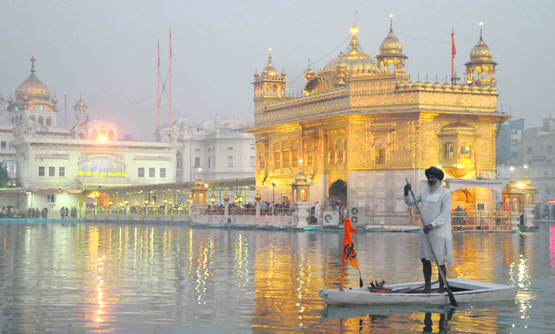 In the service of the lord: On a cold winter morning, a sewadar removes unwanted material from the holy sarovar of the Golden Temple in Amritsar on Saturday. Photo: Vishal Kumar

Amritsar Vikas Manch demands Aerocity for Amritsar
Amritsar, November 15
Amritsar Vikas Manch (AVM) has demanded setting up of Aerocity in the holy city on the pattern of the one established in Mohali. The manch said Amritsar, which already had an international airport, had the right to lay the first claim to it.
Three snatchers arrested, gang of robbers busted
Amritsar, November 15
With the arrest of three persons, the city police today claimed to have busted a gang of robbers, who used to rob tourists visiting the holy city at gun-point. Among those arrested were identified as Harpal Singh, alias Hira, of Kot Mit Singh, Rahul Kumar, alias Pidhi, of Ajit Nagar, and Daljit Singh of East Mohan Nagar.
City schools celebrate Children's Day
Amritsar, November 15
Manav Public School celebrated Children's Day by organising various programmes on its campus today. Students from Class VI to XII took part in races and other activities held on the occasion. Class assembly project (CAP) emphasised the relevance of the Children's Day among students.
Rare Act of Daredevilry 25 years ago
Indian Mine Managers' Association to honour city resident
Amritsar, November 15
The Indian Mine Managers' Association (IMMA) will felicitate city resident, Jaswant Singh Gill, for his daredevil rescue of labourers 25 years ago. Gill had rescued 65 labourers from a coal mine in Raniganj in West Bengal on this day 25 years ago.
No VIP duties for specialist docs
Amritsar, November 15
The Health Minister has issued fresh instructions to the department to not send specialist doctors on VIP duties. The instructions have been issued to improve medical services at the government hospitals.
National Art Exhibition at Art Gallery to showcase 357 pieces of art
Amritsar, November, 15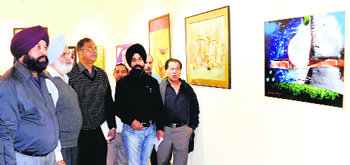 The Indian Academy of Fine Arts has organised a month-long National Art Exhibition at Art Gallery, with works of acclaimed artists across the country on display. Over 357 pieces of art will be showcased in the ongoing exhibition as an endeavour to promote art in the city.

The National Art Exhibition opened at the local Art Gallery with over 327 artworks on display. Photo: Vishal Kumar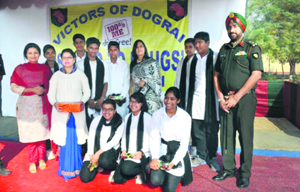 Dograi Brigade organises 'run for health' at Khasa
Amritsar, November 15
In order to create awareness among youths of the holy city, especially those living in the rural belt and border areas, the Dograi Brigade organised a 'run for health' at Khasa, here today.

The Army authorities honour the participants of "run for health" organised at Khasa in Amritsar on Saturday. A Tribune Photograph

Education Department launches anti-copying drive in district
Amritsar, November 15
Chief Parliamentary Secretary, Education, Inderbir Singh Bolaria called upon parents and managements of schools to help eradicate the menace of copying from society. While addressing the seminar on anti-copying as chief guest, Bolaria said the Education Department was taking stern measures to check copying in examinations. He said copying was weakening society from inside and snatching chances of bright and deserving students.
Sewerage project creates traffic snarls
Amritsar, November 15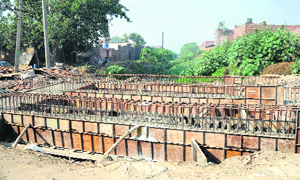 The city police has diverted traffic to other roads due to the ongoing project of laying sewerage pipes and covering of Ganda Nallah on Jhabal Road. Dhruman Nimble, Additional Deputy Commissioner of Police (traffic), in a statement today said the work would take at least three months to complete.

Construction of sewerage project on Jhabal Road has led to diversion of traffic by the city police to Anngarh Road in Amritsar on Saturday. Photo: Vishal Kumar

Second day of the World Sikh Educational Conference
Experts discuss education, environment
Amritsar, November 15
Four seminars were held on the second day of the World Sikh Educational Conference, organised by the Chief Khalsa Diwan (CKD). Experts from various fields deliberated on issues and suggested solution to the existing problems in these seminars. The main topics discussed were status and direction of Sikh education institutes, drug-free Punjab, the role of Sikh education institutions outside India, and environment preservation and organic farming.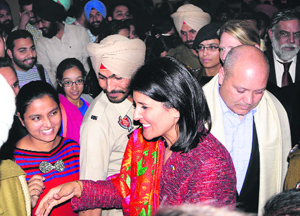 Nikki Haley arrives for an interactive session at GNDU in Amritsar on Saturday. Photo: Vishal Kumar

Feedback
Inefficient civic body
The adage "cleanliness is next to godliness" is true for all ages and regions. Amritsar has seen the golden days of cleanliness half a century ago. Thereafter the deterioration started in the state and the country. Filth, dust and pollution have spoilt the nature's bounty. Over the period, the civic body has not been able to cope up with the expansion of the city and its ever increasing population. It has lead to deterioration of basic civic amenities.
Man booked for raping woman
Amritsar, November 15
The Sultanwind police have booked a local resident, Jobanjit Singh of Janhia village, for allegedly raping a woman after luring her into marriage. The victim, a resident of Khalsa Nagar in the Kot Mit Singh area, stated to the police that the accused developed physical relations with her and was raping her for the past one and a half year. However, whenever she asked him to get married to her, he started making excuses. The police authorities said a case under Section 376, IPC, had been registered against Jobanjit Singh after a medical examination of the girl. They said raids were being conducted to arrest the culprit, who had been missing since the registration of the case. TNS