Ebola alarm: Govt gets cracking, sets up special panel
Aditi Tandon
Tribune News Service
New Delhi, November 19
The government today formed a three-member committee to inspect Ebola virus preparedness efforts at airports.
The decision was taken at an inter-ministerial meeting chaired by Health Minister JP Nadda following an Indian cured of Ebola during his Liberia trip reporting traces of the virus in his semen. The 26-year-old patient was yesterday quarantined at the airport health facility.
Along with the airports, surveillance at seaports also needs to be strengthened, the Health Minister pointed out. He has called for a detailed report on the working of surveillance facility at ports.
Nadda also urged to expedite the action plan on the need to have India compliant on the core capacities required under international health regulations.
The minister directed his officials to constitute teams of experts who will now visit states and report on the preparedness of their designated hospitals and asked them to work together towards capacity building of the states. He said training of the doctors and paramedical staff needed to be a continuous exercise.
The meeting was held in the wake of concerns that India might not be too well prepared to respond to EVD outbreak. The three-member team constituted to inspect airports to identify the gaps will have officials of ministries of Health, Civil Aviation and Immigration. It will inspect airports for quarantine facilities and for whether these facilities are following the WHO prescribed standard protocols for EVD response.
India has no confirmed case of Ebola yet. The passenger quarantined yesterday is a cured case of Ebola with his semen reporting viral traces.
Secretary, Health Research, VM Katoch said: "There is no Ebola in India. The passenger in question does not have Ebola. He just has viral traces in his semen. Even in diseases like typhoid, the bacteria stay in the body for some time before medication wipes out their traces."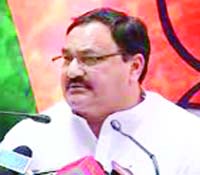 Checking preparedness
The panel will inspect preparedness efforts at airports and report gaps in a week
The decision was taken at an inter-ministerial meeting chaired by Health Minister JP Nadda (pic) following an Indian cured of Ebola during his Liberia trip reporting traces of the virus in his semen at IGIA
The 26-year-old patient was on Tuesday quarantined at the airport health facility